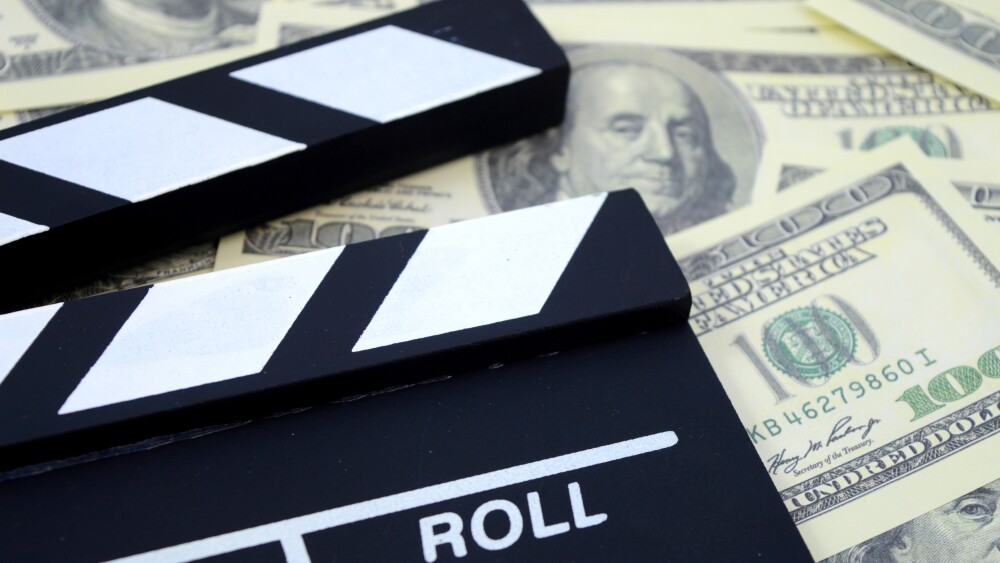 "Barbenheimer" has struck again! Gross receipts for the second week following the release of Barbie and Oppenheimer show that both movies are continuing to cash in at the box office, earning $93 million and $46.2 million, respectively, which is potentially bullish for entertainment stocks.
The two-week total for Barbie came in at $774.5 million and for Oppenheimer, $400.4 million.
Those receipts gave the movie business a shot in the arm, after a few weeks of moroseness following the writer and actor strikes.
All in all, the movie business has done well so far this year, as you can see in the following chart.
[text_ad]
Domestic Box Office for 2023
| | | | |
| --- | --- | --- | --- |
| Rank | Release | Gross | Distributor |
| 1 | The Super Mario Bros. Movie | $574,144,495 | Universal Pictures |
| 2 | Spider-Man: Across the Spider-Verse | $379,025,974 | Columbia Pictures |
| 3 | Barbie | $366,422,042 | Warner Bros. |
| 4 | Guardians of the Galaxy Vol. 3 | $358,956,719 | Walt Disney Studios Motion Pictures |
| 5 | The Little Mermaid | $296,946,930 | Walt Disney Studios Motion Pictures |
Source: Boxofficemojo.com
Despite the strikes, earnings for the Movies and Entertainment industry are expected to rise by 29% this year, and by 32% over the next five years, according to Simply.wall.st—considerably better than the 17% decline of the past few years.
But the movie business isn't the only entertainment venue that is due for a boost. Research company Statista forecasts that the worldwide revenue from OTT (over-the-top, providing television and film content over the internet at the request of the consumer) TV and video will reach $242.9 billion by 2028, up from $135.1 billion in 2021.
The streaming market is also growing, from $554.33 billion in 2023 to $1,902.68 billion by 2030.
And the Broadcasting & Cable TV market is expanding too, due to those providers getting into the streaming business, as well as the adoption of 5G and smart TVs, says Report Ocean, who is predicting that the market—currently valued at $320.11 billion—will expand at a 3.9% rate from 2022-2029.
With those statistics in mind, I thought I would take a look at a few entertainment company stocks to see which ones might be attractive at current prices. I reviewed about 25 and came up with the following three companies that look interesting.
The 3 Best-Looking Entertainment Stocks to Buy Now
Comcast Corporation (CMCSA) provides cable TV, internet, streaming, voice, and wireless products. The company just reported second-quarter 2023, with earnings of $1.13 per share, beating analyst estimates by 15.31% and increasing 11.9% year over year. Revenues increased 1.7% year over year to $30.51 billion and beat the estimate by 1.14%. The shares have a P/E of 33.51 and are rated Strong Buy.
Netflix, Inc. (NFLX) offers a broad selection of movies, TV series, documentaries, and original content to its 223 million paid subscribers in more than190 countries. The stock is in 108 hedge fund portfolios and is ranked 17th on Yahoo's 30 Most Popular Stocks Among Hedge Funds. The shares have retreated a bit lately, which makes them more attractive. The stock has a P/E of 50.1 and is rated Strong Buy.
Roku, Inc. (ROKU) is the most popular streaming platform in the U.S., Canada, and Mexico. For its second quarter, Roku reported revenue of $847 million and a loss per share of $0.76, beating analyst estimates by a mile. Although the stock has soared this year, one investor, Ark Invest, predicts that Roku could reach $1,493 per share by 2026! The stock is rated Strong Buy.
Each of these stocks is somewhat speculative, so please make sure they fit into your overall portfolio strategy and risk profile before indulging.
Happy investing!
[author_ad]