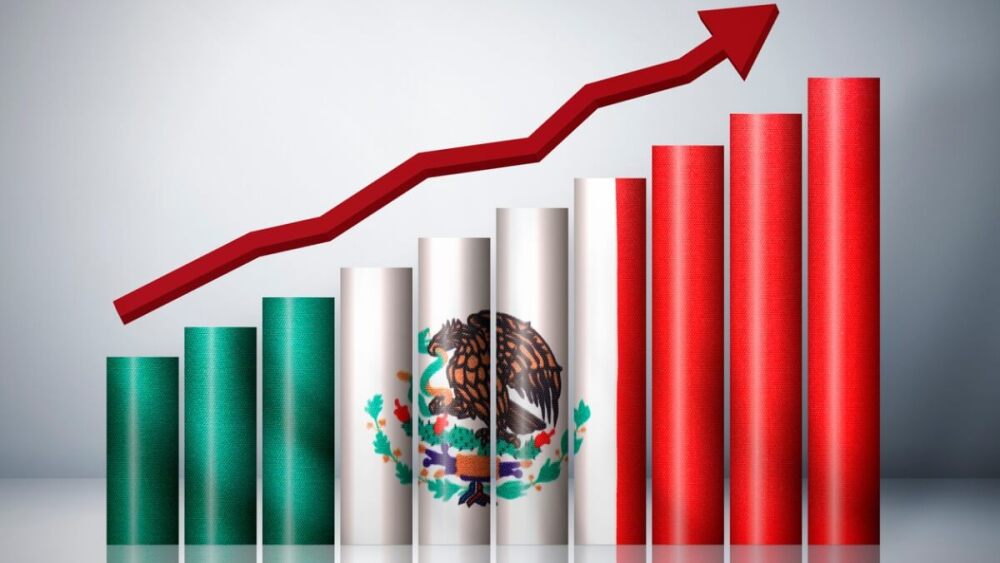 Manufacturing wages have been increasing in China alongside the intensity of the U.S.-China rivalry.
This leads to a question. Could American and Mexican stocks and economies be taken to the next level by increased joint investment in manufacturing?
This could also solve some of the immigration pressures by creating better jobs in Mexico while also expanding U.S. exports to Mexico. In addition, it would strengthen America's supply chain resiliency
It is also good news for American manufacturers and in an odd twist, American workers.
[text_ad]
The reason is that about 40% of the content of goods assembled in Mexico and shipped out as exports are made in America.
For stuff assembled in China, only 4% of the content is made in America.
When you think about it, U.S. imports of Mexican products are ten times better for American workers compared with Chinese imports.
Let's take a deeper look at the interesting triangle of trade and investment between Mexico, America, and China.
China's Loss is Mexico's and America's Gain
According to consultant Alix Partners, Mexico has surpassed China as the lowest-cost country in the world for companies looking to manufacture products for North American markets. Mexico's wages are now about 25% lower than in China and coupled with lower taxes and tariffs, this all adds up in favor of Mexican stocks.
In addition, the Alix Partners report showed that across many industries, China's cost advantage in producing goods and delivering them to Long Beach, California versus an American manufacturer has evaporated.
And higher transportation costs give North America a decisive advantage. Moving goods by sea from America to Asia takes 3-5 weeks. America to Mexico transit time is 1-4 days.
In addition to the cost factor, flexibility, speed of response, and ease of oversight it all points to North America over China. No wonder American bilateral trade with Mexico has been trending up sharply.
Ironically, these trends have led to Chinese companies moving production to Mexico to avoid trade restrictions and capitalize on the trade advantages that come from geographic proximity.
The American/Mexican Global Manufacturing & Trading Platform
U.S. companies are finally realizing that Mexico is a better option than China to manufacture some of the goods for U.S. and Latin American consumer markets.
Analysts are calling it "nearshoring," "in-shoring" or "reverse globalization." The U.S. is already the biggest foreign direct investor in Mexico, accounting for about half of all foreign investment according to State Department sources.
How will all this shake out and what will American congressmen (and U.S. labor groups) think of U.S. multinationals shifting manufacturing from China to Mexico?
American firms still export three times as much to Mexico as they do to China. And, Mexico, in turn, sends 79% of its exports back across U.S. borders.
In comparison, Mexico's exports to its giant neighbor to the south, Brazil, account for only 1% of its exports according to World Bank statistics.
Mexico has also launched more free-trade agreements that involve more than 40 countries – more than any other country and enough to cover more than 90% of the country's foreign trade.
And Mexican goods can be exported duty-free to the United States, Canada, the European Union, most of Central and Latin America, and to Japan.
If we can improve safety and security as well as railways, roadways, and ports, we could see a manufacturing boom that lifts both American and Mexican stocks and economies.
Here are two Mexico-heavy ETFs and a list of U.S.-traded Mexican stocks that could be considered.
Mexican Stocks and ETFs
iShares MSCI Mexico (EWW)
iShares S&P Latin America 40 (ILF)
America Movil ADR (AMX) is a telecommunications corporation headquartered in Mexico City.
Cemex ADR (CX) is a multinational building materials company headquartered in San Pedro, near Monterrey, Mexico.
Banco Santander Mexico (BSMX) is a Mexican banking group and a subsidiary of Spanish bank Banco Santander.
Coca-Cola FEMSA (KOF) is a multinational beverage company headquartered in Mexico City.
Grupo Aeroportuario del Centro Nort (OMAB), also known as OMA, is a Mexican airport operator headquartered in San Pedro, near Monterrey. It operates 13 airports in the central and northern states of Mexico, including that of Monterrey, one of Mexico's largest cities.
Join the Cabot Explorer and learn my favorite Mexican stock pick in my next issue.
[author_ad]