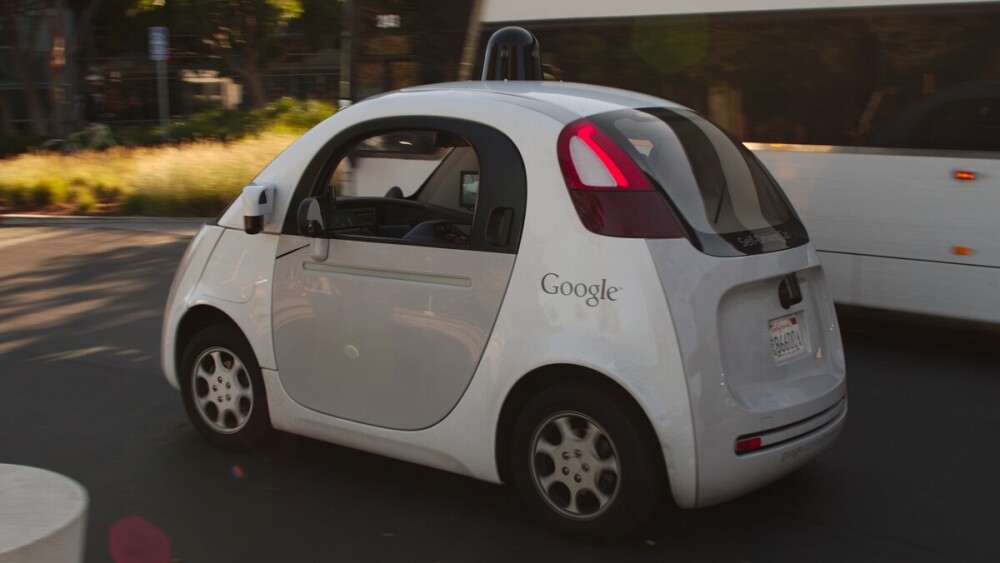 Autonomous driving technology is still more rumor than reality. We're years from seeing driverless cars on the roads with any real frequency. But when the self-driving car dam does break, the automakers, suppliers and tech companies shelling out billions on research and development in the autonomous driving space will be flooded with revenues. When it happens, you'll want to own self-driving car stocks.
But the best way to invest in stocks is to get in early on a trend before it's too late. And while autonomous driving technology has been an off-and-on Wall Street trend for years – maybe more so now that artificial intelligence, which is essentially what self-driving cars would be, is the trendiest buzzword phrase on the market – it's not nearly what it will be when we start seeing actual self-driving cars on the roads in a few years. Economists estimate that autonomous driving technology could become a $400 billion industry by 2035, according to McKinsey & Company. Investing in a revolutionary idea, product or company before it strikes gold is why early investors in Apple (AAPL), Amazon (AMZN), Google (GOOG) and Netflix (NFLX) are all retired and living on yachts right now.
Cars that drive themselves certainly qualify as a revolutionary technology. Thus, investing in self-driving car stocks now could make you a very rich person five, 10 or 15 years from now.
[text_ad]
That said, we don't like to try and predict the future here at Cabot Wealth Network. We like to recommend stocks that already have good-looking charts with plenty of momentum. So, here are two self-driving car stocks that have the right combination of a good chart and a strong foothold in the driverless car industry.
2 Self-Driving Car Stocks
Self-Driving Car Stock #1: Tesla (TSLA)
Inventors of the luxury electric car for long-distance driving, Tesla is also leading the charge in autonomous driving. TSLA has already been a dominant stock for more than a decade, of course, and is having a great year based solely on its ever-expanding foothold as not only the dominant electric car maker in the world but one of the most popular car companies period.
Take a look at the chart:
These days, all Teslas come with Autopilot – self-driving technology that allows the driver to take their hands off the wheel and let Elon Musk do the driving for a while. I tried it once on a friend's Model S, and it was both really cool and pretty terrifying. Regardless, it worked. Now, Tesla is in talks with another major, unnamed automaker to license out its Autopilot technology, which has the potential to open up an entirely new revenue stream that could add to the company's growth in the coming years.

Self-Driving Car Stock #2: Nvidia (NVDA)
Nvidia is best known for the chips it makes for the gaming industry and cryptocurrency, and this year it's become the face of the artificial intelligence boom. One reason why is its system-on-a-chip (SoC) software for the automotive market. Lately, those chips have started to bear fruit: Last September, the company unveiled its new Thor platform, an upgrade on its Drive PX2 graphics processing units (GPUs) that synthesizes automated and assisted driving, parking, driver and occupant monitoring, digital instrument cluster, in-vehicle infotainment (IVI) and rear-seat entertainment into a single, more efficient (read: less costly) system. Thanks to Thor, Nvidia generated $903 million in automotive revenue in fiscal 2023, a 60% increase from the previous year. Autonomous driving revenue is still a small slice of Nvidia's overall business – the company has raked in $25.9 billion in revenue in the last 12 months – but that could change in the coming years, as it has an automotive pipeline worth $14 billion over the next six years.
The stock, as we know, has already been one of the top performers of 2023, but that run-up has had very little to do with its self-driving technology specifically. As that side of the business swells, it should only add to NVDA's long-term upside.
Okay, so recommending TSLA and NVDA – two of the most recognizable and profitable technology stocks on the market, especially this year, isn't exactly off-the-beaten-path thinking. That's mostly because the smaller players in the autonomous driving market are either private companies or have been since bought out by other big tech companies, like Google's Waymo or Cruise, which is owned by General Motors. Embark Technology (EMBK) was an under-the-radar self-driving car stock until it got bought out by private company Applied Intuition for $71 million (roughly Embark's market cap) this May.
So, for now, the only viable way to invest in self-driving cars is via the big boys, including Google, GM, Microsoft (MSFT) and Uber (UBER), all of which have their own burgeoning autonomous driving wings. Eventually, some new, purer plays could emerge as the industry matures. For now, though, if you want to invest in the coming self-driving car boom, TSLA and NVDA are your best bets.
Do you own any self-driving car stocks in your portfolio?
[author_ad]
*This post was originally published in 2018 and is periodically updated.