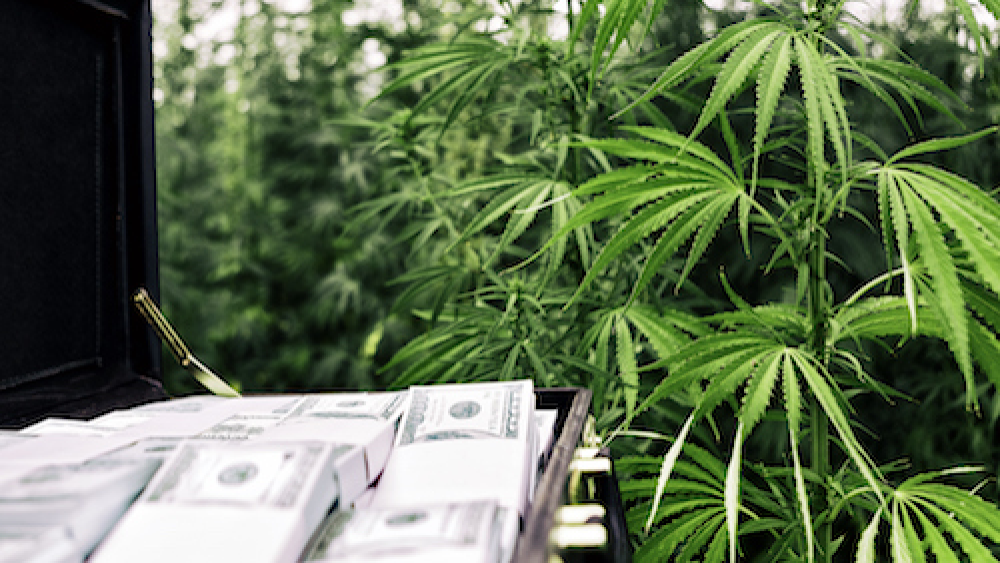 Cannabis Is Going to Change Your Life—Even if You Don't Smoke Weed
I recently returned from MJBizConNEXT, a three-day conference focused on all things related to the booming cannabis industry in the U.S., from marijuana to CBD and everything in between. I'll get to the best cannabis stock to buy now. But first, I want to tell you about what I learned at this conference.
My favorite discovery of the conference was the Rantizo Drone Sprayer, developed by an Iowa startup and designed to enable automated spraying of any crop. They were showing a video of the drone spraying grapevines at a winery (see photo), but there's no reason the drone couldn't be used for any crop; it's part of the robot revolution.
In fact, Rantizo recently won the $20,000 Grand Prize at the AgTech Innovation Competition at the Iowa Power Farming Show, where analysts described Rantizo as "revolutionizing the spraying market."
Elsewhere at the show, there were a huge variety of vendors, from those selling extraction equipment and supplies (getting that THC and CBD out of cannabis is a precision job, and companies are looking for scale up rapidly) to companies selling vaping supplies, fertilizer systems (I was told that lactating cows make the best fertilizer) to lawyers, insurance agents, financial services companies, consultants and more.
Here's a picture of an extraction system.
And then there were the sessions, where I heard from the best and the brightest and got confirmation of this one simple fact: Cannabis Is Going to Change Your Life.

The Future With Cannabis
It's hard for most people to see the future, yet the future arrives pretty fast these days.
[text_ad use_post='137724']
It was just 12 years ago that the first iPhone was made and now they're ubiquitous.
Also just 12 years ago was the launch of Netflix (NFLX), which began a massive change in television viewing habits.
And it was just 21 years ago that Amazon (AMZN) began selling books online, the first step in its path to selling almost everything.
All told, those firsts, along with YouTube and Google (GOOG) and numerous other technological introductions, can be said to have characterized the digital revolution.
The Digital Revolution changed our lives.
And the Cannabis Revolution is going to do the same, though it's hard to see the details from where we stand today. But we can try!
So what might the world to be like 10 years from now, when marijuana and CBD (and probably other cannabinoids) are more readily available, more culturally acceptable, and, best of all, better understood?
For starters, it's easy to see that cannabis will result in reduced usage of traditional painkillers, from aspirin to Aleve and Advil to opioids.
Increased use of cannabis will also result in reduced use of alcohol (most affected so far have been beer makers) and opioids.
Drunk driving vehicle fatalities will likely decrease—abetted by an increase in self-driving cars.
And cannabis will be a boon to many industries, as they harness the positive properties of cannabis and its component cannabinoids.
These industries include beverage (from alcohol to coffee to health drinks to sport drinks), tobacco, beauty, health and wellness, insurance, real estate, farming, recreation and more.
Furthermore, and perhaps most important of all, the majority of the changes won't come from marijuana, which has been the most visible, most feared, most misunderstood cannabis plant—it will come from CBD and other cannabinoids that have a variety of non-psychoactive effects.

64 Million Americans Have Already Tried CBD
CBD is already being sold by chains across America. Sephora, Ulta Beauty, CVS, Walgreens, Kroger, Barneys and Neiman Marcus are all selling CBD.
Two-thirds of users say CBD helped reduce their symptoms, which range from simple pain relief to arthritis to nausea, insomnia, allergies, glaucoma, post-traumatic stress disorder, schizophrenia, pre-menstrual syndrome, Alzheimer's, type 1 diabetes, anxiety, acne, cancer and indigestion.
Many people are even giving it to their pets. And the pets aren't complaining!
However, institutional investors are still leery of investing in the cannabis industry, mainly because marijuana is still not legal nationally in the U.S., and thus banking can be problematic.
And that means opportunity for you!
If you invest in marijuana and CBD stocks today, you will be getting in ahead of the big institutions, and thus when they finally start buying, their buying will benefit you!
But you can't buy just anything!
A lot of these marijuana stocks are still thinly traded. They're volatile. Poorly managed, they're just plain dangerous.
So I guide my readers to the quality stocks, those with sufficient trading volume and positive chart patterns, backed by companies with fast current growth and great growth prospects.
And I work very hard to maintain a diversified portfolio, so if there's softness in one sector of the industry, I'm winning in another.
Year to date, as I write, my Cabot Marijuana Investor portfolio is up 34.3%, while the Marijuana Index is up 13.2%. Not bad.
And one of my stocks is looking ripe for new buying now. I think it's the best cannabis stock to buy now.
It's a major Canadian grower, but it's not Canopy Growth (CGC) or Cronos (CRON). Yes, I have both those cannabis stocks in my portfolio, but I'm underweight those stocks. I think they're too expensive, mainly because they're so popular.
No, the one that is looking ripe for new buying is Organigram, and if you don't know about it, you should.

The Best Cannabis Stock to Buy Now: Organigram (OGI)
Based in New Brunswick, Organigram grows marijuana in greenhouses, sells in all 10 provinces, and has international partnerships as well.
The company boasts three-level growing technology in its greenhouses—and the lowest cost of cultivation of the Canadian licensed producers. Its production capacity is on track to triple by year-end 2019.
It's got an extraction partner, an edibles facility, and is setting up vape pen systems and a chocolate line.
And the company has developed a beverage solution, a "shelf-stable, water-soluble and tasteless cannabinoid nano-emulsion formulation to provide an initial onset in 10-15 minutes in a beverage."
In the latest quarter, revenues were $33.5 million, up more than 1,000% from the year before.
The valuation looks quite reasonable to me (for this industry), at just seven times revenues.
And the chart looks healthy, climbing higher for five months in 2019 before the recent one-month correction that has taken the stock down toward its 200-day moving average.
This, therefore, is likely to be a bottom. But it's foolish to try to buy bottoms; it's better to wait for signs that the bottom has passed, and climb on board once the stock starts moving up again.
I'll be telling readers of my Cabot Marijuana Investor advisory when I see that happening, and I hope you're one of them!
For more info, click here.
[author_ad]