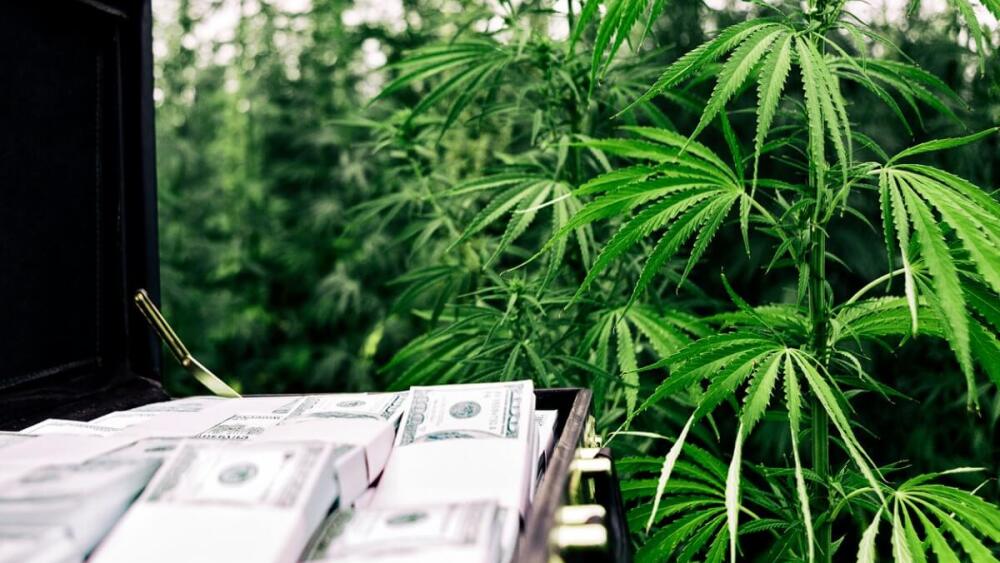 CBD is hot—and so are CBD stocks! Last week CVS announced that it had begun selling the miracle elixir in the form of creams, sprays, roll-ons, lotions and salves in 800 stores in eight states: Alabama, California, Colorado, Illinois, Indiana, Kentucky, Maryland and Tennessee.
Soon after, Walgreens piped up, saying it would begin selling CBD creams, patches and sprays in nearly 1,500 stores in nine states: Oregon, Colorado, New Mexico, Kentucky, Tennessee, Vermont, South Carolina, Illinois and Indiana.
What is CBD?
CBD (which is simply shorthand for cannabidiol) is a non-psychoactive component of cannabis plants. Some CBD comes from marijuana plants, so they may or may not have THC (the stuff that gets you high) in it, while other CBD comes from hemp, which is not only THC-free, but is also legal to grow and sell nationwide, courtesy of December's Farm Bill.
[text_ad]
CBD has been proven effective against two forms of childhood epilepsy and has been FDA approved for a drug made by GW Pharmaceuticals (GWPH), an English company.
But there have been no thorough studies of CBD in this country, because it was illegal to study until December, so no one knows for sure exactly what CBD really does.
Still, there is no shortage of claims! Migraines, backache, nausea, insomnia, PMS, anxiety, arthritis, acne, menopause, irritability, blood pressure, diabetes. You name it, someone has probably claimed that CBD can treat it.
Today millions of Americans are already self-medicating with CBD ahead of official approval from the medical industry, motivated both by word of mouth and the endorsements of celebrities like Whoopi Goldberg, Martha Stewart (famous for both interior decorating and insider trading), Morgan Freeman, Oliver Stone, Melissa Etheridge and Michael J. Fox.
And now the CBD stocks are moving!
Below are profiles of five CBD stocks to consider buying and one to avoid.

Five CBD Stocks to Buy Now
CBD Stock #1: Charlotte's Web Holdings (CWBHF)
Charlotte's Web of Colorado is possibly the most famous of the bunch thanks to early media exposure and its founding family, the Stanley Brothers, who are named (no kidding) Joel, Jesse, Jon, Jordan, Jared, Josh and Austin.
The company, which is not in the marijuana business, says it's the #1 brand of CBD by market share, with more than 4,000 retail locations, and 300 acres of hemp planted in 2018. Fourth-quarter results, released just last Thursday, showed revenues growing to $21.5 million, up 71% from the year before, with 57% of revenue coming from e-commerce. The stock has been strong, and is now right back up where it peaked last October.
CBD Stock #2: Curaleaf (CURLF)
Curaleaf, based in Massachusetts, grows and sells both marijuana and CBD. It was the first multi-state operator to launch a national CBD product line, Curaleaf Hemp. And this CBD is one of the brands on the shelves in those CVS stores. The company opened seven new dispensaries (selling both marijuana and CBD) in the fourth quarter in key markets such as Florida and Arizona, bringing its count to 42 dispensaries, 12 cultivation sites and 11 processing sites in 12 states. In the quarter, revenue was $32.0 million, up 409% from the year-ago quarter. The stock has been strong.
CBD Stock #3: CV Sciences (CVSI)
CV Sciences is all about CBD, but it operates two distinct business segments: a consumer product division focused on manufacturing, marketing and selling hemp-based CBD products, and a drug development division focused on developing and commercializing therapeutics based on CBD. The company says its PlusCBD Oil is the top-selling brand of hemp-derived CBD and that its retail channel included 2,238 stores nationwide at the end of 2018. In the fourth quarter of 2018, sales increased 96.4% to $14.2 million. The stock has been quiet for the past seven months but is starting to wake up.
CBD Stock #4: Elixinol (ELLXF)
Elixinol is a trifle complicated, and can also be tricky to invest in. It's an Australian company, with two main operations. Elixinol USA, based in Colorado and founded in 2014, is focused on hemp-based dietary supplements and skin care products, while Hemp Foods Australia is a leading hemp food wholesaler, retailer, manufacturer and exporter of bulk and branded raw materials, and finished products. Elixinol thus is not a marijuana company. In the latest quarter, revenues were $8.6 million, up 121% from the year before. The stock enjoyed 11 consecutive up days in the CBD buying frenzy, eventually rolling over last week.
CBD Stock #5: Green Growth Brands (GGBXF)
Green Growth Brands got a late start, but the company is pushing hard to be a force in retailing both cannabis and CBD. It plans to have 108 CBD stores in Simon Property Malls by mid-summer and is also building and acquiring cannabis businesses in Nevada, Massachusetts and Arizona. In the fourth quarter, revenues were $3.1 million, up from nothing the year before. The stock has been cooling off since peaking in January.
CBD Stock to Avoid: Isodiol (ISOLF)
Here's the one to avoid. Isodiol is all-CBD, no marijuana, and it has a lot of brands: BSPG Laboratories, CBDExtreme, Iso-Sport, C3 Global Biosciences, Pot-O-Coffee, Bradley's and Cannaceuticals. And it's located in Vancouver, while all the other CBD companies are in the U.S. In the latest quarter, the company reported revenue of $7.1 million, down from $8.0 million in the immediately preceding quarter and up only 21% from the year before—which is a turtle's pace for this industry.
And the chart reflects the trouble.
Last Word on CBD Stocks
This is a hot industry, with great long-term prospects, and money has been pouring into the stocks. But you've got to be careful; a lot of those stocks are low-priced and they can move fast, in both directions. So while you could just jump in here and hope for the best, I suggest that you become one of my regular readers at Cabot Marijuana Investor.
Cabot Marijuana Investor was started nearly two years ago, way before the current surge of euphoria in the sector, and I've been keeping my readers well informed of all the important developments in the sector while guiding them to the best combination of stocks.
I haven't recommended that anyone put all their investments in cannabis stocks, but if they had, the results would have been fantastic!
Cabot Marijuana Investor Track Record:
2017 — inception to end: 120.9%
2018 — 12 months: 15.1%
2019 — to date: 48.7%
For more info, click here.
[author_ad]