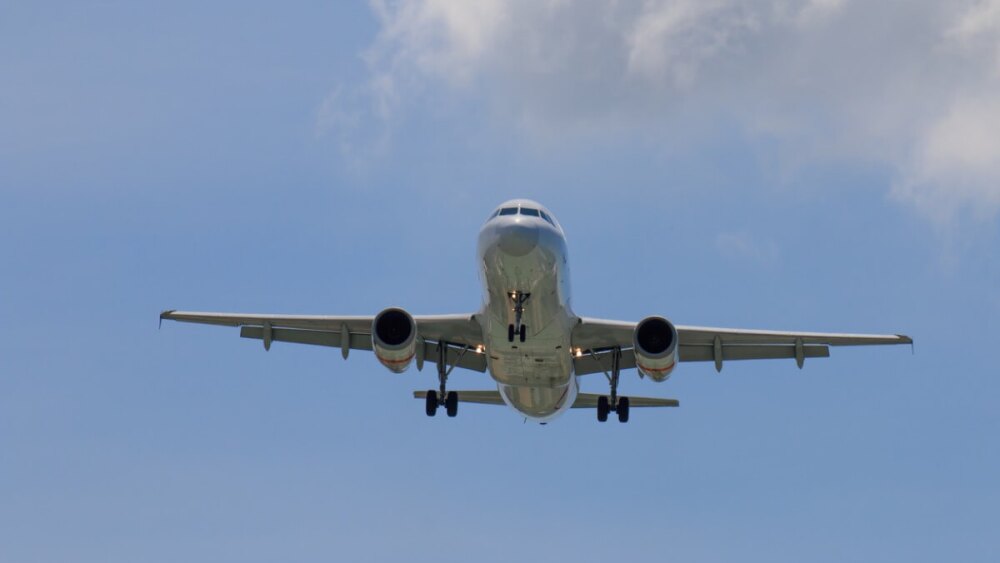 One of the stock market sectors that was hit hardest by the pandemic was travel and leisure stocks, not surprisingly. Hotels, airlines and other travel-related stocks got crushed in 2020-2021.
But now, with vaccinations more widespread in the U.S. and the country several months removed from the worst of the Omicron outbreak, airline stocks in particular look like they could be high-flyers once again.
In this article, I'll take a look at my favorite airline stock, plus an even easier way to invest in the entire sector in a single trade.
Airlines were on the ropes a little over a year ago, suffering a 60%+ decline in demand on the heels of a nightmarish 2020. U.S. airlines had to turn to government bailouts just to stay afloat. And they were quickly forced to slash their flight schedules and drastically cut expenses to right-size their costs.
Today, air traffic is making a big recovery. The number of passengers passing through TSA checkpoints at U.S. airports these days is typically in the 2 million range; last March and April, the number topped out around 1.5 million.
[text_ad]
While traffic isn't quite back to pre-pandemic levels - literally every day this April was down about 100,000 to 300,000 passengers from the same date in 2019 - airline traffic is easily at a post-Covid high, as Americans are eager to shake off two years of cabin fever and get out and explore the world again. And that's been great news for the airlines.

The Best Airline Stock Today
Airline stocks are recovering too, but one stock still looks like a bargain: Southwest Airlines (LUV) is the fourth-largest U.S. airline ranked by revenue.
Southwest operates with a customer-first, low-cost approach that's a hit with travelers who remain loyal to the airline. The airline is domestic oriented with 107 destinations in the U.S., Puerto Rico and 10 other nearby international routes.
Its focus on domestic leisure and higher-margin business travelers gives Southwest a competitive advantage in terms of lower operating costs than many of its airline peers who rely more on international destinations and cater mainly to business travelers.
The pandemic has severely limited business travel budgets. And Southwest's focus on providing low fares should help it boost its market share of business travelers looking to cut travel costs.
The first quarter was a bit of a mixed bag, but guidance for full-year 2022 was enough to give shares a boost in the week since the company reported Q1 results.
The airline reported a 32-cents-per-share loss, but a lot of those losses came in January and February, when traffic was down due to the Omicron surge. In March, operating revenue increased for the first time since the pandemic began, and was higher than March 2019. Furthermore, Southwest expects to return to profitability for the full year, versus a loss of $2.15 per share in 2021 and $6.22 per share in 2020. Analysts expect the airline to earn $1.13 per share this year, on $21.9 billion in revenues, which would be a vast improvement from the combined $15.8 billion (2021) and $9 billion (2020) in sales the last two years.
Meanwhile, LUV stock has benefitted from the rosier financial picture, up 5.8% so far this year while most stocks have been going the other direction. Still trading at about 30% below its pre-pandemic highs, LUV should have plenty of room to run as its passenger numbers continue to recover.
The Best Airline ETF
And if you're not a fan at trying to handicap individual stock winners, there's another way to bet on the entire airline industry with a single mouse click: the U.S. Global Jets ETF (JETS).
This airline ETF tracks a basket of 40 global airline and air-transportation related stocks. The fund has total assets of $3.5 billion, and its top eight stock holdings are all major U.S. carriers, including Southwest Airlines at #3. It's down 1.2% year to date, but more encouragingly is up a whopping 27% in the last two months and has settled into a nice-looking base that could produce another move to the upside should the market as a whole finally get going.
Bottom line: Americans are champing at the bit to resume travel, and with airline stocks on the rise it may be worth taking a "flyer" (pun intended) on JETS and LUV.
Have you considered adding travel and airline stocks to your portfolio?
[author_ad]
*This post has been updated from a previously published version.