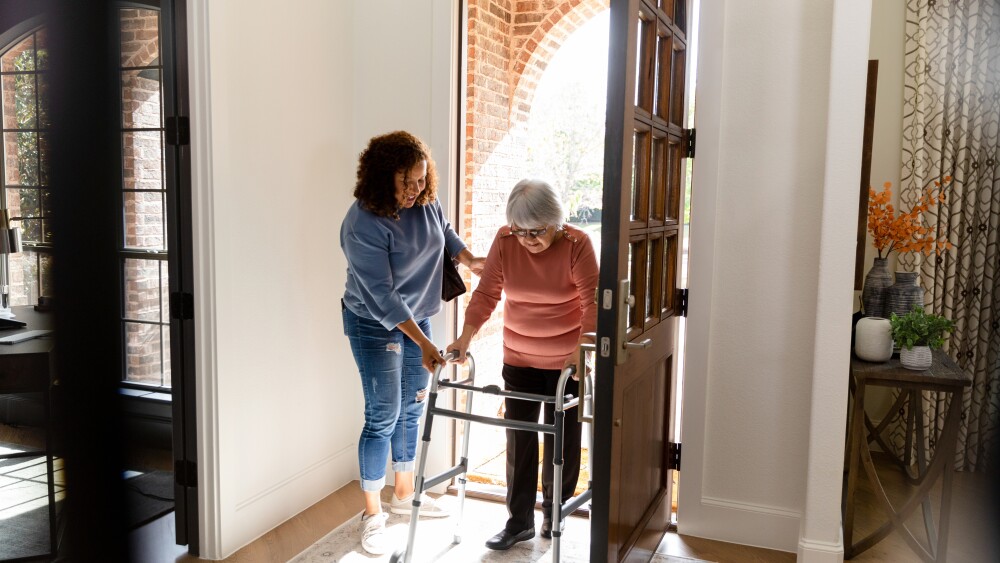 The market has been better so far in October.
Inflation is falling. The Fed is almost done hiking rates. And there is absolutely no sign of recession. It looks like we might just get through the rate hiking cycle without the normal economic pain. At the same time, the last two months of the year are historically strong for stocks.
But there are looming issues that could spoil the party. The situation in the Middle East could escalate at any time. A wider crisis could trump everything else and spook the market. There's also interest rates. The benchmark ten-year Treasury yield is on the cusp of 5%, a 16-year high and an important psychological level.
True, rates have been higher for a while, and they still haven't tanked the economy. But rates have spiked a lot higher since the summer. Even if the current rates don't drag down the economy, they could spike still higher until they do.
[text_ad]
But anything is possible. Rates could be peaking. The worst may pass and rates could start to move lower without a recession. It's hard to know. Six months from now we could be in a raging bull market or bounding toward a recession. And the type of environment has a huge impact on how different stocks and sectors perform.
But the market is always hard to predict in the short term. Remember the old Wall Street adage. You never know in which direction the next 5% or 10% move in the market will be, but the next 100% move is always higher. Dividend investors play the long game anyway. The financial press is obsessed with tomorrow or next week. Let's focus on the next 100% move by sticking with what we know.
We don't know how this inflation battle will ultimately play out, or how high interest rates will go. But we know the population is aging at warp speed.
Because of better healthcare, improved lifestyles, and low birth rates, the fastest-growing segment of the population is 65 and older. Baby Boomers are turning 65 at an average rate of 10,000 per day and will continue to do so for years to come. One-third of the U.S. population is already over 50. The population is older than ever before in history and getting even older still at a rapid pace. The trend is even more pronounced in many other countries.
Markets go up and down. Stock sectors rotate. Business cycles do their thing. That has always been the case. But we are in the midst of a tectonic shift in the human population that will have a profound effect on the market and economy. Companies that benefit from this megatrend will have a huge advantage.
Aging boomers will continue to buy their drugs and pharmaceuticals regardless of what happens with inflation or the stupid Fed or the economy. And the massive market for such products is only getting bigger. As a result, the healthcare industry is having an epic boom. Since 2012, total healthcare expenditures have increased a staggering 75% and now account for 20% of GDP.
Owning stocks of companies that benefit from the powerful tailwind of a megatrend makes success much more likely. Investing with such a tailwind makes an average stock great and a good stock the investment of a lifetime.
3 Likely Beneficiaries of the Aging Megatrend.
Eli Lilly and Company (LLY)
Yield: 0.8%
Indiana-based Eli Lilly is a global pharmaceutical giant with over $28 billion in annual revenue, more than 40,000 employees, and sales in 110 countries. Founded in 1876, it's one of the oldest companies on the exchange. But the company is most noteworthy for its unusually high focus on R&D, where it allocates over 25% of sales compared to an average of high teens for the industry.
The R&D focus pays off as Lilly has arguably the very best pipelines in the industry. Lilly has been about the best of the large pharmaceutical companies at delivering needed drugs and therapies. As a result, LLY has been the most successful large pharmaceutical company stock by far. It has returned 1,354% the past ten years and 328% for the last three.
The company has a strong presence in diabetes (Trulicity, Jardiance, Humalog, Basaglar), oncology (Alimata, Cyramza, Verenio), and newer drugs in immunology (Taltz and Olumiant). Many of these drugs are difficult to duplicate and provide Lilly with more patent protection than most of its peers. Analysts on average are expecting Lilly to grow earnings by an average of about 25% per year for the next five years.
Drugs that await an FDA likely decision sometime this year include two potentially game-changing mega-blockbuster drugs. One is an Alzheimer's drug (Domanemab). There is a massive unmet need for this common disease with few drugs or treatments available, which increases the likelihood of approval. Another is a current diabetes drug that has had very successful late-stage trials for weight loss. Obesity is a massive problem, and this drug has thus far shown to be superior to anything else on the market.
AbbVie Inc. (ABBV)
Yield: 4.0%
AbbVie is a U.S.-based biopharmaceutical company formed in 2013 as a spinoff from Abbott Laboratories (ABT). AbbVie is a research-based pharmaceutical company specializing in small-molecule drugs.
AbbVie became an industry giant because of its mega-blockbuster drug Humira. It's an autoimmune drug that became the world's best-selling drug by far. But the tremendous success of that drug is now a problem because it lost its patent overseas of couple of years ago and it lost its U.S. patent this year. AbbVie posted lower year-over-year revenues in the first two quarters and the shrinkage will likely continue for more quarters.
That's the bad news. The good news is that AbbVie has one of the best pipelines of new drugs in the business and can replace those lost Humira revenues in the next couple of years. This Humira patent expiration has been known and feared for a long time. Despite this bullet coming, ABBV has returned about 25% per year on average over the last three years. That's because of the market's confidence in the pipeline.
The company is expected to resume earnings growth next year. AbbVie's new immunology drugs, Skyrizi and Rinvoq, are expected to replace Humira's peak revenues in a short period of time. The company also has over 50 drugs in mid- and late-stage trials. As the market increasingly looks to the future beyond the Humira expiration it will sell one of the best drug companies in the world selling at a cheap valuation ahead of a promising future.
UnitedHealth Group Incorporated (UNH)
Yield: 1.3%
UnitedHealth Group (UNH) is a Dow Jones component that is America's largest insurer and one of the world's largest private health insurers. It's a goliath with $324 billion in annual revenues that serves 149 million members in all 50 states and 33 countries. That's a lot of monthly insurance premiums!
The group provides services at just about every facet of the healthcare process and the full-scale operation provides a powerful alignment of incentives that helps clients control costs better than competitors, which is a massive issue in the industry.
It's also a huge company and operation. Scale is hugely important in this industry. It enables UnitedHealth Group to keep costs down by virtue of volume, have cash for acquisitions, and wield significant power to adjust rates as prices increase. That's a huge benefit during inflation.
Although UNH is large in scale, the stock has managed to blow away the returns of the overall market, with nearly twice the return over the past three- and five-year periods, and quadruple the return over the last ten years. UNH has also done this with considerably less volatility than the market, with a beta of just 0.69.
[author_ad]