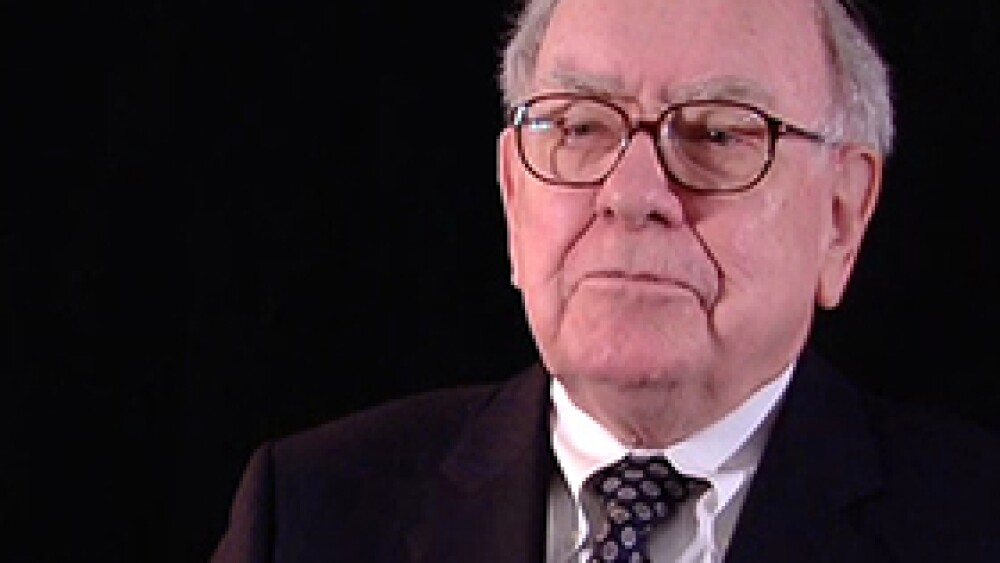 Warren Buffett is rarely wrong about investing. So when in a CNBC interview Monday morning that he would "buy the S&P in a second," it's probably a good time to buy stocks.
Context and timeframe matter, of course. So here's exactly what Buffett said in the interview:

What Warren Buffett Said
"Stocks are incredibly cheap … interest rates govern everything, and if there were a way to short 30-year bonds and own the S&P for 30 years, I would give you enormous odds that the S&P was going to beat 30-year bonds.
[text_ad use_post='129627']
"Now, we've had this period of extended long-term low rates, not only here but around the world, and now it looks like we're not going to jack them up very fast. So, we're in a new world – the world that Japan entered back in 1990. If so, we'll look back on it and stocks will look very cheap.
"…If I had a choice today between a 10-year purchase of a 10-year bond at whatever it is and buying and owning the S&P 500 for 10 years, I would buy the S&P in a second."
So, if you tend to believe what Warren Buffett says—and, for the past few decades, he's given people very little reason not to believe him when it comes to investing decisions—then stocks are a good place to be invested over the next 10, 20, 30 years.
If you're a younger or middle-aged person who doesn't plan to retire anytime soon, that should be a flashing green light to put some of your hard-earned savings into stocks—particularly the large-cap stocks that populate the S&P 500, which tend to grow for years and even decades the way the index itself does historically.
Even if you're approaching retirement or just recently retired, you can afford to buy stocks now and patiently wait for them to appreciate over the next 10 years. As Buffett said, his bullish outlook for stocks is based partly on his belief that interest rates will remain relatively low for some time. If the Fed decides to put its foot on the interest-rate gas again a year or two from now, perhaps Buffett's tune will change. But he's betting that won't happen.
Of course, there are bound to be bumps along the way. It's in the market's nature to ebb and flow. Yes, there could be another recession along the way in the coming decade—perhaps in the next two to three years. But any recession is unlikely to be as severe as 2008-2009 (those slides come around once ever few decades, not twice in 10 years), and besides, even the financial crisis wasn't enough to prevent stop stocks from rising over time.
During that disastrous two-year stretch, the S&P 500 lost more than half its value. Five and a half years after it began, however, stocks were higher than they were when the subprime mortgage crisis-induced market crash started. Two years after that, they were up another 31%. In fact, if you were unfortunate enough to start buying stocks when they peaked in October 2007, then left them untouched for the ensuing decade—recession and market collapse be damned—then you still would have earned a return of better than 60% (and that doesn't even include dividend payouts). That's way better than the return your money would have earned sitting in the cold-storage of a savings account, or even if you'd put it in a certificate of deposit (CD) or money market account (MMA) during that stretch of near-zero interest rates.

Buy Stocks Now
Stocks rise over time. You'd be hard-pressed to find many 10-year stretches in which stocks fall, though the first decade of the 2000s (which included both the 2008-2009 recession and the dot-com bubble bursting shortly after the turn of the century) was a notable exception. But if Warren Buffett says that stocks won't fall over the next 10 years—and will, in fact, flourish, at least when compared to bonds—then I'd go with that.
And even if you have a much shorter time frame, and you want to make money now, then it's also a good time to invest! According to growth investing expert Mike Cintolo, our Cabot Tides and Cabot Trend Lines market timing indicators are solidly positive, meaning the bulls are firmly in control and most leading stocks are acting well. Translation: buy stocks!
Now, if you need some help identifying exactly which stocks you should buy, click here to browse through our library of 12 investment advisories, ranging from our Cabot Top Ten Trader momentum-investing advisory to our lower-risk, longer-term advisories like Cabot Dividend Investor and Cabot Undervalued Stocks Advisor.
Warren Buffett says you should buy stocks now. And so do we!
[author_ad]