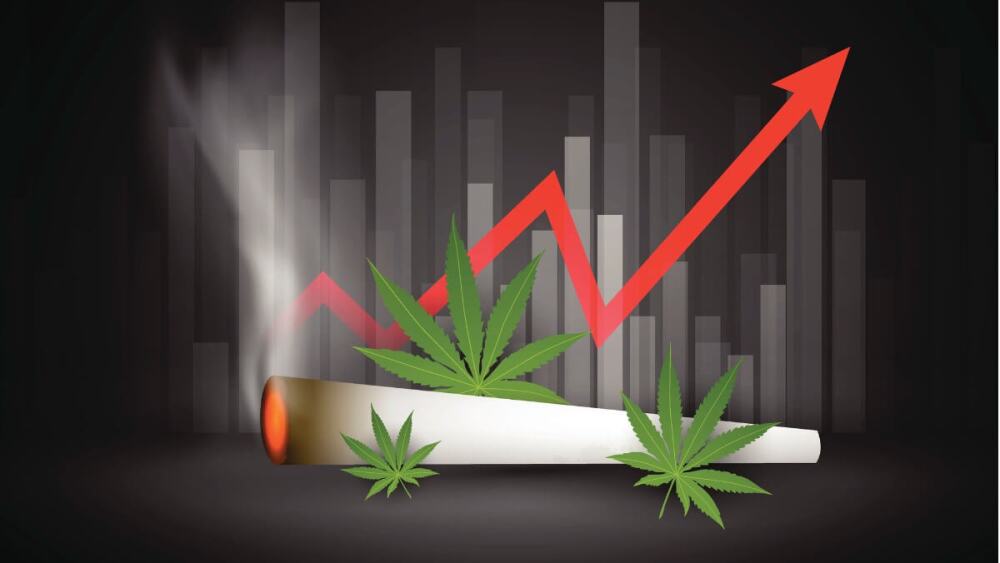 Today, I want to reveal two marijuana stocks to buy on the bounce in marijuana sector. But first, let's talk about the huge recent developments in the marijuana industry.
In last week's election, Michigan voted to legalize the recreational use of marijuana, while Utah and Missouri voted to legalize it for medical use.
That means there are now 33 states that allow medical use of marijuana, and 11 that allow recreational—or what the industry likes to call "adult-use."
And where do you think consumers are going to buy this product? Right now, the industry is extremely fragmented, in part because of our federal laws. Small local operators rule. But there are a couple of major players angling to be leading national retailers, and today I want to give you a closer look at both of them.

MedMen (MMNFF)
MedMen opened its first store in West Hollywood in December 2015, and today it operates 15 stores in three states (California, Nevada and New York). And these are very profitable stores! In the latest quarter, average sales per square foot were $6,257—higher than the average at Apple stores, which is $5,546.
[text_ad]
But the company is more than just stores. MedMen also grows its own cannabis; in April, the company opened MedMen Mustang, a 45,000 sq. ft. greenhouse near Reno, Nevada, with plans to produce 10,000 pounds of cannabis annually.
That makes it a multi-state vertically integrated retailer, a fact that insulates it from tough conditions in any one state, or tough conditions in any one level of the industry (a glut of supply at the wholesale level, for instance).
And MedMen is getting bigger. In fact, on October 18, the company announced an agreement to acquire PharmaCann, a Chicago-based vertically integrated cannabis company, in a stock deal valued at $682 million. When complete, the combined company will be licensed to operate 79 cannabis facilities in 12 states. And as far as I know, going forward, all the stores operated by the company will do so under the MedMen name. Also, MedMen has a cross-border agreement with Cronos (CRON), one of the major Canadian producers, called MedMen Canada.
On October 25, the company released its fiscal fourth-quarter results. Revenue was $20.6 million, up 1,317% from $1.5 million the year before, and up 44% from the third quarter. That's fast growth!
As for the stock, it's young! MedMen went public May 29 at 3.5 and has been trending roughly upward since then, though volatility is high, which is common with low-priced stocks and especially typical of marijuana stocks, which are heavily influenced by news and investor sentiment.
The stock peaked on October 18 at 7.6, and bottomed seven trading days lower at 4.2 (a drop of 45%), but it's rebounded strongly from that low.
iAnthus (ITHUF)
As far as names go, I give MedMen an A+ and I give iAnthus a D, though the good news is that consumers don't see the iAnthus name. That's because iAnthus stores have different names in all the states where it operates.
In Massachusetts, it's Mayflower; in Florida, it's GrowHealthy; in New York, it's Citiva; in Vermont, it's Grassroots Vermont and in Colorado, it's Organix. Thus you can see that iAnthus is appealing to local audiences with its identities.
Also, you can see that iAnthus is heavy on the east coast but is also in Colorado, while MedMen is heavy on the west coast but has already jumped to New York.
Like MedMen, iAnthus does it all, from growing to processing to retailing. Its flagship store will be located in Brooklyn across the street from Barclay's Center.
And like MedMen, iAnthus is growing by acquisition! On October 18, the company announced the acquisition of MPX Bioceutical for stock valued at $835 million. This will expand the company's footprint to 10 states (Arizona, California, Colorado, Florida, Maryland, Massachusetts, Nevada, New Mexico, New York and Vermont), with 56 retail locations and 14 cultivation/processing facilities.
Notably, this is the first combination of two U.S. public companies in the industry, and increases the odds that the company will be a major retail player in the years ahead.
In the six months ended June 30, revenues were $4.9 million, so iAnthus is currently behind MedMen, but both are growing fast and I believe both will be big winners, if properly managed.
As for the stock, ITHUF came public "way back" in September 2016 near a dollar, and made little headway in its first year. But it surged in late 2017 with the whole sector, peaking at 5 in January 2018, and it topped that by hitting 6 in June and 7 in September. Then it plunged with the entire sector in the October market correction (correcting 42%), before bouncing strongly.
More Marijuana Stocks to Buy
These are still low-priced, volatile stocks, so not suitable for amateur investors. On the other hand, this is the fastest-growing industry in America, so looking long term, your odds are much better with one of these marijuana stocks than an overexposed crowd favorite like Facebook (FB) or a struggling old-world company like Ford (F).
Additionally, many institutions still don't like the marijuana sector! Many won't touch it until federal legalization is a reality—at which time prices will be much higher—and many still view it as a speculative bubble, on par with bitcoin!
To me, that spells opportunity, and that's the reason I launched Cabot Marijuana Investor in August 2017. As I write, the average profit in my portfolio is 154%, and both MMNFF and ITHUF are among them.
To learn more about which marijuana stocks to buy, click here.
[author_ad]