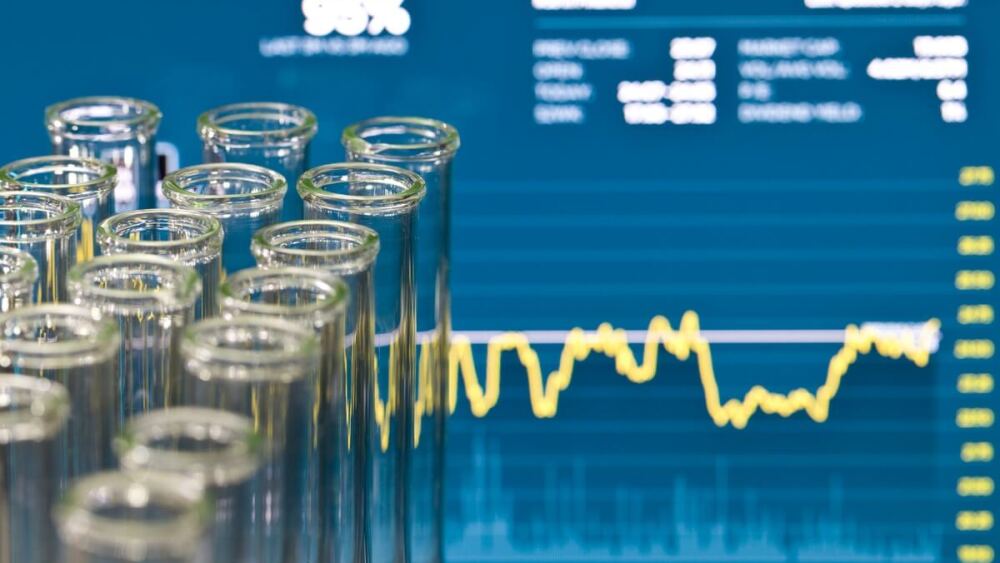 Even with recent vaccine announcements, investors still have an opportunity to profit from Covid vaccine stocks.
Moderna's (MRNA) recent announcement of a Covid-19 vaccine which demonstrates 94.5% efficacy has driven the share price higher while also pressuring Pfizer (PFE) and BioNTech (BNTX), who jumped on similar efficacy rates (90%) the week prior. While those companies may be jockeying for position in what's sure to be a crowded vaccine market, the most critical consideration appears to be one of delivery more than efficacy, as Moderna's vaccine can be stored at higher temperatures and for longer than the Pfizer/BioNTech vaccine. Investors that missed the Pfizer/BioNTech rally last week and/or the Moderna rally today are likely looking for ways to introduce Covid vaccine stocks into their portfolios without piling into stocks that have already appreciated on vaccine news.
[text_ad]
Fortunately, governments around the world (most notably the U.S.) are putting billions towards vaccine research and distribution, and it's unlikely that one or two vaccine candidates will be sufficient to meet worldwide needs. That presents the possibility that of the hundreds of Covid-19 vaccine candidates, dozens could potentially be approved and distributed either widely, nationally, or regionally. Which means that not only are there still investments with high upside potential, but there could be multiple such companies. Before we get to the companies with upside potential, let's start with…

Three Covid Vaccine Stocks to Avoid
AstraZeneca (AZN) is obviously a pharmaceutical heavy hitter, with a diverse product line, billions in revenue every year, and even a healthy 2.5% dividend. Which is precisely why it's best avoided if you're looking for significant growth potential. Setting aside the fact that AstraZeneca was forced to halt its U.S. trial of a Covid vaccine before resuming it later in the year, even a best-case-scenario is unlikely to significantly move the bottom line. If AstraZeneca faces delayed approval in the U.S. after receiving initial approval in the U.K., which seems likely due to the trial halt, it's unlikely that minor and gradual revenue increases will significantly affect the share price.
Inovio Pharmaceuticals (INO) rallied approximately 10% on Monday on news that the FDA released a trial hold which had been in place since the end of September. This will allow Inovio to proceed forward with phase 2/3 clinical trial of their Covid vaccine candidate but that's where the good news ends. Inovio has no track record of receiving FDA approvals throughout its history and is currently embroiled in shareholder lawsuits alleging that it misrepresented its Covid vaccine progress on Fox News and to President Trump. The shareholder suit and SEC investigation even prompted a Citron Research report likening Inovio to the Theranos of Covid-19 vaccine development.
Novavax (NVAX) is another company without a proven record of developing FDA-approved pharmaceuticals and likely another Covid vaccine stock to avoid. Novavax, which is utilizing a nanoparticle protein delivery mechanism, is slated to begin phase 3 trials later this year which means they'll be delivering results in early 2021 and could be entering an already-crowded market. While Novavax has received over $2 billion in funding as part of Operation Warp Speed and associated development programs, that funding may be all sizzle and no steak, as funding dollars have been free-flowing with little accountability. Given the poor track record and inflated share price, this may be one for the watchlist pending the outcome of phase 3.

Three Covid Vaccine Stocks with Growth Potential
CureVac (CVAC) is a German biopharmaceutical company that, like Moderna, Pfizer, and BioNTech, is pursuing an mRNA-based Covid vaccine and which recently reported positive phase 1 results. Given the efficacy rates of the two prior mRNA vaccines, CureVac could, ideally, report similar efficacy rates early next year. Unexpectedly, CureVac was trading higher Monday on the Moderna news as they're playing the same game. What makes CureVac more than just another mRNA latecomer is the possibility for vaccine scaling. CureVac has a partnership with Tesla (TSLA) to use their RNA bioreactors to essentially create vaccine microfactories. Even if CureVac encounters potential delivery hurdles like those faced by Pfizer/BioNTech, development of regional or local microfactories could still enable widespread distribution of a potential vaccine.
Dynavax Technologies (DVAX) is another company that's in early-stage Covid vaccine development, and that just recently received approval to begin phase 1 & 2 trials in India. The intriguing element of Dynavax is not that they're one of many early-stage Covid vaccines, but rather that they have agreements with other companies for use of their HEPLISAV-B adjuvant, which would be added to a Covid vaccine to boost immune response, minimize the amount of antigen needed, and enhance the efficacy of a vaccine. The storage temperatures required for the adjuvant, which are 36-46 degrees Fahrenheit, also offer positive potential for distribution. Dynavax is currently trading near $4/share with a median analyst price target of $14 and an average target of $16, and it beat earnings estimates in the most recent quarter. The depressed share price may turn off some prospective investors, but the agreements with multiple Covid vaccine companies means you're getting exposure to more than just one candidate.
Altimmune (ALT) actually has two products in the pre-clinical phase of the approval process right now, AdCOVID and T-COVID. AdCOVID is a single-dose intranasal vaccine which has the potential of triggering mucosal immunity which could be more effective than an injected vaccine and reduce spread as it "shuts the door" on Covid by triggering an immune response that's active in the nasal passageway and prevents the virus from taking hold of a patient. T-COVID, on the other hand, is an immunomodulator that's intended to reduce the cytokine storm and immune response of patients that have already contracted the disease. Both products are early in development and obviously require regulatory approval, but the reduced patient resistance to a nasal spray, the cost savings that intranasals offer over injectables, and the potential for widespread distribution make Altimmune one Covid vaccine stock worth watching.