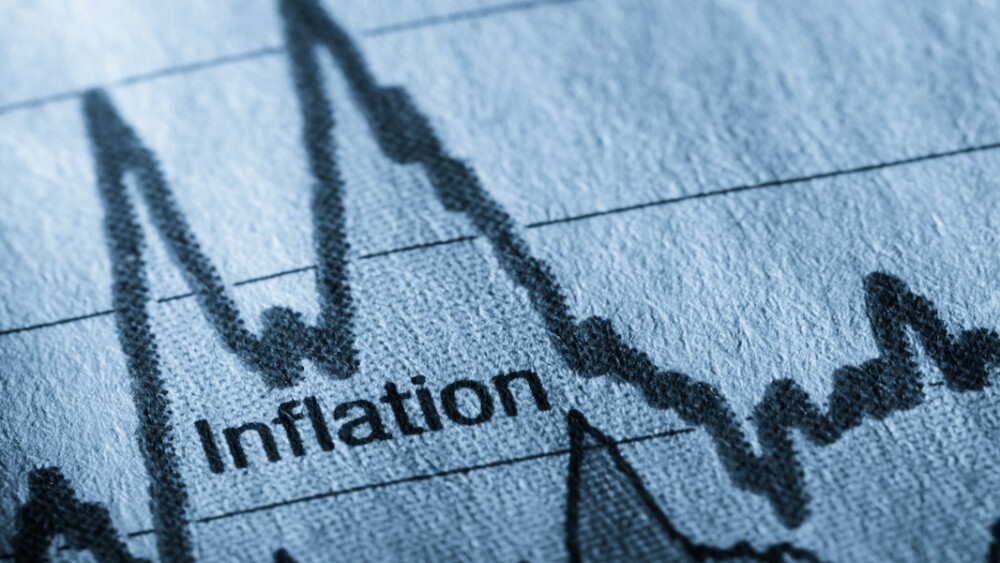 The Consumer Price Index (CPI) jumped above 6% for the first time this century back in October of last year. The October inflation rate, which was 6.2%, was reported on November 11, 2021. Seven trading days later, the Nasdaq closed at an all-time high of 16,057. It's gone nowhere but down since, losing 26% in less than eight months.
Two months later, on January 12 of this year, the December 2021 CPI was reported, topping 7% for the first time in nearly four decades. At the time, the S&P 500 was just down from all-time highs set only the week before, closing at 4,726 that day. The benchmark index lost 8.5% over the next two weeks (see January 2022 chart below) as investors grappled with the reality that inflation was not merely "transitory," but here to stay.
[text_ad]
Three months later, stocks were actually slightly higher, as it seemed Wall Street was coming to grips with high inflation being the norm. Then, on April 12, the CPI number (for March 2022) not only topped 8% for the first time since 1981, but jumped all the way to 8.5%. The S&P plunged another 10.6% in the ensuing month.
Mercifully, the April inflation rate dropped slightly, to 8.3%, prompting the S&P to rise 5.7% over the next four weeks, with optimism surfacing that perhaps peak inflation had already been achieved. Then came the May number – 8.6%, a fresh high – and stocks immediately plummeted again, hitting new lows by mid-June, falling 12% in just seven trading days.
Share prices have recovered in the month since. Two weeks ago, however, brought an even scarier CPI number: 9.1% inflation in June. Again, budding hopes that America had finally reached peak inflation were dashed.
Peak Inflation: No. Peak Inflation Panic: Yes?
But a funny thing happened to stocks this time: they're up! Granted, the gains have been fairly modest - it's not like the selling is suddenly absent, at least not for more than a couple days. However, considering how jarring the CPI number was this time – more than 9%! – the net-positive reaction seemed … surprising.
Yes, stocks fell on the Monday and Tuesday leading up to the Wednesday, July 13 CPI report, perhaps a sign at least some of the June inflation rate was already baked in. If you back-date market returns to the Friday before the CPI number was released, the S&P is virtually flat. Still, the trajectory is up - the S&P has climbed 7% since its June 16 bottom.
That leads me to wonder: While America has yet to reach peak inflation, is peak inflation panic already in the rearview mirror? We'll have a clearer answer a week or two from now. And if the July number comes in even higher than 9.1% next month, inflation panic may resurface and send stocks spiraling downward yet again.
That said, things have been surprisingly calm this time around. The volatility index (VIX), for example, has fallen from 26 to 23 in the last two weeks and is well below its June and May peak (34), and its 2022 peak (36, back in early March).
As you surely know, the stock market is forward-looking. "Buy the rumor, sell the news" is an idiom that's become cliché, but it's true. Investors may have finally gotten over their inflation sticker shock, and thus the 9.1% rate was already baked into share prices. Or, perhaps, they're expecting lower inflation numbers in the back half of the year.
Either way, the modestly positive market reaction to another new 40-year-high inflation number has been notable. It doesn't mean you should go diving back into the pool now, even with all the bargain stocks out there. To paraphrase my colleague (and market timing expert) Mike Cintolo, we need to see evidence of a sustained uptrend (i.e., more than a week or so) before we can start to really loosen the reins on all that extra cash many of our advisories have been sitting on for months.
Still, to me, this month's reaction has been a very good sign that inflation panic has in fact peaked. When inflation itself finally peaks (or perhaps before it – remember, forward-looking!), then you may start to see the kind of buying that's been missing entirely from the market in 2022.
Do you think we've reached peak inflation? Or will the number go higher in the coming months? Share your thoughts in the comments below.
[author_ad]