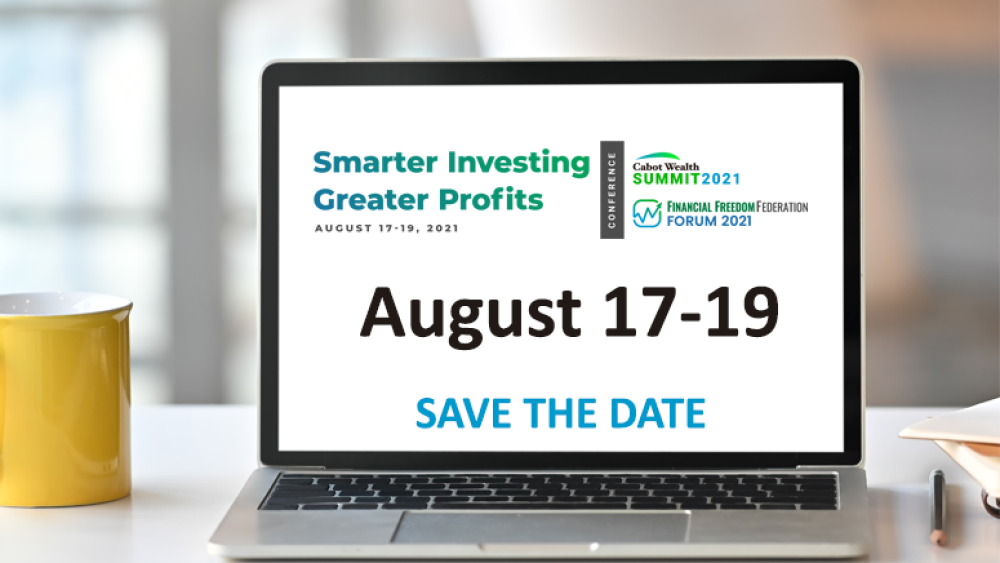 We all want to invest smarter and earn more profits from our investments. This summer, you can learn how to do both in just three days – without having to leave your couch!
The Smarter Investing, Greater Profits Conference is an online event that will take place August 17-19, 2021. It's a combination of our Cabot Wealth Summit, the annual summer event featuring presentations from Cabot Wealth Network's deep stable of top-notch analysts, and our first-ever Financial Freedom Federation Forum, featuring our new sister website, Financial Freedom Federation, which aims to help investors of all skill and experience levels achieve financial independence.

The Financial Freedom Forum
Day 1 of the Smarter Investing, Greater Profits Conference – Tuesday, August 17 – is the Financial Freedom Forum. It will feature a lineup of presenters from our new Financial Freedom Federation site, including market veteran Kate Stalter, gold and silver expert Clif Droke, and editor-in-chief Nancy Zambell, a name likely quite familiar to anyone who has ever attended the Cabot Wealth Summit. You'll learn time-tested strategies for investing in stocks and ETFs, planning for retirement (or navigating finances in retirement if you're already there), precious metals investing, and improving your overall financial health – all with the goal of helping you achieve your financial freedom.

The Cabot Wealth Summit
Days 2 and 3 – Wednesday, August 18 and Thursday, August 19 – is the Cabot Wealth Summit, and will feature all of our Cabot analysts, including our longtime chief investing strategist Tim Lutts; growth stock and market timing extraordinaire Mike Cintolo; options trading whiz Jacob Mintz; small-cap and early opportunities guru Tyler Laundon; income investing expert and dynamic speaker Tom Hutchinson; our global investing head honcho, Carl Delfeld; value investing veteran Bruce Kaser; and micro-cap magician Rich Howe.
[text_ad use_post='228069']
As usual, the conference will conclude with our Top Picks Panel, with all Cabot and Financial Freedom analysts giving their top stock picks for the year ahead. Past top picks have included Carvana (CVNA; +140% the following year), Goosehead Insurance (GSHD, +105% in a year), Molson Coors (TAP, +63% in nine months) and Valero Energy (VLO, +60% in nine months).
In normal times, this conference has been in person. Each of the first seven annual Cabot Wealth Summits were held at the historic Hawthorne Hotel in beautiful downtown Salem, Massachusetts, Cabot's headquarters for the last half-century. Alas, these are still not quite normal times. While the accelerating pace of vaccines in arms is, for the first time in more than a year, allowing us to see a light at the end of this Covid-19 tunnel, enough uncertainty remains in the coming months that we have decided to hold the conference entirely online, instead of in person, for the second straight – and hopefully final – year.

Smarter Investing, Greater Profits
Still, you will get to see and hear from all of our analysts from both Cabot Wealth Network and Financial Freedom Federation.
Mike Cintolo will be talking about the state of the market and where he sees it, and growth stocks in particular, headed in the next year. Tim Lutts will talk about the booming cannabis industry, and what marijuana stocks are emerging as big winners in the years to come. Nancy Zambell will be offering up an introductory investing seminar on Tuesday for attendees who are relatively new to investing or just want to review the basics.
And many others. All from the comfort of your home!
We will also be taking your questions throughout the three-day conference; we want this to remain as interactive an experience as possible despite being virtual instead of in person.
So "join" us, August 17-19, for the Smarter Investing, Greater Profits Conference by clicking here. If you register now, you can capture our early-bird special, and save $200. I promise you will come away from it a smarter investor, with many investment ideas that should boost your portfolio in the weeks, months, and likely years to come!
[author_ad]