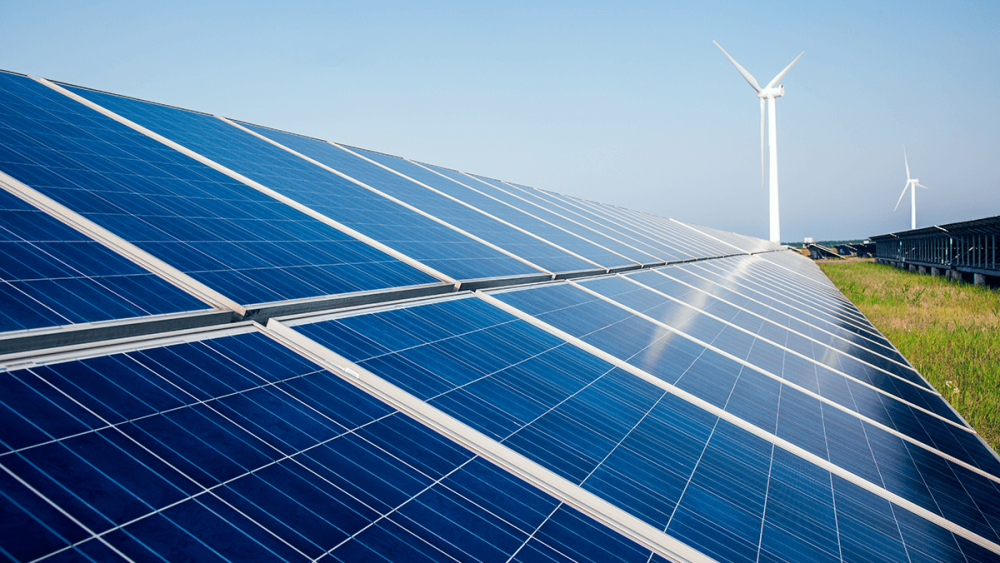 The global fossil fuel market is in turmoil. Russia's invasion of Ukraine sent the price of Brent – Europe's benchmark oil – to a 10-year high of $126 a barrel, while West Texas Intermediate, the benchmark for much of North America, hit prices not seen since 2008. Similarly, gasoline is at levels not seen since 2011. Prices have backed off just a bit from those recent highs, but OPEC isn't helping, electing to stick to their restrained production goals.
That's very good news for renewable energy stocks.
I follow 291 U.S.-listed equities with material Greentech-related businesses. Over the past week 92% of those stocks are higher, while 82% are up over the past four weeks, according to my data. It's a wild swing in sentiment, since the year began with renewable stocks deeply out of favor along with most other growth stocks over concerns about valuations and inflation.
[text_ad]
What has Wall Street been focusing in the past month that's pushed renewable energy stocks back up? I believe three things.
3 Reasons for the Greentech Rally
One: Renewables provide a path to energy independence. Stanford University professor Mark Jacobson recently updated his roadmap of how the U.S. can have 100% solar-wind-hydro electrical production by 2050. Europe, which relies heavily on Russian natural gas, is focusing on doing that for itself. Already, France exports electricity thanks to its focus on renewables and nuclear power. It's realistic to believe the world can be off fossil fuels altogether one day.
Two: Renewable energy is cheap. I've mentioned this figure before, but I'll point it out again since it illustrates the advances of recent years.
In 2009, solar was the most expensive source of utility scale power, according to an annual levelized cost of energy study by the investment bank Lazard. Back then, solar cost three times as much as coal and four times as much as natural gas. Today? The cost of a utility-scale solar plant is one-tenth what it cost in 2009. That makes solar the cheapest electricity source around, at less than half the cost of natural gas and a third the cost of coal. Wind, at second-cheapest, is only a hair's breadth behind solar in cost, according to Lazard. For consumers, EVs are now as much as five times cheaper to operate than conventional vehicles, due only in part to high gas prices, says the Zero Emissions Transportation Association.
Three: Renewables are necessary to the health and safety of the planet. The Intergovernmental Panel on Climate Change latest report is "an atlas of human suffering and a damning indictment of failed climate leadership," according to United Nations secretary general António Guterres. Simply: We need to stop putting carbon into the air. Investors know this, with a large study by the asset manager Schroders finding more than half of investors would move to a sustainable-only portfolio, all else equal, with 60% of younger investors more committed to eco-friendly investments.
Looking at the leaderboard of great performing Greentech stocks the past month, there's a lot to like. Here are three to consider, all of which are among the leaders in recent momentum:
Renewable Energy Stock #1: AppHarvest (APPH)
AppHarvest is one of the few Certified B Corps that are publicly traded. B Corps are businesses that are upfront in stating profit isn't their only motive, that combating climate change and other ESG goals feed into their business' long-term viability. AppHarvest is a young, indoor grower of fruits and vegetables in Appalachia. It sold $9.1 million of food last year, its first harvest, with a large loss of $166 million, to be expected from a start-up. Shares have more than doubled since management said in February that this year it should complete three more farms, totaling 105 acres of high-tech-grown salad greens and berries. That will make the business financially self-sufficient. Food price inflation, supply chain troubles and increased consumer demand for sustainable food are tailwinds for the business.
Renewable Energy Stock #2: Shoals Technologies (SHLS)
Shoals is the largest provider of electrical balance of system (EBOS) to solar installations. Half of the solar plants in the U.S. use Shoals' EBOS, which are most of the components needed to gather, regulate and transfer electricity from solar panels. Shoals is looking to extends its market position by designing products that are simpler to install to reduce labor costs which are the sticky points in reducing new projects' construction expenditures. It sold $213 million worth of EBOS last year, a 22% compound annual growth rate since 2019. Now it's looking to apply its expertise in simplifying electrical systems and wiring to the innards needed for EV chargers.
Renewable Energy Stock #3: Origin Materials (ORGN)
Origin is one of a handful of outfits gearing up to make carbon neutral plastics. In Origin's case, it uses plants (primarily wood chips, cotton trash and cardboard) as its feedstock instead of petroleum – chemically, the process is the same once you have the feedstock. Another company, Danimer Scientific (DNMR), does much the same using canola oil. The resulting plastic is PET, meaning it is completely recyclable (studies on if Origin's PET is industrial compostable are underway). Origin's first factory, in Canada, is on track to be in production before the end of the year. Its second, in Louisiana, is starting construction. The company has $5.6 billion in non-binding future orders from companies including Ford (F), Nestle and Pepsico (PEP).
Meanwhile Origin stock, which went public by SPAC last year, has seen its shares rally 38% in the last two months, to 6.61.
Those are three renewable energy stocks with some sudden, and hopefully sustainable, momentum. If you want to know what other Greentech stocks I like, you can subscribe to my Sector Xpress Greentech Advisor newsletter, where I have an entire portfolio full of renewable energy and ESG stocks.
Do you own any renewable energy stocks? Tell us about them in the comments below.
[author_ad]
*This post has been updated from an original version, published in 2020.