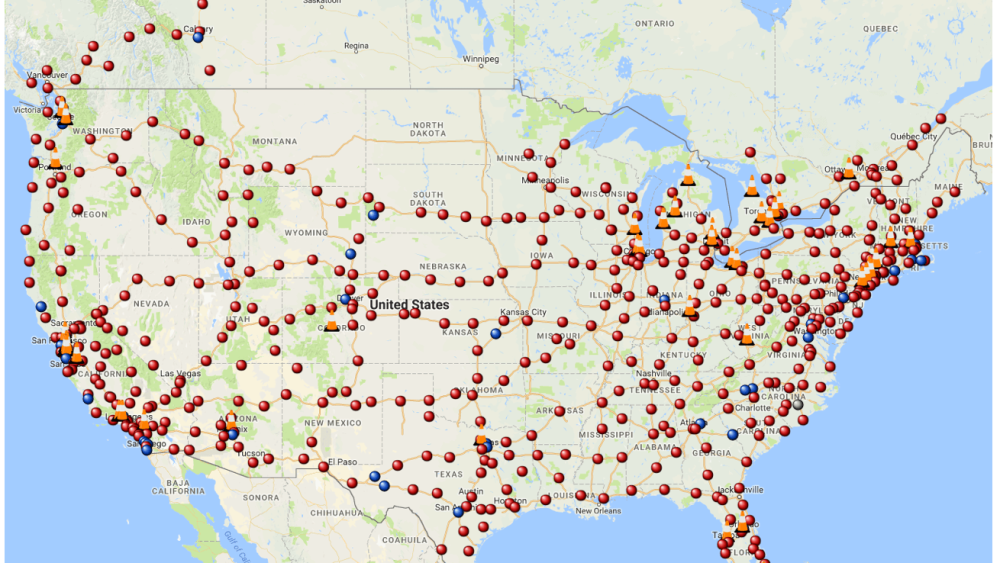 For All the Criticism it Gets, Tesla Still Does a Lot of Things Right. Here are 10 that Come to Mind.
Last week Tesla (TSLA) announced that it had manufactured 96,155 vehicles in the third quarter and delivered 97,000, setting quarterly records on both counts. But TSLA stock sold off in response, reportedly because Elon Musk had set a target of 100,000 deliveries.
Musk, of course, is famous for setting targets very high—and sometimes not reaching them on schedule.
But in the decade-plus that Tesla has been manufacturing cars, the company has achieved a lot of them! Here are 10 things the company is doing right, despite the recent turbulence in TSLA stock:
[text_ad]

10 Reasons to Still Like TSLA Stock
Tesla is now the undisputed global leader in electric car production, as measured by volume. The Tesla Model 3 was the biggest seller in Norway and the Netherlands in the third quarter, and Tesla vehicles currently command 80% of all electric vehicle sales in the U.S.
Tesla is now driving down the cost of electric cars. In its early years, the company was criticized for making cars serving only the rich. But that was the business model, generating revenue by selling high-margin vehicles so it could develop the low-margin vehicles it sells today.While the average price of an electric vehicle in the U.S. in 2018 was $64,300, this amount dropped by 13.4% to $55,600 in 2019. Most of this decline is the result of Tesla's Model 3, which has a starting price of $38,990. And people really like their Model 3s! According to Kelly Blue Book, a mid-range Model 3 is likely to retain 69.3% of its actual sales price while the Toyota Camry will only retain 48.6% of its sales price after three years.
Tesla is growing, while none of its pure-electric competitors have come close to succeeding. Fisker Automotive failed, newer startups Faraday Future and Lucid Motors have yet to produce any cars, and Chinese NIO is failing, heading for bankruptcy or bailout.
Tesla has built an unrivaled global supercharger network, currently numbering 14,321 chargers in 1,637 locations, making long-distance travel easy.
Tesla has taken the lead on self-driving automotive technology, putting cars on the street in real-world situations—and occasionally taking the heat when accidents ensue. But that's the cost of being a leader.
Tesla has proven the value of selling directly to the consumer, with fixed prices and no dealership in the middle that is focused on optimizing its own profit. As a result, the sales process is transparent and trustworthy—even a pleasure.
Tesla's cars get top ratings for collision safety.
Tesla provides service with a fleet of well-equipped mobile vans, saving the customer valuable time and relieving pressure on its own service facilities.
Tesla is integrating its cars with solar powered residential roofs and energy storage systems that not only reduce (or eliminate) demands on the electric grid but also move us incrementally closer to reduced dependence on fossil fuels.
Tesla is inching closer to profitability. Right now, while analysts concede that Tesla will have no earnings this year, their consensus estimate for 2020 is a hefty profit of $4.03 per share.
The Competition is Coming
However, the competition is coming:
Rivian, backed by Ford Motors (F) and Amazon (AMZN), will probably not fail, not least because it has an order for 100,000 electric delivery vans for Amazon. Rivian will soon begin building trucks in its plant in Normal, Illinois.
Here's the pickup truck that Rivian wants to sell you.
Polestar, a division of Volvo focused on performance, will soon start building hybrid vehicles in China, with the intention of transitioning to all-electric vehicles in the future. The fact they are reluctant to go straight to electric is curious. Not so curious is why established automakers are going electric slowly; they don't want to cannibalize their profit centers. Audi, for example, has its e-Tron and Jaguar has its I-Pace. But those vehicles are aiming at the high end, where the big margins are—while the majority of their fleets are still wedded to their legacy internal combustion engine designs.
Most notable, perhaps, has been Porsche, which recently launched its first all-electric car, the Taycan. As a Porsche, this is automatically not a car aimed at the mass market; its base price is $153,510.
Instead it's aimed directly at the Model S, Tesla's luxury car. And it's a great car. However, according to Dan Neil, who reviewed the car for The Wall Street Journal, it's still not as good as a Tesla. According to Neil, "In my estimation, the Taycan is twice the car of Porsche's Panamera, the brand's big IC-powered sedan, if only five-eighths of a Tesla Model S.
"The Tesla is no bigger outside but more spacious inside; lighter by about 180 pounds (vs. Turbo S); quicker to 60 mph (2.4 seconds); and half the price."
Bottom line: Tesla gets a lot of headlines and a lot of criticism, but that's because it sits quite clearly at the top of the electric vehicle world. There is no obvious second today. And as the saying goes, "Winds blow hard on high hills."
For those reasons, I'm hanging on to Tesla stock in my Cabot Stock of the Week advisory portfolio. I first recommended TSLA stock to my readers on December 28, 2011. Those who bought right away are sitting on a 725% return, despite the stock's recent struggles.
I still like its potential over the next eight years.
If you want to know what other stocks I think might have Tesla-like potential, click here.
[author_ad]