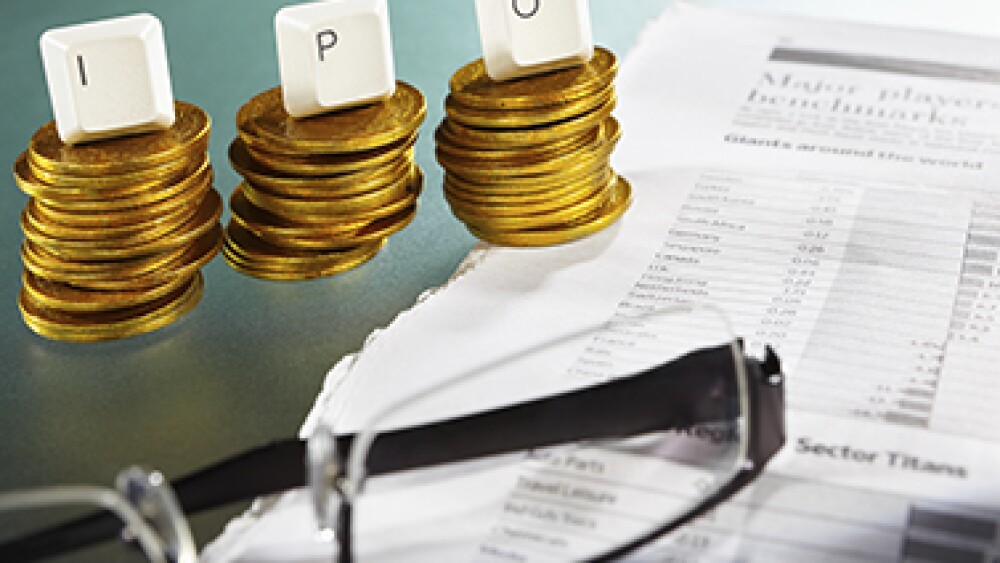 Initial public offerings are traditionally celebrated in the moment, but even the best companies (see Facebook (FB)) take time to mature after coming public. Thus, the best IPO of 2017 might not become apparent until years from now.
Which brings me to a question ...
Which would you prefer?

A profit of 109% in two years
A profit of 1,164% in six years
A profit of 6,421% in 19 years
Don't worry. There's no wrong answer. They're all great outcomes (though the academically-minded will like to know that the best compound annual rate of return of the three outcomes is B at 52.6%).
The 109% profit is what you would have earned if you'd bought Michael Kors (KORS) stock four months after its IPO and held on for two years.
[text_ad]
The 1,164% profit is what you would have earned if you'd bought Coach (COH) stock four months after its IPO and held on for six years.
And the 6,421% profit is what you would have earned if you'd bought Fossil Group (FOSL) stock four months after its IPO and held on for 19 years.
All these companies are in the fashion industry. And all these profits were possible if you had bought those stocks four months after their IPOs.
Now, that four-month figure is not magic. You could have bought earlier or later and done well, too.
But I use the four-month timeframe because that's how long it's been since the March 2017 IPO of a great fashion name that has the potential to equal those profits above!
But before I get to that, let's talk about logos—a critical component of all fashionable brands.
You know the Coach logo.
You know the Michael Kors logo.
You know the Fossil logo.
And unless you've been living in a cave, you've also seen the iconic logo of the fashion company that just came public four months ago—a company that has the potential to equal—or even beat—the stock performances of those famous brands above. In short, this company has a chance to be this year's best IPO.

The Next Best IPO
This company is not new; it's been around for decades. (And that's not a problem; Coach was a 59-year-old brand when the company was taken public in 2000.) But the past 20 years have brought great growth to this company, as it's diversified from its original signature product (something worn by both men and women) and diversified into related apparel.
(I can't tell you too much; that would ruin the surprise!)
And these products aren't being bought solely for their looks. They earned their reputation as deeply functional clothing—worn by professionals whose work depended on these top-quality products—and the company is working hard to keep quality high, even as it expands its footprint.
But the big idea behind this investment is not simply that the company has recently come public or that the company is expanding.
The big idea is that this company is shifting to a more direct-to-consumer business model, which should drive earnings significantly higher for many years.
Until recently, you see, the company conducted all its business wholesale, selling to well-known retailers. In the first quarter of this year, wholesale revenues grew 12% and accounted for 71% of the firm's total revenue. But direct-to-consumer revenues exploded 249% and yielded far higher gross margins—because a product sold directly to the consumer results in a profit margin two to four times larger than the profit margin when the product is sold wholesale!
A lot of those direct sales were e-commerce, but the company is now opening bricks-and-mortar stores; it opened two last year—including one in New York City—and is opening three more this year (Chicago, London and one yet to be finalized), all of them in primo locations.
As a result of these new stores, the company is enjoying a hot growth phase right now—but it hasn't been exactly sleepy in the past. In fact, over the past three years, the company has grown its revenues by 44%, 33% and 39%.
Also, it's been solidly profitable, with EBITDA (a measure of cash flow) margins of 20.1% last year.
Summing up, the business case is solid. The company is well run and quite profitable now. And it has an expansion plan that will not only multiply revenues many times over, but also increase profit margins.
Yet the stock is still young and little known to the investment community!
But I guarantee that will change as the months go by. As more and more investors—including institutions—learn about this young stock, their buying will send the stock higher.
In the long run, it may wind of being the best IPO of 2017. I honestly believe this company has what it takes to be a big long-term winner—just like Coach, Michael Kors and Fossil, not only for the reasons mentioned here but also for some that I can't mention, because they would give away the company's identity.
But I did share all the details with the readers of my Cabot Stock of the Week, and if you'd like to join them, you can learn more here.
Remember, the early bird gets the worm. Once everyone else knows about this stock, I expect it to be much higher.
Join me today.
[author_ad]