Cabot Stock of the Week
Cabot Stock of the Week offers the very best of all Cabot stocks across the investing spectrum. Each stock is personally selected by Cabot's Chief Investment Strategist Timothy Lutts, and guided by the collective wisdom of all the Cabot expert analysts. As a subscriber, you'll build your wealth and reduce your risk with the best stock each week for current market conditions.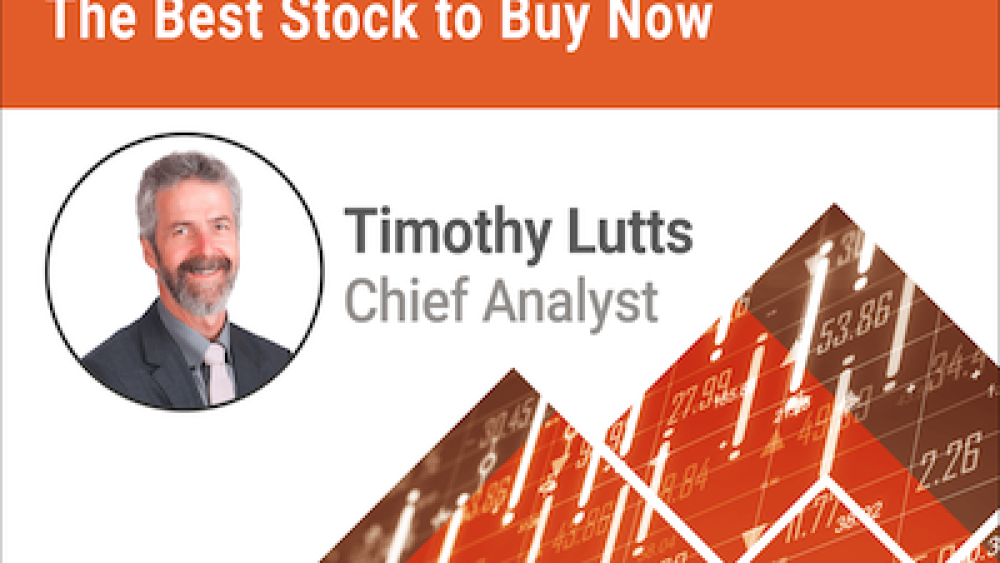 Learn about a Cabot Stock of the Week Pick That's like Tesla when we recommended it in 2011!
This hidden company is headquartered in one of the richest, most business-friendly places on earth – and has operations and sales in U.S., China, Taiwan, Japan, India, South Korea, Vietnam and more…
Even better: it's been rising steadily for months, and like Tesla, Apple, Amazon and other tech-companies, there's no signs of it stopping.
One secret to this Nasdaq-listed company's stunning success in becoming a vital player all over the world is that it's involved in the single most important aspect of technology: microchips.
You've heard about "chip shortages" impacting the output of computers, cars, TVs, smartphones, and healthcare services to list a few…
Well, this company is right in the sweet spot of that global chip shortage.
And this company is now involved in 5g chip manufacturing, giving it a huge advantage as the entire world changes over to the new 5g technology.
And there is plenty of room to grow in front of this company.
This company saw 60%+ revenue growth in 2021 alone, but analysts see another 31% sales growth in FY 2023.
That's huge growth for a company that's already seen healthy and sustained revenue increases.
And right now: you can buy this up-and-coming microchip company and benefit from a worldwide shortage that's causing the price of everything to rise. This is one simple way to profit from many of the supply chain problems that you're seeing every week in the headlines.
Considering what we know about the importance of microchips and the buildout of 5g in particular, this company has plenty of blue ocean growth ahead of it, like the other stock recommendations from the elite Cabot Stock of the Week Advisory.
Before we get back to learning more about this quality, dynamic high- growth story, let's learn a bit about what keeps the Cabot Wealth Network a step ahead of its competitors.
It is not some sort of algorithm or some black box strategy.
Nor is it just guesswork or searching on the Internet for what stocks the financial gurus are talking about.
In short, its Cabot's tradition of creative, intensive research with roots back to the very beginning of America.
Let's learn more.
The Cabot's Sailed to Asia to Make a Fortune.
You can do it with a click of your mouse.
New England is perhaps best known as the place that sparked the American Revolution but going back much further, it played a key role in shaping economic and financial ties between America and Asia.
You see, the climate is tough and the rocky land difficult to farm so New Englanders naturally gravitated to maritime industries such as shipping, trade, and of course investing. The biggest financial rewards required facing a dangerous journey by sail to the Spice Islands in of Asia.
The story of the Cabot family of New England begins in 1700 when John Cabot arrived in Salem, Massachusetts. John Cabot and his family were soon immersed and prospered as merchants, shippers and investors.
Over the next several centuries, the extended Cabot family's influence grew and grew in tandem with the industrial revolution and the march of American capitalism. The Cabot and Cabot Lodge families also became prominent not only in business and banking but in politics, diplomacy, the arts and philanthropy.
All this was the inspiration behind the Cabot Wealth family of investment newsletters, based in Salem, Massachusetts. It began in 1970 with the Cabot Market Letter by Carlton Gardner Lutts, Jr. in 1970.
Carlton Gardner Lutts Jr., was trained as an engineer, but his love was the stock market. In 1970, driven by a desire to share his thoughts on stock selection and market timing, he began writing and publishing the Cabot Market Letter (named after the farm) on the proverbial kitchen table. As the years passed, his homespun wisdom and irrepressible passion helped hundreds of thousands of investors build big profits in great growth stocks like Fleetwood, WD-40, American Medical and Syntex. The Cabot Market Letter, now the award-winning Cabot Growth Investor, is published to this day, bringing market insights and investment recommendations to subscribers around the world.
From the Kitchen Table to Cabot Wealth Network
Timothy Lutts
Carlton's first son, Timothy, joined the Cabot publishing business in 1986 to contribute advice on investing in mutual funds, which were then enjoying a boom. As time went by, Timothy filled the Cabot stable with experts on value investing, international investing, options investing, dividend investing, small-cap investing and more. He also serves as Chief Analyst for Cabot Marijuana Investor and Cabot Stock of the Week.
Tim manages the Cabot Stock of the Week, the "first among equals" in the stable of the Cabot family of investment letters.
He would like to extend to you a special invitation.
A Special Invitation to Join Tim Lutts'

Cabot Stock of the Week
Investment Research Worth $4,979
Harness the Intellectual Firepower of
Seven Top-Flight Cabot Wealth Analysts
Led by A Seasoned Investment Pro with
34 Years of Experience in the Markets
Simple—One Great Idea a Week
• Ten Minutes of reading each week
• Concise recommendation and follow up
• Diverse portfolio and risk management
• Clear instructions on when to buy more or sell
Powerful—Tap Into Seven Great Cabot Investment Advisories
• Cabot Dividend Investor: $297
• Cabot Early Opportunities: $997
• Cabot Explorer: $1,997
• Cabot Growth Investor: $497
• Cabot Marijuana Investor: $497
• Cabot Top Ten Trader: $397
• Cabot Undervalued Stocks Advisor: $297
Total Value = $4,979
Tap Into the Above with Cabot Stock of the Week for only $1,497
Profitable—Proven Superior Performance
Netflix, +12,037%
Apple, +4,330%
Chipotle, +927%
MasterCard, +317%
Illumina, +605%
Stamps.com, +592%
Incyte Corporation, +806%
Vipshop Holdings, +823%
Tesla, 5,609%
Google, +766%
Jazz Pharmaceuticals, +1,157%
Ctrip, +297%
Priceline, +577%
NetEase, +524%
Nautilus, +109%
The Cabot Results = 50 Years of Profits
Over the past 50 years, that's exactly what our top picks across seven of our advisories have done, handing our readers …

281 investments of 100% or more
211 investments of 150% or more
132 investments of 200% or more
57 investments of 300% or more
23 investments of 500% or more
That's a total of 704 ideas that generated profits of 100% or more.
Immediately Gain Access to the Cabot Stock of the Week Portfolio
The beauty of subscribing to Cabot Stock of the Week is its simplicity and convenience. Each week you receive one new recommendation that is carefully chosen by Tim Lutts based on all the research, ideas and advice from seven of Cabot's leading analysts.
The content is concise and clear with straight talk about why he is recommending the stock. Then from week to week, you receive brief updates on what is going on in the market and with each stock in the portfolio. Tim also tells you when to sell or buy more shares.
For example, one of Tim's 2020 recommendations that has already made his subscribers a lot of money is in space exploration and travel. He loves the stock's long-term potential and advised his subscribers to buy more shares just last month.
Furthermore, beyond space tourism, the company is taking dead aim at a global commercial aviation market worth $900 billion and could potentially land an enormous defense contract. Those would include a proposed hypersonic jet that could in theory travel from London to New York in an hour. Boeing last year invested $20 million in the company.
Join Cabot Stock of the Week right now and you will receive all the information you need to invest in this promising stock that is up more than 70% already.
And there are many more rising stars in Tim's portfolio.
Don't Miss Free Special Report on a Stock Already Up 70%
With Plenty of Blue Ocean Growth Ahead!
This stock is currently in the Cabot Stock of the Week portfolio and trades on the Nasdaq. It is virtually unknown and perfectly positioned to capture emerging market consumer boom growth.
A Blue Ocean Stock with Superior Strategy, Products & Markets
The company provides digital services in three high growth markets.
There are two powerful engines propelling this company and stock. One market is digital entertainment such as mobile phone games. The other is an E-commerce platform that is growing revenue much faster than Amazon with orders of more than 2 million a day.
Revenue is growing at a rate of more than 100% because it is targeting some of the fastest-growing markets in the world. The company develops its own games and also has licensing agreements in place with leading game developers. A game developed by the company was the most downloaded mobile game globally in 2019 and its quarterly active user base is more than 350 million.
It's ecommerce sales have grown exponentially from $47.4 million in sales in 2017 to $822.7 million last year.
The company's market value has gone from $3.8 billion in 2016 to $40 billion now. Last reported quarterly financials shows its digital financial services sales up 278%. This company has plenty of blue ocean growth ahead of it.
Tim is also well known for recommending Tesla (TSLA) in 2011 – way before it became a household name and being patient enough to hold on to it in the Cabot portfolio to this day where it is up 5,609% since he recommended it!
Join Cabot Stock of the Week today and immediately receive a special report on this stock called: The Blue Ocean Stock of the Decade.
Just for Trying – Receive for FREE
A Special Report on How to Pick the Right IPOs
One of the trickiest and potentially most lucrative of stocks that you can invest in are initial public offerings better known as IPOs.
An IPO is the first sale of stock to the public by a company or existing shareholders. IPOs are undertaken for a variety of reasons and can occur at different points in company life cycles. Since an IPO is first and foremost a financing mechanism, companies in growth phases are more likely to undertake IPOs than those in mature steady-state phases.
However, assuming willing investors, there is nothing that precludes a company at any stage in its life cycle from completing an IPO.
Evaluating IPOs centers on balancing the company's potential for sustained superior growth with financial, management, and competitive risks. And like any investment, one has to be careful not to overpay—so a reasonable valuation against peers and reasonable growth and profit assumptions are critical.
Long-term investors are best served by focusing on high-quality companies that exhibit strong sustainable growth prospects and have reasonable valuations—these firms offer the greatest potential for long-term share price appreciation.
Identifying high-quality companies can be daunting, but focusing on the common characteristics that define a "high-quality" company helps identify the outperformers.
These characteristics include a:

Sustainable competitive advantage
High market-growth prospects
Superior management team
Solid financials and reasonable valuation
Join Cabot Stock of the Week today and receive this special report – How to Evaluate an IPO.
Here is what some subscribers have to say about Tim Lutts & Cabot Stock of the Week
"Man, that IQ pick was straight up brilliant!"
-Jodie H. Ruston, Louisiana
"I have subscribed to Cabot Stock of the Week since it's inception in June 2016. I have chosen this Cabot investment letter because it works best with my limited resources and my very limited knowledge of stock trading. So far, to date, my portfolio is up 75%. Yes, there have been a couple of losses, which I limited to 10% and 12%. But overall, I have no complaint, none whatsoever."
-P. Hyra, Burton, New Brunswick, Canada
"It is your qualities of truthfulness, honesty and candor that have drawn me to the Cabot family of letters and to date, I am very pleased. The yo-yo effect of the market has not phased me. Reading your letters are like a prayer to me...they calm me."
-A. Khorsandian, Daytona Beach, Florida
"This is exactly the kind of information I need. Please keep it up."
-T. Picking, Pueblo, Colorado
"An easy way to invest without any worry."
-D. Aston, Florence, Alabama
"I keep reading your letters with great interest and I want you to count on my respect and my support from now on. I appreciate your letter along with your recommendations. Best regards, Timothy, I look forward to keep doing business with you and your team, a great team I am sure."
-A. Cloutier, Quebec, Canada
"I am blown away by the value I receive from the Cabot group. You offer even more than promised. Kindest regards,"
-Sophia Z., Long Island City, New York
"Hi Mr. Lutts, Thanks for a winner in Stryker (SYK), like others who watch your newsletters I had purchased Stryker on Cabot's recommendation a while back and last night it hit my sell limit at 81. Nice profit for me and it will pay for more of your newsletters! I have told several friends and hopefully they will become subscribers too. Thanks again for your advice and sharing your knowledge."
-Rob Rochelle, Charlotte, North Carolina
"Tim, Thank you for your advice. All 3 of your picks are great. BIIB is going to the moon. I bought SLXP this morning. Sold YY last week with some substantial gain. Cabot is the best."
-A. S., Laguna Beach, California
"Tim, I am writing to say thank you! You brought my attention to Middleby last July. At that time, I bought in at the share price of 73.59. I sold my shares on Thursday May 14 at 109.72 the recommend minimum sell price that Roy had set. I realized a return of 49% on my money in 9.5 months! I appreciate all the work you and the team does at Cabot. I am thankful to have found your company."
-J. Cook, Arcadia, California
"Tim, Thank you for finding Tesla stock when it was relatively unknown—that's what allowed me to buy my Model X."
-R. Kieft, Anchorage, Alaska
Now let's get to an exclusive interview with Tim Lutt's regarding his investment strategy and how he manages Cabot Stock of the Week.
Don't Miss This Exclusive Interview with Tim Lutts
Editor, Cabot Stock of the Week
Chief Investment Analyst, Cabot Wealth Network
1) Can you tell us a bit about your process for choosing the best stock each week from the seven Cabot Wealth advisories you follow closely? Do you lean more towards value or growth?
When my father started this company in 1970, I was a teenager, and because he was a dyed-in-the-wool growth investor, growth is what I learned first and growth is what I love most—especially revolutionary growth, which we've found by investing in young fast-growing companies like Tesla, Intuitive Surgical, Netflix, Apple, Amazon. I love companies with the potential to change the world.
However, in the fifty years since then, I've learned the value of value investing as well, particularly for investors who are uncomfortable with the risks inherent in growth stocks. That's one reason that I've expanded the Cabot family of services to include advisories that focus on undervalued stocks, dividend-paying stocks, emerging markets stocks and more.
Additionally, I've learned the value of one of the most important investing attributes of all, DIVERSIFICATION. As everyone knows, it's foolish to put all your eggs in one basket. And that doesn't necessarily mean one stock; it can mean one industry or one system!
So, when I choose the stocks for each Cabot Stock of the Week, I choose stocks using a variety of investing systems. All these stocks have been previously researched and recommended by the various Cabot analysts, so my work is mainly choosing and presenting each stock, and then maintaining the portfolio as the weeks roll by.
2) What is most important to you in picking stocks; the story, the numbers or the technical chart?
I will never buy a stock that's going down, so in that sense, the chart is most important. I trust charts because I know that they reflect the sum knowledge and opinion of all the investors who have an interest in that stock. A lot of people don't really understand that about charts, but I learned charting when I started in this business, so I know their value.
Second to me is probably the story, particularly in the case of growth stocks. I love stocks of companies with unlimited upside potential.
As for numbers, they're critically important when investing in value stocks, and I deeply respect Cabot's number-crunching value-oriented analysts who focus on these stocks. And on the growth side, I love companies with accelerating revenue growth and companies growing revenues at triple-digit rates.
3) How do you decide when it is time to sell a stock in the "Stock of the Week" portfolio?
That's a Big Question! And a critical one. The fact is, most investors don't have a sell discipline. Buying is easy, but selling is important.
For growth stocks, cutting losses short is critical. Sometimes stocks disappoint, and when they do, it's important to get rid of them fast. On the other hand, when growth stocks reward, it's important to have no preconceived notions about how high they can go.
One lesson I learned long ago is trends tend to last longer and go farther than originally expected. So, when these big winners come along, I'll sometimes suggest that readers take partial profits, but hold some for the long term
For value stocks, selling is more often a result of a stock achieving a target—at which time it's replaced by a new undervalued stock.
But more often—and this is perhaps the coolest thing about Cabot Stock of the Week—I sell because I've found a new stock that's better, and thus I "upgrade" the portfolio by selling one stock and replacing it with a better stock.
4) How many stocks are normally in the portfolio and how do you manage risk?
I've set a limit of 20 stocks for the Cabot Stock of the Week portfolio. I think this is more than enough stocks for most individual investors, and as I mentioned above, this limit forces me to analyze each stock every week to ensure that I only own the best.
As for managing risk, buying right is critical, and the easiest way for me to do that, once I've selected a stock that a Cabot analyst has recommended, is to wait until that stock is at a good entry point technically, as indicated by the chart.
Selling stocks that are trending down is the second way to reduce risk. But some people have trouble with that, because they wait. They wait for the stock to come back up, and that's generally a mistake.
Additionally, I manage risk by being aware of the health of the general market. Everyone knows that there are bull markets and bear markets, and that it's good to hold cash in bear markets.
At Cabot, we have a handful of proven market-timing indicators that have helped enormously over the decades, so when they're indicating a bear market, I hold fewer stocks in Cabot Stock of the Week portfolio, and when they're indicating a bull market, I will hold more stocks, and sometimes hold a larger percentage of strong growth stocks.
5) Could you please share with us some of the "lessons learned" over your three decades in the business that would be valuable for even a beginning investor?
Most investors own too many stocks and hold them too long. They get sentimental. They wait for stocks to rebound so they can get out even. These are all errors caused by human nature—and human nature doesn't change. But you can learn to over-rule your human nature.
Sticking with the theme of human nature, it's crowd psychology, overlaid on the business cycle, that creates bull markets and bear markets, and if you can stay attuned to the emotions of the crowd, you'll be a step ahead of the average investor.
That said, the long-term trend of the market is up, and always will be, as long as mankind continues to improve the value of our assets. So, bet on the upside, not the downside. That's where the real money is made.
Of course, there will be crashes along the way. I've been through plenty—and each one gets easier. So, when the next crash comes, remember first that the "big problem" that the market is worrying about WILL be resolved. That's what humans do; they solve problems.
Then, when everyone else is worrying about the "big problem," instead focus on the action of the stocks, and pick yourself up some bargains when stocks are on sale.
In the wake of the COVID-19 crash, for example, the Cabot Stock of the Week portfolio did very well with Zoom Video Communications (ZM), Sea Limited (SE) (the Amazon of Asia) and Marathon Petroleum (MPC). That's a diversified slate of big winners!
Lastly, the earlier you start investing, and the earlier you start the lifelong process of learning about investing, the better your result. I'm lucky because my investing education started when I was a teenager—and it wasn't exactly my choice!
6) You've seen many stock market cycles over the years—what do you think about where the market sits right now?
I'm bullish. The market bottom is recent. The "big problem" of COVID-19 and the intentional recession is still front-page news and many investors are still fearful, despite the fact that the market is hitting new highs! Additionally, our technical market-timing indicators, which I mentioned earlier, are all bullish, telling us the market will be higher in the months ahead.
A Time to Choose
Start Today Building Wealth the Cabot Way
✓ 50 weekly issues of Cabot Stock of the Week, delivered directly to your inbox every Monday. Each issue will bring you the No. 1 stock across all of our advisories without you having to subscribe to all seven advisories and filter through dozens of stocks.
✓ 24/7 access to our private website, featuring the most recent issue and alert, your FREE special reports and forecasts and our archive of past issues and reports.
✓ Direct email contact with Chief Analyst Timothy Lutts.
It's all part of the special attention you will receive that comes with your Cabot Stock of the Week membership.
✓ Our Iron-Clad Guarantee.
For more than four decades, the Cabot organization has earned not only the trust of the professional investment community but that of its readers as well. Frankly, we wouldn't have been around this long if we didn't deliver quality research, analysis and, most important, results.
For these reasons, if you feel that Cabot Stock of the Week is not delivering on this promise, just let us know and we will send you a no-questions-asked refund on the balance of your membership if you cancel within the first 30 days.
Join the Cabot Wealth Family Right Now
Harness the Intellectual Firepower of
Seven Top-Flight Cabot Wealth Analysts
Led by A Seasoned Investment Pro with
34 Years of Experience in the Markets
Simple—One Great Idea a Week
• Ten Minutes of reading each week
• Concise recommendation and follow up
• Diverse portfolio and risk management
• Clear instructions on when to buy more or sell
Powerful—Tap Into Seven Great Cabot Investment Advisories
• Cabot Dividend Investor: $297
• Cabot Early Opportunities: $997
• Cabot Explorer: $1,997
• Cabot Growth Investor: $497
• Cabot Marijuana Investor: $497
• Cabot Top Ten Trader: $397
• Cabot Undervalued Stocks Advisor: $297
Total Value = $4,979
Tap Into the Above with Cabot Stock of the Week for only $1497
P.S. Act now to take advantage of this special offer, learn the identity of the Blue Ocean Growth stock, and receive your two special reports for FREE.