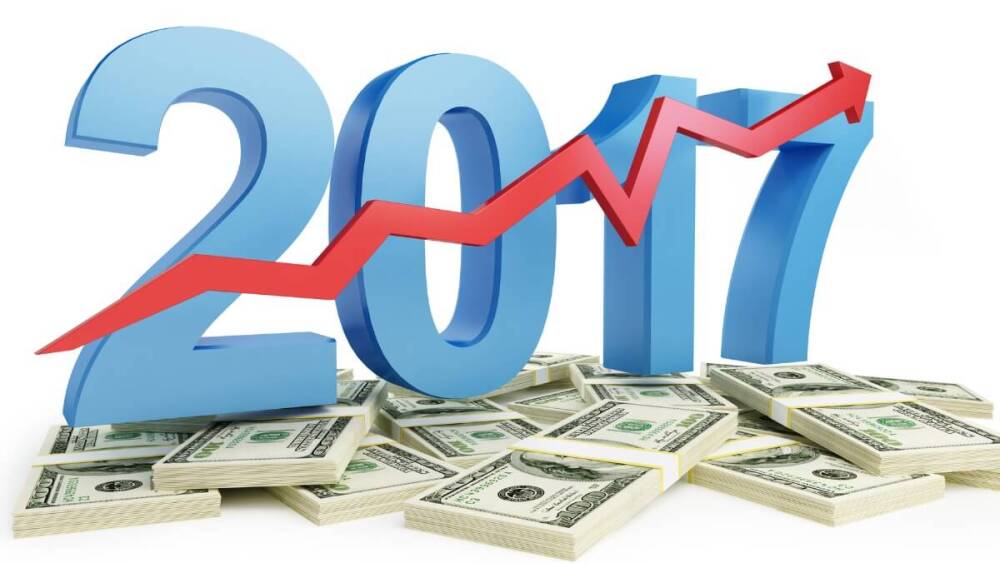 Every December, we ask our contributors of Wall Street's Best Investments and Wall Street's Best Dividend Stocks to name their best growth and income stocks for the new year. And we are always thrilled with the vast selection—from every sector and investment style—but, especially, with the spectacular returns their recommendations generate.
For 2016, our experts outdid themselves, with these Top Five Picks:
As you can see, the gains were terrific! And with the market continuing its bullish trend into 2017, we can't wait to see what this year's selections bring.

2017's Top Picks
Here's a sampling of the best growth and income stocks that our contributors like for 2017:

In Wall Street's Best Investments:
Anavex (AVXL) from Tom Bishop, BI Research:
"By far, my top pick for 2017 is Anavex (AVXL). The company's lead drug Anavex 2-73 has just reported very promising phase 2a results in Alzheimer's patients at the annual CTAD conference, with test results from 25 patients hovering near baseline after one year, or even improving for some, while the normal course is steady deterioration in cognition and activities of daily living.
"No drug currently on the market can do more than slow the deterioration for at best 6 months. This prompted the Editor of the Journal of Alzheimer's Disease to comment he has never seen any drug perform this well on Alzheimer's patients. Patients and caregivers have requested to continue to be able to take the drug. One woman who could no longer play the piano is now able to play again. Another who could no longer paint is painting again and hosting an art show. Another is back on the golf course. A fourth was able to give a very lucid, even humorous interview on Australian TV where before he would have absolutely refused. Friends and relatives of these trial participants cannot believe the improvements.
[text_ad use_post='129633']
"Planning for a larger pivotal placebo controlled Phase 2/3 trial is well under way. If results are confirmed, this will be a multi-billion dollar drug.
"Meanwhile A2-73 has successfully completed lab testing for Parkinson's funded by the Michael J Fox Foundation and is now prepping for a Phase 2 trial. And A2-73 has attracted the interest of Biogen, which is conducting lab testing for possible use against MS. The company is also preparing a Phase 2 placebo controlled trial testing A2-73 on Rett Syndrome. In short, 2017 should be an exciting year."
Facebook (FB) from J. Royden Ward, Cabot Benjamin Graham Value Investor, Cabot Enterprising Model:
"Facebook (FB) is the world's largest social media company. The company enables people to connect, share, discover and communicate with each other on mobile devices, personal computers and other electronic gadgets worldwide. Facebook is led by Mark Zuckerberg, the 32-year-old founder, chairman and CEO.
"Facebook recently introduced Marketplace, a place for Facebook users to buy and sell items. Marketplace has launched in four countries and will expand rapidly during the next few months. Marketplace apps are now available on iPhone and Android devices, but a desktop version will be introduced soon.
"Facebook's third-quarter sales soared 56% and EPS skyrocketed 165% after increases of 59% and 184% in the second quarter. Revenue will likely advance 31% and EPS will jump 40% in 2017. The company's current P/E is a hefty 39.4, but the forward P/E, based on next 12 month EPS, is a more reasonable 28.2. The company is expected to grow earnings at a 32% pace during the next three to five years with more rapid growth expected during the next couple of years.
Facebook is a great company with a proven track record and exceptional management. I expect Facebook shares will rise 54% and reach my Min Sell Price of 181.03 within 12 to 18 months. Buy at the current price."
AvidBank Holdings (AVBH) from Douglas Hughes, Hughes Investment Management:
"AvidBank Holdings (AVBH) has the fastest growth of any bank out there and yet is still one of the safest with almost no bad loans, and a great, great market area in Palo Alto, California.
"Management knows what it is doing and they will likely sell within 3 years. Earnings power is $3.00 a share by 2018. This is a great bank that is operating in great markets.
I consider the shares to be very safe, make it a top holding in the current environment.
"With rates going up and most large regionals banks up 30% or more recently a deal price would now have to be at least 2.5 times book or $32 a share.
"In my view, this stock has almost zero downside risk in an otherwise high-risk market. Buy now and sleep well. I consider the stock to have an excellent risk-reward ratio."

Oaktree Capital Group (OAK) from George Putnam III, The Turnaround Letter:
"Our "Top Dividend Pick" for 2017 is Oaktree Capital Group (OAK), an investment management firm that focuses on alternative strategies. The firm is known for its contrarian approach with many of its products concentrating on distressed assets and turnaround situations.
"Oaktree is very well-managed, and its disciplined risk control has proven itself over the years. Fee-related products provide a steady base of income, yet what produces its real long-term value are the profits it generates from illiquid and complicated investments in distressed bonds, real estate and other alternative assets. Unfortunately, these profits can be quite lumpy, depending on when these investments are liquidated.
"Another source of value: Oaktree also holds a 20% stake in DoubleLine Capital, the highly successful bond manager with over $100 billion in assets (Oaktree bought its stake years ago, at a bargain price).
"OAK shares fell more than 20% in 2016 as investors grew impatient because some of the firm's funds are still in the investing stage rather than the liquidating stage. However, as the corporate debt binge that we've experienced since 2009 comes to an end, Oaktree will benefit from a growing number of restructurings and bankruptcies that are its specialty, boding well for Oaktree's future profits.
"While waiting to participate in the substantial value that the firm can realize over time, investors are nicely compensated with the stock's 6%+ dividend yield.
"(Prospective investors should be aware that the company is a publicly traded partnership, and so dividends can fluctuate with cash flows, and the stock is subject to different tax treatment than in a typical corporation.)"
Altria Group (MO) from Bob Howard, Positive Patterns, P.O. Box 310, Turners, MO 65765, 417-887-4486
"I read the news and they tell me nobody smokes anymore, that the tobacco business is dying. Yet I see that the best performers in the S&P 500 are tobacco stocks. What counts? In 1976 Altria Group, Inc. (MO) was selling for 67 cents a share. Today MO sells for $67. MO is up 100-fold in 40 years!! Look at GE, long a street favorite. GE sells 1/2 what it did 20 years ago, and during that time MO was up 830%.
"The conventional wisdom believes tobacco stocks are washed up. The facts say that Altria beats most growth stocks for 10 years, 20 years, 30 years, etc. MO is set to get somewhere around a $6 billion cash windfall from the Miller/Brewing deal, and some sweet steady dividends in the future. By 2020 or 2025, it is most likely that MO will be selling pot at your local 7-11 store right next to the Marlboros & Lucky Strikes. That's a whole new growth market for tobacco companies.
"Altria owns Marlboro, one of the most valuable brands in the world, and a name that accounts for the majority of the company's profits.
"The only reason you want to buy and own MO is to make money. It's not glamorous or fun to brag about at the cocktail party, but it sure rings the cash register."
Ingersoll-Rand Plc (IR) from Charles A. Carlson, CFA, DRIP Investor:
"Ingersoll-Rand PLC (IR) has businesses in a host of sectors. The firm is involved in heating and air-conditioning systems, commercial and residential building services, and temperature-controlled transports solutions to fluid-management equipment, power tools, and golf and utility low-speed vehicles.
"Ingersoll-Rand is coming off a decent third quarter in which profits and revenue beat the consensus estimates. The firm recently boosted its dividend 25%. It was the second dividend hike in the last 12 months and highlights the company's confidence in its future.
Ingersoll-Rand raised its guidance for 2016 overall, and a strengthening economy bodes well for accelerated revenue growth in 2017.
"I look for the stock to handily beat the market in 2017."
These companies are all fundamentally and technically attractive, and provide a wide selection of styles and sectors that can help fill out—and boost—your portfolios. And they offer just a peek behind the scenes of our best growth and income stocks from Wall Street's Best Investmentsand Wall Street's Best Dividend Stocks. Our full list of Top Picks encompasses more than 70 of the best growth and income stocks - something for every portfolio. With the 2017 market shaping up to be another winner, I hope these ideas will help you get a good start to the year.
[author_ad]