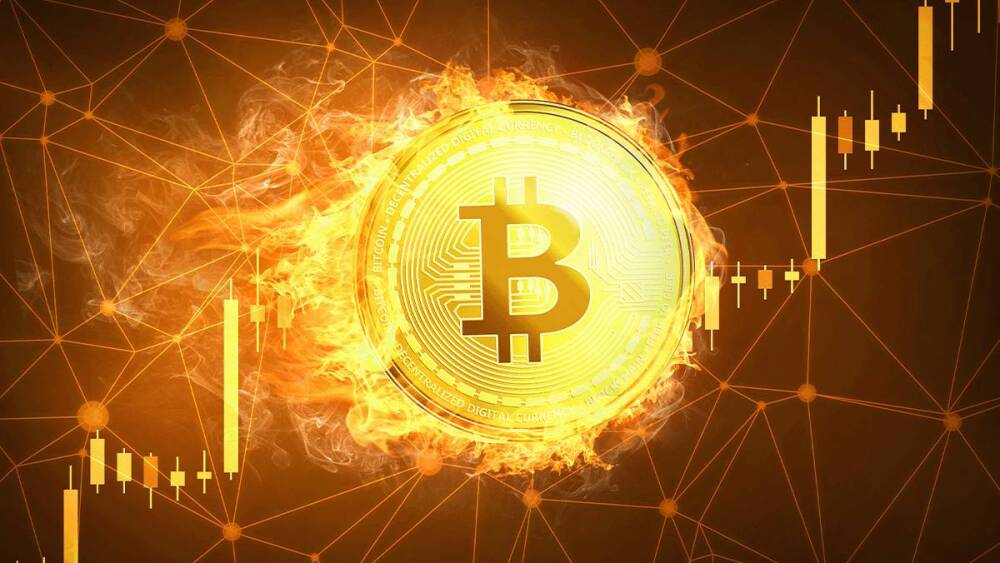 Most readers are likely familiar with our coverage of stocks, options, and ETFs here at Cabot Wealth Network. But given the significant developments in the cryptocurrency space, it's worth asking, is bitcoin a good long-term investment?
On October 7 of 2020, bitcoin prices were $10,923. A year later, bitcoin was trading at all-time highs near $62,000 before falling by 74% from November highs to the end of 2022. Prior to a fourth-quarter 2020 boom, bitcoin had been stuck in the mud for years after peaking above $19,000 in December 2017. Many investors had given up on it as a hedge against stock prices, the dollar, and other currencies.
Over the long term, the bitcoin trend is undoubtedly up. But as it was in December 2017, the cryptocurrency is undeniably volatile, and its peaks tend to be followed by sharp declines. So that begs the question: is bitcoin a good long-term investment? Or is it only useful as a short-term momentum play in brief, exhilarating bursts?
[text_ad]

Bitcoin vs. the Stock Market
The chart says it's both. Here is a five-year chart showing the price movement in bitcoin since September 2018 versus the return in the S&P 500:
That's a 340% run-up in bitcoin and a mere 55% return in the S&P 500 over the last five years.
But look closer at that chart. There have been two big rallies in bitcoin in that five-year period: in the first half of 2019, when it zoomed from just under $4,000 at the start of the year to over $12,000 by the end of June. And then in the end of 2020. And, while not as significant a rally, bitcoin is up 64% in 2023.
All other times, bitcoin has been either stagnant or plummeting.
Consider: after the $19,000-plus top in December 2017, when all your friends who don't normally talk about investing were asking you about bitcoin, the cryptocurrency completely crashed, losing 83% of its value in the ensuing year.
Following the rally in the first half of 2019, bitcoin prices again collapsed, dipping back to $5,000 by March of 2020 after nine straight months of losses. Then, like stocks in the wake of the February-March market crash, bitcoin rallied again, but really took off in the last three months of 2020, more than doubling its December 2017 by year's end.
If you had the foresight to invest in bitcoin five years ago, you'd have made a ton of money today. But most people weren't buying bitcoin in 2018. Chances are, if you did buy bitcoin, you first did so in late 2017 when the noise surrounding it was at a fever pitch. If you did that, you likely either lost money or (hopefully) sold off and booked a modest profit when cryptocurrencies were in freefall in early 2018.
The same thing would have happened if you bought on the rally in mid-2019. And if bitcoin was your first investment to start 2021, you had a few opportunities to profit in the year but are sitting on a loss if you held through 2022.

But is Bitcoin a Good Long-Term Investment?
Perhaps this time the cryptocurrency will enter a period of sustained growth if the price has well and truly bottomed. The problem is there's no way of knowing for sure. Bitcoin has so little history as an asset, and what little history it does have suggests that when the price goes south, it reaaallly goes south.
Bitcoin will likely set new highs in the future. We just don't know if that will be tomorrow, a few weeks from now, or another year from now. I'm not dismissing bitcoin's utility in today's digital world. It clearly has a place as the global financial system becomes increasingly digital and interconnected. It's not going away.
As the last five years have shown, bitcoin can be a very good long-term investment. But you have to get it at just the right time (i.e., not when everyone is talking about it), and you have to be willing to stomach some major ups and downs along the way.
Most crypto enthusiasts these days see bitcoin as more of a commodity due to low transaction speeds and price volatility, but other cryptocurrencies are increasingly using it as a backstop of their own value, making it more akin to digital gold than a true currency.
A recent ruling finding that the SEC arbitrarily prohibited a spot bitcoin ETF means that bitcoin will once again be all over the financial news media as the SEC either appeals the finding, denies the ETF on other grounds, or ultimately approves a spot (holds actual bitcoin, not just futures contracts) ETF.
That decision, and investor reception to a potential spot ETF, will go a long way towards deciding bitcoin's intermediate-term future.
[author_ad]
*This post has been updated from a previously published version.