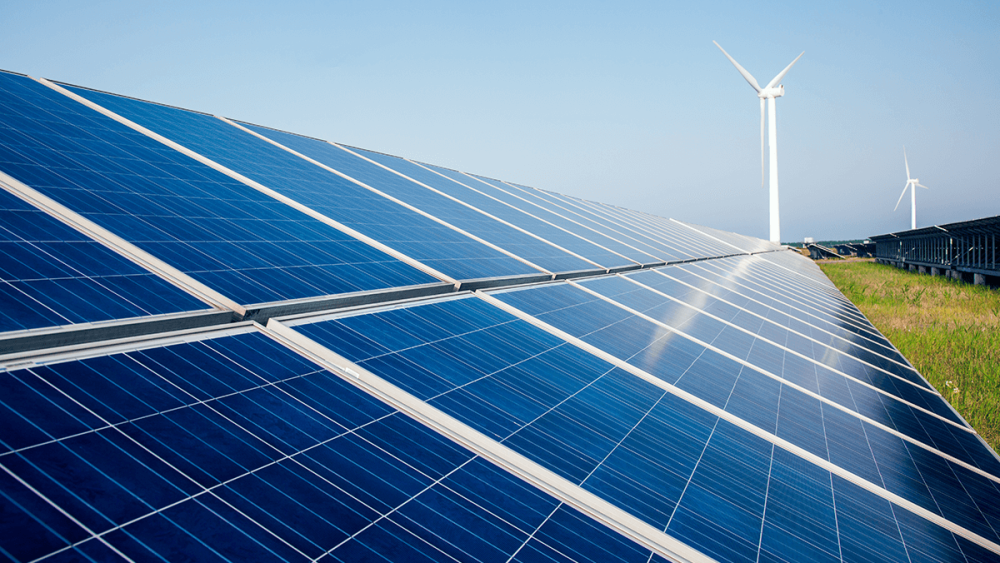 As part of a sweeping federal initiative, the White House has stated its intention to fundamentally transform how electricity is generated in the U.S. in the coming years.
A recent White House fact sheet underscored these goals by noting the Biden administration has "pulled every lever to position America to scale up clean energy" and "has readied offshore areas to harness power from wind, approved new solar projects on public lands, and passed the Bipartisan Infrastructure Law to build thousands of miles of transmission lines that deliver clean energy."
Since that intention was first made clear in 2021, the move away from traditional carbon-based fuels, like coal, and toward alternative energy sources, such as wind and solar, has drastically accelerated.
But one thing that hasn't kept pace with the construction of new wind and solar farms is the transmission infrastructure to support it. Still needed are the countless miles of power lines used to transmit the newly generated electric power to consumers.
[text_ad]
To date, the U.S. has kept good on its promise to slash coal usage by retiring nearly 14 gigawatts of coal power last year—even as other countries like China and India increased coal capacity. (Coal currently accounts for around one-third of total energy installations globally.)
But while renewable electricity capacity additions broke records in 2021 and 2022, power transmission installations have fallen woefully short of what is needed to back the alternate energy revolution.
An article by National Mining Association spokesman Conor Bernstein in the April 2023 issue of Coal Age magazine drew attention to the brewing energy transmission crisis. Despite the ongoing shuttering of the existing U.S. coal fleet, Bernstein wrote, "The infrastructure required for renewable energy to reliably support American households and businesses simply doesn't exist."
To support this contention, Bernstein cited analysis by researchers at national labs, the U.S. Energy Department and Princeton University that conclude a rapid increase in transmission rates is imperative for maintaining an electricity grid based on intermittent power. Yet "that uptick is simply not materializing: in fact, it's slowing," he said. Quoting at length:
"According to the Federal Energy Regulatory Commission, high-voltage electric transmission line additions totaled just 552 miles in the first 11 months of 2022, less than half the previous year, and far below what's needed to facilitate an accelerated move to wind and solar power."
He further noted that according to the National Renewable Energy Laboratory, "The U.S. needs to add up to 10,000 miles a year of high-voltage transmission to hit the Biden administration's target of a renewable-dominant grid by 2035."
As the game of "catch up" begins apace to increase the nation's energy transmission capabilities, a few big players in transmission infrastructure construction are poised to benefit from what is likely to be a boom in this space in the coming years. At least three of them are standouts worthy of consideration for investors.
3 Transmissions Stocks Addressing the Energy Crisis
MasTec (MTZ) is one of the nation's top transmission line construction companies, specializing in high-voltage and extra-high-voltage transmission systems from 760kV and down. Its customers include energy firms, pipeline operators, wireless providers, broadband operators and government entities.
While MasTec sees long-term opportunities in communications and pipeline services, it expects much of its future growth will be led by high customer demand for renewable power generation, power grid transmission, distribution and civil infrastructure, which it sees lasting well into the next decade.
To facilitate this growth, the company recently acquired Infrastructure and Energy Alternatives (IEA), a leading renewable energy and infrastructure solutions service provider, which MasTec believes will allow it to increase the scale and capacity needed to meet growing customer demand for clean energy.
Quanta Services (PWR) is a major player in the eco-friendly electricity grid space, providing end-to-end solutions in the electric power sector, generating station and substation construction, as well as transmission lines for pipeline, industrial and telecom customers. It's also America's biggest electrical contractor based on annual revenue.
Through its ownership of Blattner Holdings, it also offers utility-scale renewable energy infrastructure solutions, giving Quanta major exposure to the energy transition. Quanta entered 2023 with a record backlog of $24 billion—which the firm expects to significantly increase as renewable energy transition momentum builds.
Going forward, management guided for 2023 revenue to come in around $19 billion at the top end of the range, up 12% year-on-year if realized. It further believes the tailwinds driving the firm's sales are long in duration and can create multiyear earnings growth potential.
MYR Group (MYRG) through its subsidiaries offers electrical construction services for transmission and distribution lines, substations, commercial and industrial buildings and renewable energy. It's the nation's second-largest electrical contractor by annual revenue, behind Quanta.
MYG Group entered this year with a record backlog, resulting in solid first-quarter financial results. Management emphasized that its nearly $3 billion backlog puts the firm in an excellent position for success in the coming year.
The top brass further stated, "We also see healthy bidding activity and intend to strategically capture new work to position us for future growth." Much of the demand for its transmission infrastructure services is from the health care, water, wastewater treatment and transportation industries, the company said.
Additionally, the firm sees opportunities in electric vehicle (EV) charging stations, solar and battery storage projects. Consequently, Wall Street sees a roughly 20% increase in earnings for the company this year and next.
All three of these stocks look poised to benefit once the U.S. begins addressing its energy transmission needs.
[author_ad]