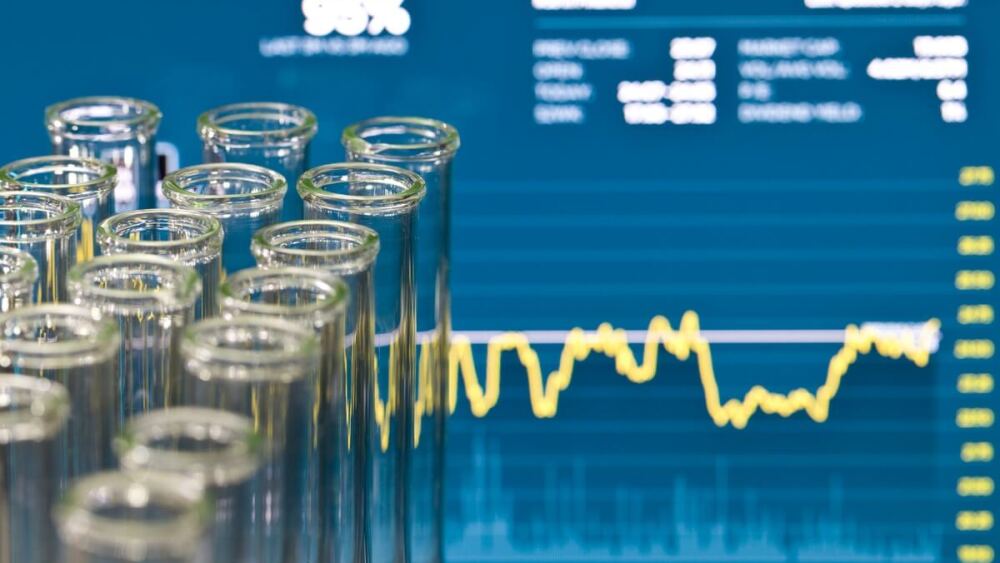 As we move into the middle of the year the market continues to be unpredictable, at best. Inflation, consumer spending, energy prices and the impact of quantitative tightening (QT) on interest rates remain huge question marks. Still, there are pockets of strength outside of energy stocks. One of those has been select healthcare and MedTech stocks. Three small-cap MedTech stocks have been particularly resilient lately.
These stocks could continue to do well over the next 12 months as new technologies hit the market and procedure volumes ramp up.
Here's a brief introduction to these names.

Small-Cap MedTech Stock #1: Shockwave Medical (SWAV)
Shockwave Medical (SWAV) is a medical device company with a new solution to treat calcified cardiovascular disease.
[text_ad]
Its approach – called intravascular lithotripsy (IVL) – combines traditional balloon angioplasty and lithotripsy. It can treat calcified artery disease and calcium buildup in both the inner (intimal) and middle (medial) layers of peripheral arteries and coronary arteries.
Treatment is achieved with use of a device that combines a small generator, a connector cable and an intravascular lithotripsy catheter.
In basic terms, the catheter is inserted into the target artery and delivers localized treatment via sonic pressure waves. Those waves crack calcium without harming soft tissue and expand the vessel with very low pressure.
Shockwave claims its IVL can treat the most complex calcified anatomies while minimizing common complications from other technologies, including high pressure balloons and atherectomy, which can lead to dissection and perforation and have steeper learning curves.
Management says target market segments in peripheral artery disease (PAD), coronary artery disease (CAD) and aortic stenosis (AS) represent a combined target market of over $8.5 billion.
What's exciting now is that on the back of FDA approval and better payment reimbursement, Shockwave launched coronary in the U.S. in February 2021 (coronary was already approved in select international markets).
Revenue in Q1 2022 was up 194% to $93.62 million. Adjusted EPS was $0.39, a huge increase from -$0.68 in the year-ago quarter. Management's 2022 revenue guidance calls for $435 - $455 million (+83% - 92%). That's a significant jump from estimated full-year revenue growth of around 75% at the end of Q4 2021. Estimated EPS for 2022 is $1.94.
This is what the chart looks like.
Small-Cap MedTech Stock #2: Axonics (AXNX)
Axonics (AXNX) is developing disruptive solutions for patients that suffer from overactive bladder (OAB), Urinary Retention (UR) and Fecal Incontinence (FI). These ailments are often the result of abnormal communication between the brain and the bladder and bowel.
A proven treatment option is sacral neuromodulation (SNM). SNM involves implanting a programmable stimulator in the body to send low amplitude electrical stimulation to the sacral nerve, thereby restoring normal control of the bladder and bowel.
Historically, the SNM market has been dominated by Medtronic (MDT). But Axonics built a better mousetrap. It now has three solutions.
The Axonics R15 System is a miniaturized, long-lived rechargeable neurostimulator that works for up to 15 years. It is MRI compatible. Charging is required after one to two months. An upgraded system that lasts six months is expected to launch early next year.
The company also just released the F15 this spring. The F15 is the only truly recharge-free SNM therapy option and works for 10 to 20 years.
Even though it's only been a couple months since launch early indications are that the F15 is a home run. Some practices say they are switching over their entire SNM volume to Axonics and its F15. It's not out of the realm of possibilities that the F15 could take over half the market in a few years.
Axonics is also enjoying huge success with Bulkamid, a best-in-class urethral bulking agent for women with stress urinary incontinence (SUI). Bulkamid was acquired for $35 million in February 2021. The solution is very synergistic with both the R15 and F15 solutions and seems to be turning into a front-line option (replacing sling/mesh surgeries) for patients, some of whom may later progress on to an implanted SNM solution.
The company released Q1 results on May 6 that surpassed expectations. Revenue grew 41% to $48.4 million (beating by $3 million) while GAAP EPS of -$0.50 beat by $0.13. Full-year revenue guidance was raised by $4 million to $238 million (+32%). Of that, SNM solutions are seen growing 26% to $199 million while Bulkamid should grow around 70% and make up the balance of revenue.
This is what the chart looks like.
Small-Cap MedTech Stock #3: Procept BioRobotics (PRCT)
Procept BioRobotics (PRCT) is a surgical robotics company specializing in solutions in urology. It invented the AquaBeam Robotic System, an advanced, image-guided, surgical robotic system for use in minimally invasive urologic surgery.
The AquaBeam system gained FDA clearance in 2017 and is primarily sold to U.S. hospitals. Procept's current focus is treating benign prostatic hyperplasia (BPH).
AquaBeam delivers Aquablation therapy to target and rapidly remove prostate tissue via automated robotics and heat-free water jet ablation.
Aquablation therapy works regardless of prostate size and shape, or surgeon experience. It means patients can get symptom relief without having to look for options that have symptom relief on one end of the scale and irreversible complications on the other. AquaBeam lets them have both safety and efficacy.
In 2021, Procept gained final positive local coverage determinations from all local Medicare Administrative Contractors (MACs), which represent 100% of eligible Medicare patients. This means Medicare beneficiaries across all 50 states now have access to Aquablation therapy. Procept has also gained favorable coverage decisions from many of the large commercial players.
All of this means Procept is growing extremely quickly and that revenue trends are rapidly evolving as the business scales up to address a $10 billion market opportunity. Revenue in 2021 grew by 347% to $34.5 million. The company is not profitable. In 2021, adjusted EPS was -$1.44.
The company delivered another beat and raise quarter in May. Revenue was up 97% to $14.2 million ($2.1 million beat) and GAAP EPS of -$0.39 beat by $0.10. Management also increased full-year revenue guidance by $4 million, implying 2022 revenue of $58 - $62 million (+68% - 80%). Estimated 2022 EPS is -$1.83.
This is what the chart looks like.
To learn what other small-cap stocks I'm currently recommending - MedTech stocks or otherwise - you can subscribe to my Cabot Small-Cap Confidential advisory by clicking here.
Do you own any small-cap MedTech stocks not listed above? Tell us about them in the comments below!
[author_ad]