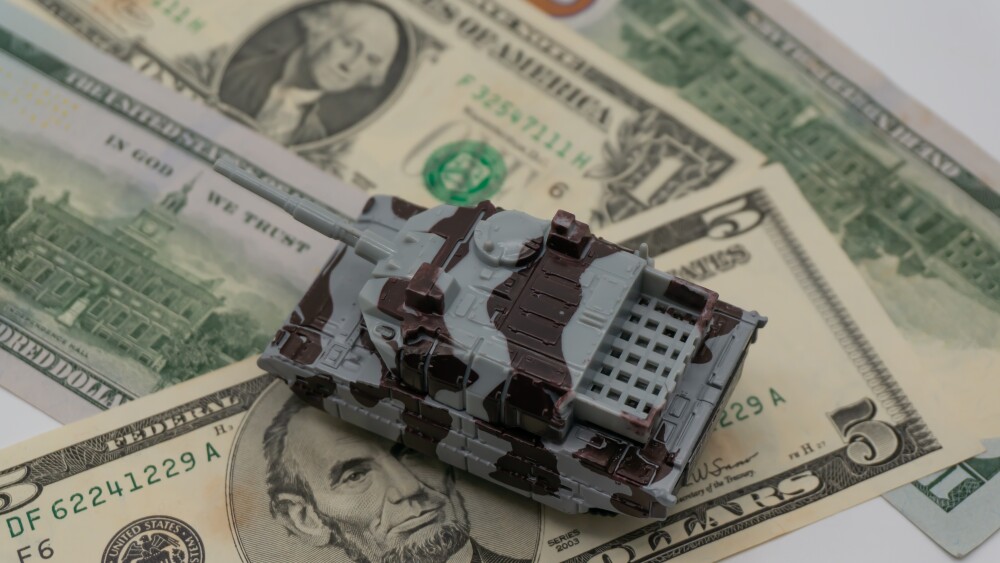 The tools and techniques of warfare have always evolved rapidly, as combatants seek any advantage to secure victory over their opponents. Millennia ago, spears were elongated to exceed that of their opponents', producing, literally, a lethal edge in battle. Gunpowder rendered armor and castle walls useless, while horses transformed warfare by providing immense mobility. Later, mechanized weapons and aircraft radically changed the nature of combat.
Today, we're seeing the continued evolution of warfare. Heavy mechanized weapons like tanks are nearly obsolete, as cheap drones can readily destroy them. Even the vaunted Abrams A-1 tank has been relegated to a mere armored transport vehicle in Ukraine as its vulnerability makes it a battlefield liability. While daunting in peacetime, aircraft carriers are likely to share the same fate – too slow and vulnerable to hyper-speed missiles and other light and cheap weapons made by companies like the small-cap defense stock below.
Major defense companies, including Boeing, Lockheed Martin, RTX Corp (former Raytheon) and Huntington Ingalls and many others, are geared primarily toward large-scale production of super-advanced versions of weapons from the previous era of battle. One example: the F-35 Advanced Fighter jet brings impressive leading-edge capabilities yet carries enough defects to render it nearly unreliable. (The short story, "Superiority" written by Arthur C. Clarke and which became required reading for a class at MIT, provides a clear lesson on the flaws of this approach).
[text_ad]
If the major defense contractors are too large and too reliant on producing weapons for the last war, which companies provide concentrated exposure to weapons of the next war? We found several fascinating companies, like Ocean Aero, General Atomics, and Anduril Industries, but these are privately held and thus out of reach for investors.
We also uncovered a small-cap defense stock ($2.2 billion market cap) that looks well-positioned for the new era. Kratos Defense & Security Solutions (KTOS) focuses on unmanned systems (drones) as well as low-cost yet advanced and highly effective aircraft engines and other systems. With only $1 billion in total revenues, Kratos provides investors with full and undiluted exposure to the future of battle. The company scored an encouraging win recently, by securing an agreement to provide its low-cost turbine engine to Boeing for use in the Powered Joint Direct Attack Munition (JDAM) system, a long-range precision strike weapon.
Kratos is growing, with revenues increasing about 10% (organic). The company is profitable and produces positive free cash flow. The balance sheet carries about $232 million in debt, equivalent to about 3x Adjusted EBITDA and which looks readily serviceable.
The shares remain 50% below their peak and essentially unchanged from their price in 2010. The valuation is at a cosmetically high multiple of earnings, but this metric ignores the sizeable potential within the well-positioned Kratos portfolio.
While the large-cap companies win the biggest portion of defense spending, investors might find much stronger appreciation potential in the small-cap defense names, like Kratos.
As specialists in contrarian investing, we focus on companies that investors are overlooking. We do all the extensive idea searching and analysis to help you benefit from out-of-favor stocks. Our capabilities save you time while boosting your chances of profitable investing.
[author_ad]