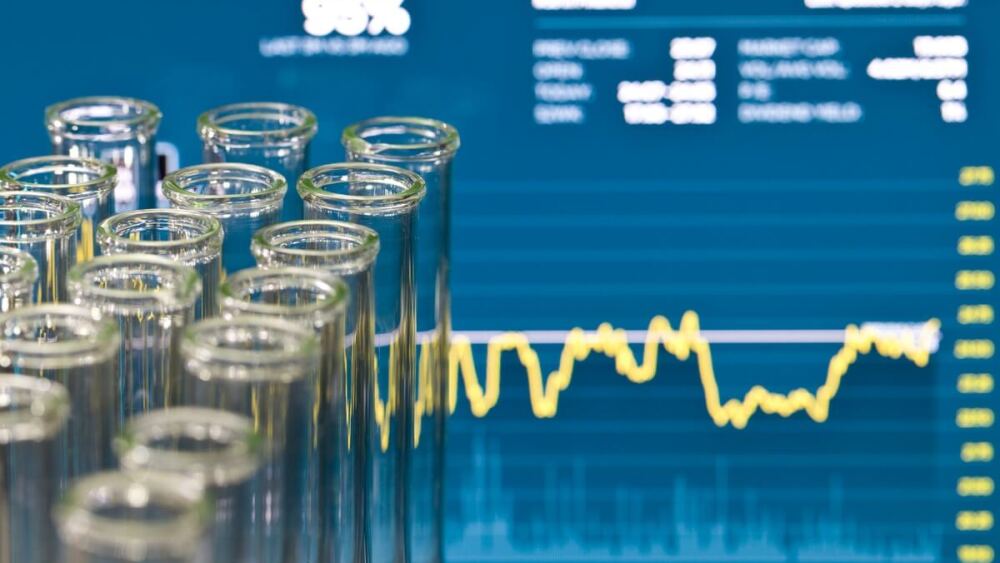 It's been an ugly tape in the biotech market.
Biotech stocks, as a sector, are in a bear market.
Biotech bear markets on average result in a drawdown of 50% and last 438 days.
The Biotech Index is currently down 52% since its peak in February 2021.
The current bear market has lasted 773 days.
Judging from history, the current biotech bear market is either over or almost over.
There are other signs that now might be a good time to look at biotech stocks.
For example, a record number of biotechs are trading for less than cash on their balance sheet.
So how do you take advantage of opportunities in the biotech market?
Well, I might be biased, but I'm partial to micro-cap biotech stocks.
First, I look for biotechs that are trading at a negative enterprise value.
This means that net cash is greater than the current market cap.
In other words, investors are valuing the company's ongoing operation and pipeline at a negative valuation.
Historically, you will do quite well if you invest only in negative enterprise value stocks.
Alan Bochman of the CFA institute looked at negative enterprise value stocks between 1972 and 2012 and found that they generated an average return of 50.4% on average over a rolling 12-month period.
Pretty impressive!
Of course, many biotechs have huge cash burns, so I tend to focus on micro-cap biotechs that are trading at negative enterprise values and have also announced that they are exploring strategic alternatives and attempting to cut costs.
You can set up a Google alert to monitor the keyword "strategic alternative" here.
Here are three micro-cap biotech stocks that look interesting to me.
Jounce Therapeutics (JNCE)
Jounce Therapeutics, Inc. is a clinical-stage immunotherapy company that develops therapies for the treatment of cancer.
Jounce has a market cap of $77MM and an enterprise value of negative $102MM.
In other words, it's worth more dead than alive.
Jounce had previously announced a merger with U.K. biotech Redx Pharma.
However, since then a better offer has materialized.
On March 15, Concentra announced that it is offering 1.80 in cash to acquire Jounce Therapeutics, above Jounce's current share price of 1.50.
It's unclear how the acquisition process will play out, but all potential options look positive.
Potential options:
- Concentra consummates its acquisition at 1.80.
- Redx raises its merger offer to better compete with the Concentra offer.
- Another company offers to buy Jounce with a superior bid.
Neoleukin Therapeutics (NLTX)
Neoleukin Therapeutics, Inc. is a biopharmaceutical company that was focused on developing immunotherapies for cancer, inflammation, and autoimmunity disorders using protein design technology.
Unfortunately, the drugs that the company has researched have not proven promising enough to warrant additional studies.
As such, the company announced two rounds of layouts and that it is exploring strategic alternatives.
As of 12/31, the company has net cash of $78MM and a current market cap of $36MM.
While the company will continue to burn cash as it evaluates its strategic alternatives, the stock looks promising.
What will happen in the future?
It's hard to know with certainty, but there could be a liquidation, merger or company sale.
Quince Therapeutics (QNCX)
Quince Therapeutics, Inc was focused on advancing precision therapeutics for debilitating and rare diseases.
It has become another failed biotech stock.
The company has net cash of $2.55 per share yet trades at 1.47.
Better yet, Quince recently sold a bunch of legacy assets to Lighthouse Pharma (private company) for 7.5% of the company and potential milestone payments.
So, it seems like there is definitely value there.
Finally, Echo Lake Capital recently offered to buy the company for 1.60 per share.
I think odds are quite strong that Echo Lake consummates the offer at 1.60 or something better happens.
While the current biotech bear market may have been painful for your portfolio, don't write off biotech stocks or the entire industry as it is currently rich with opportunity.
To learn more about the other micro-cap stocks I like, subscribe to Cabot Micro-Cap Insider today!
[author_ad]