Keep Your Golden Years Golden: How to Save, Spend, and Invest
The expanding senior population is a major demographic trend that's driving higher costs in senior living and senior care services across the country. If you're retired (or planning to), unexpectedly high living expenses can put your entire retirement picture in doubt. This month, let's explore assisted and unassisted living options for seniors, how to plan for those expenses even as they climb, and important factors to consider before you shake up your living situation. Plus, we'll pick a few of the best-looking stocks taking advantage of the trend.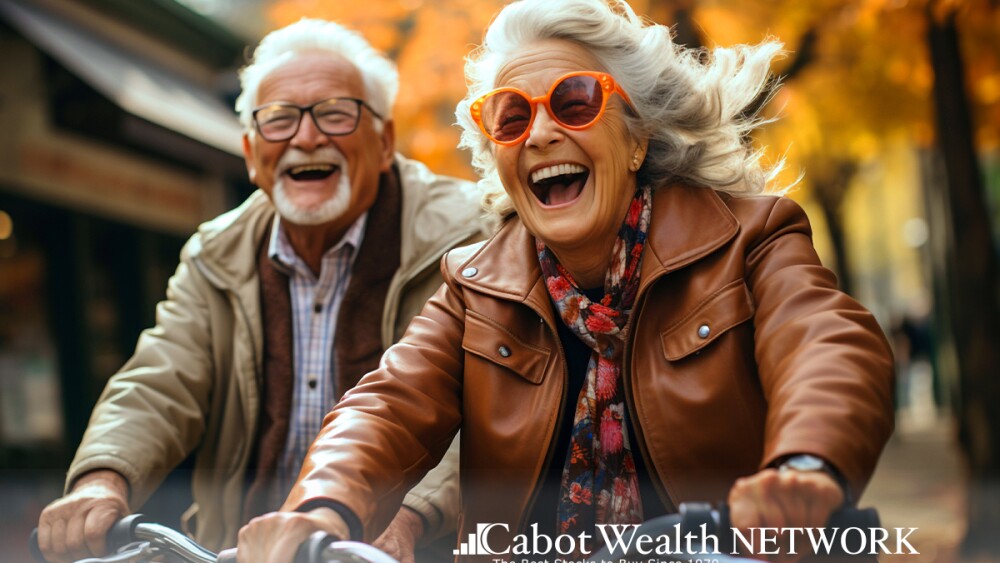 In June 2022, we saw inflation hit 9.1 %, a 40-year high. The following graph shows the rapid acceleration, as well as the just-as-rapid deceleration this year.
It's been a sticker shock for most of us. Prices for nearly everything—groceries, automobiles, gasoline, utilities, and much more—have sent families scrambling for ways to cut expenses and increase their income.
You see, we've been spoiled, as historically, the average inflation rate in the U.S., from 1914 until 2023, was a mere 3.3%—the same as it is today.
But I've lived through much higher rates—almost double 2022 rates—in the 1980s. Inflation rates began rising in the 60s, and by 1980, inflation hit almost 15%. Then we had a long period of declining inflation rates—until 2022.
Even now, although the inflation rate has declined, folks are still worried about prices. And those people who are nearing retirement age are even more concerned, as inflation can quickly eat into those nest eggs you've been so carefully building for your golden years.
You can see for yourself how inflation can affect your long-term purchasing power, by entering your information into the calculator at this site.
Let's do a quick example; we'll make the following assumptions:

You are 40 years old and plan to retire at 65
Your current income is $75,000 per year, and we'll assume that you will need 75% of your current income for retirement
Inflation is currently 3.3%.
Result: in 25 years you would need the equivalent of $126,657 to maintain the same standard of living!
I bring this up as taking inflation into consideration is a critical part of retirement planning, which includes not only all those wonderful trips you wish to take, perhaps a new home or retirement location, but also requires exploring options for the latter part of your retirement, including the creation of a long-term care plan.

The Senior Population Will Almost Double by 2050
Right now, there are more than 46 million adults over age 65 in the U.S. And the next seven years will see fantastic growth in this population segment, with one in five people in the U.S. reaching age 65 by 2030.
By 2050, the number of people over age 65 will almost double today's population—to 90 million!
You can thank advances in health care for those rising numbers. According to the Centers for Disease Control and Prevention, last year, the average life expectancy in the country was 76.4 years, but that number is expected to increase to 85.6 in 2060. That's a huge rise from the average life expectancy of 68.14 years in 1950.
But fortunately, that doesn't mean 90 million folks will be in need of elder care all at once. The average age of residents living in senior care is around 86. But with more options popping up, experts believe folks will start getting serious about planning their elder care environments much earlier, and many will relocate as early as 75 years of age. So, along with your family's aging history, you can take that into account as you plan how and where you want to live in your older retirement years.
The near-doubling of seniors will create some major stressors for the care industry. While more options will undoubtedly be available, the costs for facilities and insurance are sure to keep rising. At the same time, the reimbursement environment for Medicaid is rapidly changing by shifting funding from nursing homes to assisted living, memory care, and alternative care options.
That move has affected nursing home populations, which saw their occupancy decrease by more than 5% from 2018-2019 and have continued to decline to an occupancy rate of about 75.8% today. At the same time, assisted living occupancy rose 1.1%, and today, it is around 79.7%. It's interesting to note that the highest occupancy rates are in San Jose (83.7%), Portland (83.4%), and San Francisco (83.4%), with the lowest in Houston (73.0%), Atlanta (74.8%), and Las Vegas (74.9%).
The Southeast portion of the U.S. is home to most of the senior housing communities, with 3,706 communities, followed by West (3,436), Northeast (3,320), North Central (3,303), and South Central (2,244). The Southeast region includes North Carolina, South Carolina, Tennessee, Georgia, Florida, Alabama, Mississippi, Arkansas, Louisiana, Texas, etc.
Another area of senior living that is seeing rising demand is independent living in a senior neighborhood, for folks that don't need the care involved in assisted living or a skilled facility.
These facilities can take the form of apartment-type dwellings, as well as hybrid homes and communities/communes with common areas for socialization. Occupancy rates for independent living facilities were as high as 84.7% in the third quarter of 2022, up almost 4% from the year before.
This transition to more community-style dwelling is a result of seniors looking to sustain the quality of life that they are accustomed to during their elder years, with a focus on wellness and social activities. Quickly disappearing (but not yet gone) are the days when seniors only had to look forward to a small room in a crowded facility, with nothing to entertain them. Many facilities today resemble resorts with activities for every level of client.
Those desires, plus the swelling senior population, are the springboards to an evolution in the senior care market, which is valued at $92.6 billion, and growing at a CAGR of 5%.
Today, seniors have many options to consider. And it will make the transition much easier for you and your family if you take the time to analyze your personal wants and needs, and then review your choices, prior to needing them.
There's no better time to start than now. So, let's take a look at what the senior care business looks like at this moment in time.

Senior Care May Begin with Home Health Care
When my mother reached the point where she wanted to stay in her home, but couldn't really look after all of her needs herself, my sister and I did what we could—providing meals, grocery shopping, medication, etc. But we just weren't prepared for all of the services that mom required. So, we decided to bring in home health care, which helped in two ways—1) the aides took care of health issues, such as blood pressure checks, physical therapy, and diagnostics, and 2) provided mom with someone who would sit and chat with her, read to her, and watch TV with her, helping to widen her world a bit more.
In 2016, the home healthcare business was around $100 billion but is expected to reach $225 billion by next year, boosted by rising life expectancy.
One interesting facet of home health care (as well as assisted living) is the rise of telehealth to provide reminders through voice assistants, such as the Amazon Echo (aka Alexa) and Google Home, diagnostics, and a link to a patient's entire health team. This innovation will help seniors stay in their own homes longer, and is especially attractive as AARP predicts that "the number of seniors requiring additional care thanks to chronic illness will increase from about 14% of the senior population in 2010 to 21% by 2050."
Fortunately, Medicare does cover some home health services, such as:

Skilled nursing care
Physical therapy, occupational therapy, and speech-language
Pathology services
Home health aide services
Medical social services
Medical supplies
But Medicare does not cover:

24-hour-a-day care at home
Meals delivered to your home
Services, like shopping, cleaning, and laundry
Custodial or personal care like bathing, dressing, and using the bathroom (when this is the only care you need)
For additional information, you can refer to this Medicare publication.
If you have to pay for home health care yourself, the median cost in the U.S. was $27 an hour in 2021, and the monthly median cost of in-home, full-time care for seniors is $5,148, according to aplaceformom.com. By the way, that website provides a comprehensive look at the home healthcare industry, too.

Independent Living Is Becoming an Attractive Option for Seniors
Independent living homes are restricted by age (usually over 55) and can consist of apartments that you rent, duplexes—rented or owned, or condos/townhomes or cottages/villas/individual homes that you own. You may find a senior apartment complex that is age-restricted but doesn't offer any care services. Or you may discover a life plan or continuing care community that provides transitions from independent living to assisted living to memory care to a skilled nursing facility.
Today, these neighborhoods look just like many other neighborhoods—modern, stylish, and with amenities. They are viable options for seniors who might want to sell their homes in a good market, but want to live in a thriving community, and aren't yet ready for assisted living. But they offer convenience and amenities such as housekeeping, linen service, dining plans, transportation services and security. They may also include a fitness center, pools, coffee shops, several dining options, beauty and barber salons, woodworking shops, art studios or crafting rooms, and entertainment spaces such as auditoriums, game rooms or movie theaters.
In short—all the conveniences of home, without having to be responsible for paying extra, getting there, or preparing meals! Plus, you have company when you want it. And when you need it, a life plan community will also offer health care.
You'll find a range of prices that depend on factors such as your city, size of your residence, number of occupants, and whether or not there is an entrance fee. Rental communities tend to have lower monthly rates, which can be appealing in the short term. But not everything is included in that cost—especially health care.
But senior independent living does come with a steep cost. According to the National Investment Center, monthly fees range from $1,500 to $5,000 or more, but the average independent senior living monthly rate is around $3,200 a month.

Additionally, if you decide to move to a life plan community, expect to pay an upfront entrance fee, which can be $100,000+, usually covered by the proceeds from selling your house. These fees are considered pre-payment of future medical costs. But please check to see if there are refundable options, especially for your estate.
In my area, there are facilities that offer cottages/single-family homes that you buy into, with provisions for transitioning to the next step, in which the community agrees to buy back your home so that you can use your proceeds for your transition.
A Place for Mom has a pretty nifty search tool to look at independent living costs by state. Go to https://www.aplaceformom.com to look up the average costs for your state.
Additionally, the government also offers low-income senior housing, subsidized by the U.S. Department of Housing and Urban Development (HUD). Additionally, information is available at the HUD website.
If you think independent living may be an attractive option for you, here are a few questions to ask yourself before taking that step:

How easy is it for you to maintain your current home?
Is it difficult for you to connect to friends and family?
How easy is it for you to get around?
How is your health (and the health of your spouse)?
Once you've made a decision to seek an independent living community, here are a few more questions to consider:
What is the best location? Do you want to live near relatives, in a better climate, or would you like to stay close to your friends?
Is there availability? Many independent living communities have a waiting list, so plan ahead!
What is the social environment? Consider how much time you want to spend with others and what activities you like/dislike.
What are the community demographics? This is more important than you think. An older friend's first assisted living facility didn't agree with him, as he said the folks were "too old" and there were "not enough men." You may laugh, but it's very important to find people you can connect with—at any age. He moved to a different facility, which had a more diverse age group and plenty of male residents, many from the same area of the country from which he came.
What meal plans, if any, are offered? Differing plans have different costs, so pay attention to those, too. Some communities offer meals to independent living residents; some don't. And some offer just one meal per day; others two or more.
What activities and amenities are available? Check on laundry, housekeeping, transportation, exercise facilities, personal services, health care, and entertainment.
What extra costs may be written into the contracts? Contracts can be complicated, but this site can help with more information about these contracts.
Please note that Medicare doesn't cover independent living costs, but if you choose a life plan community, your long-term care insurance may help cover the costs.

Elder Villages and Cohousing—a Different Take on Independent Living
You might call this the "it takes a village" concept of elder care. Years ago, my friend Bonnie and I said we would like to form a commune of our lady friends when we reach old age. Everyone would have their own home as well as a central gathering place for meals and social activities. And all chores would be shared.
Recently, my oldest friend, Pam, and I took a long drive together down the Natchez Trace, and this idea was floated again. Now that we are reaching those "older years," it sounds like a great alternative to a more formal senior care living arrangement.
The funny thing is that this is actually happening—in several different forms!
Let's start with the "village" concept. Back in the 1990s, friends in Boston took this idea and formed the first senior community of its kind, Boston's Beacon Hill Village. They pay an annual membership fee (about $600 per person), live in their own homes, but have created a network for social events, help with groceries, rides, repairs, paperwork, and daily check-ins.
The basic concept is for villages to offer just about any service a member needs. Vendors are pre-screened, there are group discounts, and there are even services to help members manage their finances.

There are currently 60 such communities in the U.S., and reports say that 600 more are in development.
Here are a couple of websites that offers additional information about villages: https://www.vtvnetwork.org/
https://www.helpfulvillage.com/the-village-movement
And then there's cohousing, originally created in Denmark in the 1960s. This concept is more like what my friends Bonnie and Pam and I envision "a collaborative living arrangement in which a cluster of individually owned homes are centered around common areas, with residents actively creating and participating in all aspects of community life and where the security and connectedness that spring out of community living are held in the highest regard. Each individual house has all the amenities of home, but the common areas also have full kitchens and gathering areas for get-togethers (both planned and spontaneous) and regular group meals, which are a central part of cohousing life. Unlike members of a commune, the residents do not have a shared economy or set of beliefs. Cohousing communities thrive on diversity."
In the U.S., there are currently 120 cohousing communities, with several hundred under development.
Additional resources:
The Senior Cohousing Handbook, available on Amazon
The Cohousing Association of the U.S.
The Cohousing Company
And this website offers a list of cohousing communities around the world.
Most cohousing communities come with an upfront fee that can range from a few thousand dollars to more than $70,000, so make sure you get a full accounting of the costs associated with cohousing—both upfront and ongoing.
And here are a few questions to ask before committing to a village or cohousing community:

Am I willing to be an active member of the community?
How do you encourage community and a healthy work-life balance?
How does the space balance privacy and security?
What is my goal with co-living?
Who are the other residents?
What am I comfortable with sharing?
Do I feel at ease?
Assisted Living—Demand Is Outpacing Supply
The next step after independent living is assisted living, where 800,000 in the U.S. currently reside, with an average age of 85. In addition to individual spaces (like independent living), assisted living includes personal care and support services, such as meals and transportation. There is a degree of independence, but folks with healthcare needs can also receive the treatments they need, especially as they progress in their aging trajectory.
Statistics show that after a stay of 22 months in assisted living, 60% of residents usually transition to a skilled nursing facility.
According to Grand View Research, the market for assisted living in the U.S. was valued at $91.8 billion in 2022 and is expected to grow at a CAGR of 5.53% from 2023 to 2030. And that market is due to explode as the senior population rises. There are just not enough facilities for the market right now, and that, along with the labor shortages and supply chain issues from Covid-19, has caused prices to soar.
Prices for assisted living in the U.S. average $44,880 per year and range from $3,100 to $7,000+, on average per month. This page, from seniorliving.org, will show you the average cost per state.
We baby boomers number more than 70 million folks, aged 57-75, and there are actually only about 1 million assisted living units on the market for us to inhabit, according to Forbes. And the U.S. Census says that by 2030, this generation will rise to 108 million adults over 65. Consequently, don't look for prices to come down anytime soon.
If you are ready to investigate assisted living facilities, several websites, including aplaceformom.com and https://www.consumeraffairs.com/assisted-living/ offer ratings.
And here are some questions you may want to ask the facilities that you tour:

How does your community welcome a new resident?
What kind of training does your team undergo?
How many residents do you have?
Do you have staff on-site 24/7?
What kind of meal services do you offer?
What types of activities are available?
What volume levels do your residents have?
What role does family play?
How do you track resident happiness?
How do you foster a sense of community?
Next Step: Skilled Nursing Facilities
These facilities offer more intense healthcare treatments, including rehab and all sorts of therapy. But as mentioned above, and as you can see in the graph below, there have not been a lot of new nursing homes that have come on the market in recent years.
And the situation is worsening. According to the American Health Care Association and National Center for Assisted Living (AHCA/NCAL), in their survey of 953 U.S. nursing home providers, two-thirds of nursing homes say "they won't make it another year given current operating pace due to increased COVID costs." In fact, 90% of nursing homes are currently operating at a loss or less than three percent profit margin.
That's a dreadful report, and if extrapolated to the 26,514 nursing homes in the U.S., it could mean dire predictions for the $179.0 billion marketplace.
The average cost of a nursing home in the U.S. is $148 per day, or $4,500 per month. This website will give you the average monthly cost per state.
Cooneyconway.com recommends that you ask the following questions of yourself and the nursing homes when you visit them:

What is the staff-to-resident ratio? Is the staff overworked?
Is there a pattern of staff turnover?
How many hours a day do staff members spend with residents?
Are there any previous cases of elder abuse or neglect by nursing staff?
How do staff members interact with residents?
Is the nursing home certified to accept Medicare or Medicaid?
Does the facility have specialized services, resources, or equipment?
What are the conditions of the facility?
Do residents at the facility contract infections easily?
Are staff members fostering an environment for the residents and catering to their likes and needs?
What is the daily schedule like?
Do the residents look well cared for?
And you can use this site to compare ratings of nursing homes in your area.

Memory Care—a Specialized Facility on a Big Growth Arc
According to NIC Analytics, in 2022, approximately 6.5 million people over the age of 65 (or one in nine older Americans) have Alzheimer's or other dementias. From 2015 to 2020, memory care facilities increased by 46%, much faster than either assisted living or skilled nursing facilities. And by 2030, the company predicts that some 8.2 million Americans will have Alzheimer's or other forms of dementia.
The memory care market is around $5.68 billion today but is expected to grow to $6.09 billion by 2030, according to Grandview Research.
Most memory care facilities are housed within a larger skilled nursing or assisted living facility.
The needs of the patients are unique and require more security (to keep them from wandering off) than the typical senior housing provides.
The average cost of a memory care housing unit is $5,800 per month.
Https://www.aplaceformom.com offers a comprehensive look at the memory care industry, including location of facilities and local resources.
Lastly, Regency Senior Communities offers a downloadable list of questions and observations for your visit to memory care facilities, which is available here.

How to Pay for Senior Living
So, we see that housing and care in our later years is very expensive. Since most of us aren't rich, we need to figure out a way to pay for this care, so the expense doesn't bankrupt our families.
Before I get into specific avenues for payment, let me introduce you to a couple of financial calculators that can help you determine what you can afford:
https://www.seniorlivingresidences.com/family-guide/financial-options/expense-calculator/
https://www.seniorlifestyle.com/resources/financial-planning/retirement-community-cost-calculator/
As you have seen from my research, costs vary widely, and most of my numbers are averages. Be sure to get specific estimates for every imaginable expense when you meet with the facilities.
Ways to Pay:
Out-of-pocket. We should all be so lucky to have the funds for this, but, unfortunately, most of us don't.
Long-term care insurance will usually reimburse the cost of nursing homes, in-home care, assisted living facilities, and adult day care centers. Most people buy these policies in their 50s or 60s. Consumer Reports recommends that you wait until you are 60 years of age to purchase this insurance. The premiums range from $250 to $1,000 per month, and go up the longer you wait to buy the plan.
There are three types of long-term care insurance:
Reimbursement Policies, the most common, reimburse you for eligible care expenses up to a daily or monthly limit.
Indemnity Policies pay a fixed daily benefit, regardless of expense.
Partnership Policies protect your assets if you apply for Medicaid after using your policy benefits. If your policy paid $200,000 in benefits, you can keep an extra $200,000 in assets and qualify for Medicaid.
As with all insurance, there are pros and cons:
Pros:

You don't have to worry about paying for your senior care out of your personal funds.
You can customize your policy to fit your needs.
Cons:

Pre-existing conditions may result in denied coverage.
Premiums become more expensive if you try to buy a policy after the ideal age range. The American Association for Long-Term Care Insurance publishes the following table of monthly premiums by age for $165,000 in benefits (not counting inflation):
| | | | |
| --- | --- | --- | --- |
| | Age 55 | Age 60 | Age 65 |
| Male | $79 | $98 | $142 |
| Female | $125 | $158 | $225 |
| Couple | $173 | $217 | $313 |
Long-term care insurance must be paid monthly.
If you don't use it, you don't get a refund.
Long-term care annuity. You usually will pay a fixed monthly premium, or you can make a lump sum payment at the beginning of the annuity. The amount depends on the dollar amount of the annuity you have purchased. And when it's time to go into long-term care, the annuity is paid monthly during the payback period.

Here's an example of how this instrument works, from Broadridge Advisor:
"Say you pay $75,000 to purchase a long-term care annuity. You select a long-term care benefit equal to 200% of your annuity's cash value, with a five-year benefit period. Initially, your long-term care benefit equals $150,000 ($75,000 x 2).
"Let's assume the annuity earns 4.5% per year and the cost of the long-term care provision is 0.5% per year. At the end of 20 years (presuming you take no withdrawals), the annuity is worth about $163,622 and the long-term care benefit amount is $327,244. This will provide maximum long-term care benefit payments of $5,454 per month for as long as five years. And even if cumulative long-term care payments exceed the annuity's contract value ($163,622), the long-term care payments will continue until you either exhaust the long-term care benefit amount ($327,244) or you no longer need long-term care."
And, of course, there are pros and cons to long-term care annuities, courtesy of elderlifefinancial.com.
Pros:

If you currently have a health problem, it might be easier to get approved for a long-term care annuity than long-term care insurance.
Long-term care annuities can be much more cost-effective than long-term care insurance.
You can lean on your long-term care annuity to cover other unexpected costs in a pinch.
Cons:

Annuities may require a large upfront payment that may not be in your ability to pay.
Annuity payments are considered taxable income if they aren't used to pay for costs associated with long-term care
Medicaid reimbursement for long-term care depends on the state in which you reside.
Added to that, there are a bunch of Medicaid programs that pay for services in assisted living, including:
1915c Medicaid HCBS Waivers (Home and Community Based Services).
1115 Demonstration Waivers and 1915b Managed Care Waivers.
Regular Medicaid (sometimes called State Plan Medicaid) is also used in some states for assisted living services.
There are advantages and disadvantages to each program. With waivers, income eligibility limits are usually higher than regular/State Plan Medicaid. For example, last year most waivers allowed monthly income limits of $2,523, while Medicaid State Plans could limit income to $1,132/month.
Also, waivers are almost always enrollment capped, with waiting lists, and generally require that participants need to be in a nursing home.
Please note that not all senior care facilities will accept Medicaid. Please consult this website to find facilities near you that do.
And this site gives you comprehensive information via a State by State Guide to Medicaid Coverage for Assisted Living Benefits.
State-offered assistance. It's important to note that forty-three states and the District of Columbia now provide some level of financial assistance to individuals in assisted living, a loosely used term that includes residential care, adult foster care, personal care homes, and supported living. However, states are not allowed to pay for room and board costs in assisted living.
However, there are other measures they can take to help residents, including:

Cap the amount the residences can charge.
Offer Medicaid-eligible individuals supplemental Social Security assistance to cover assisted living room and board (from general state funds).
Pay for meal preparation and serving but not actual food costs.
Assisted living family loans (short-term) can offer bridge financing to cover your costs until your other benefits kick in. You can find additional resources here.
Veteran's aid can be found at benefits.va.gov. There are two VA programs that provide certain elderly Veterans with an additional monetary amount if you are eligible for or receiving a VA Pension benefit.
1. Aid and Attendance (A&A) is an increased monthly pension amount paid if you meet one of the conditions below:

You require help performing daily functions, which may include bathing, eating, or dressing.
You are bedridden.
You are a patient in a nursing home.
Your eyesight is limited to a corrected 5/200 visual acuity or less in both eyes; or concentric contraction of the visual field to 5 degrees or less.
Housebound is an increased monthly pension amount paid if you are substantially confined to your immediate premises because of a permanent disability.
Learn more about these benefits on the Aid & Attendance benefits page.
2. VA Health Care for Elderly Veterans covers:

Geriatrics Program
Long-Term Care
Eligibility for Long Term Care
Home Based and Community Services
Nursing Home and Residential Care
Geriatrics Research
Please see this VA site for additional information..
Life insurance conversion is a sale of your insurance policy to a third party. You've probably seen the commercials which offer cash for your policy. But in long-term care policy conversions, it works a little differently. You sell your policy in exchange for "a defined amount of long-term care services, such as assisted living, in-home, or Alzheimer's care. One may also use the funds for home modifications to allow aging in place."
The program is specifically structured to allow participants to gain Medicaid eligibility. If you die before the defined amount of elder care services has been exhausted, your remaining monies go to your beneficiary.
The buyer of the policy takes over your monthly premium payments, pays the care providers' monthly fees for the policyholder, and collects the death benefits when the policyholder passes.
According to payingforseniorcare.com, these policies may also be called Life Care Assurance, a Long-Term Care Benefit Plan, a Medicaid Life Settlement, or simply Life Care Funding.
And here are the pros & cons:
Pros:

Immediate funding for elder care services.
You get more money than you would from a cash surrender.
You reserve the right to maintain the option to receive Medicaid assistance if and / or when their resources expire.
No more monthly insurance payments.
Cons:

Your family will receive no death benefit from the life insurance policy. And the value they do receive is less than the death benefit amount would have been.
The actuaries say that families usually receive the equivalent of 20% – 50% of the death benefit amount (also known as the face value of the policy).
If your life expectancy is relatively short, your family may be able to find a better alternative to pay for your care, such as a family loan.
What Happens When Your Money Runs Out?
The answer is Medicaid. However, as I mentioned earlier, you have to be in a Medicaid-approved facility, and first, you have to meet Medicaid financial requirements, as to monthly income and total assets. Those vary by state; here's a link to find out what your state requires.
For instance, here in Tennessee, 2023 requirements are: 1) Have income under $2,742 / month; 2) Have assets under $2,000; 3) Require the level of care provided in a nursing home facility.
If you or your loved one has an immediate Medicaid need (such as out of funds and already in a nursing home), there is Medicaid Crisis Planning, which includes grants to states and also differs by state. See this site for more information.

Dealing with Medical Power of Attorney and Living Wills—When Do You Stop Making Decisions for Yourself?
No one wants to think about it. But with our life expectancy increasing, many of us will—at some point—need to have a trusted person make some decisions for us—both financial and medical.
And it makes sense to choose that person(s) before you need them.
With a medical power of attorney, you name someone you trust to act as your agent if you cannot speak for yourself. And if you have a family history of Alzheimer's, cancer, ALS, Huntington's disease, or some other incapacitating illness, it's imperative that you get this taken care of sooner rather than later.
Your medical power of attorney may be called an agent, an attorney-in-fact, a health-care proxy, or a health-care surrogate.
They can make the following decisions for you:

Drug treatments to pursue, if any.
Facilities and doctors to visit.
How aggressively to treat brain disease or brain damage.
Tests to run.
When and if you should undergo surgery.
Whether to disconnect life support.
Whether to pursue comfort and quality of life or do everything possible to extend an individual's life.
Who to choose? Frequently, folks name their spouse, adult child, longtime partner, or best friend to act as an agent. The key is to find someone you trust and who will carry out your wishes, even if other family members disagree. Note that in most states, your agent cannot be your health-care provider.
You can draft your own medical power of attorney, but to be sure all the basics are covered, I would recommend that you have your attorney do it.
People often get confused between a medical power of attorney and Advance Directives. They are not the same, although an Advance Directive also includes a medical power of attorney.
An Advance Directive for Health Care (is more comprehensive and replaced the Living Will) is a document that tells your doctor how you want to be treated if you are terminally ill or permanently unconscious.
This legal document will tell your doctor if you want to avoid life-prolonging interventions such as cardiopulmonary resuscitation (CPR), kidney dialysis, feeding tubes, or breathing machines. It can also tell your doctor you just want to be pain-free and comfortable at the end of life. And you can add any special instructions as you wish.
If you currently have a Living Will, you may want to convert it to an Advance Directive with more detailed instructions.

Some More Resources
Here is a list of more resources to help you determine where you want to spend your later years:
https://www.eldercaredirectory.org/
Your state will also offer an amazing number of resources, including:

Aging Services Division
Long Term Care Ombudsman
Home Delivered Meals
Nutrition Counseling
Supplemental Nutrition Assistance Program (SNAP)
Caregiver Assistance Services
Medicaid Waiver Programs
Legal Aid
Transportation Services
Prescription Assistance Programs
Senior Housing Assistance
State Agencies for the Aging
Most of these programs should be reached by typing your state name and .gov into your internet search engine.
The following table provides links to every state's Aging Services Division:
Source: https://www.eldercaredirectory.org/state-resources.htm
Investing in Senior Care
Now that we've reviewed the A-Z of senior care, which basically sucks up our money, let's look at a few ideas to make money from the industry's growth.
There are quite a few investments—stocks, Real Estate Investment Trusts (REITs), mutual funds and ETFs that focus on senior care—facilities, healthcare, pharmaceuticals, medical devices, etc.
I looked at about 50 ideas, and came up with several that look interesting:

Stocks and REITs:
| | | | |
| --- | --- | --- | --- |
| Company/Symbol | Price ($) | Industry | Analyst Ranking |
| Brookdale Senior Living Inc (BKD) | 4.19 | Senior Living Communities | Strong Buy |
| Welltower Inc (WELL) | 83.25 | Senior housing, providers, health systems | Strong Buy |
| The Ensign Group IN (ENSG) | 98 | Skilled nursing, senior living, rehab | Strong Buy |
| Omega Healthcare Investors (OHI) | 30.81 | Skilled nursing, assisted living | Buy |
| Sabra REIT (SBRA) | 12 | Skilled nursing, senior communities, specialty hospitals | Buy |
If you would like to go a bit more speculative, here is a longevity ETF that looks interesting:

| | | | |
| --- | --- | --- | --- |
| ETF/Symbol | Price ($) | Industry | Analyst Ranking |
| GX Aging Population ETF (AGNG) | 27.21 | Healthcare companies | Weak Buy |
As always, please make sure that any of these investments fit into your personal investing strategy and risk profile.
I hope this guide to senior care will help make your research and decision-making a bit easier. Remember, the sooner you begin your planning, the less worry and stress you and your family will have to face when the time comes to make your transition to the next level of care.