Healthcare of the Future: Who's Paying for, Developing, and Investing in Tomorrow's Medicine
Healthcare spending is a huge chunk of the U.S. economy, and demographic trends mean it's unlikely to slow down. So, let's dive into the technology changing medicine, who's developing it, and how to best invest in it.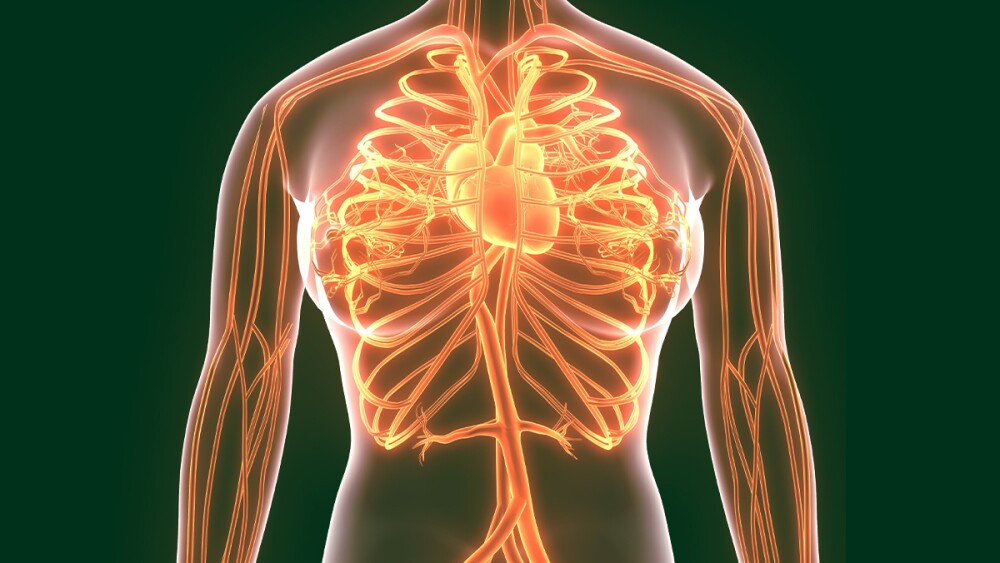 The healthcare industry in the U.S. is massive. It currently represents 18.3% of U.S. Gross Domestic Product (GDP, and is rapidly growing, as you can see from the following graph.

The U.S. healthcare marketplace is currently around $2.83 trillion but is expected to expand to $6.2 trillion in just five years, says the Centers for Medicare and Medicaid Services.
Furthermore, accounting firm Deloitte projects that healthcare spending will reach $12 trillion by 2040 and consume some 26% of GDP.
The Consumer Price Index for healthcare insurance rose 10.7% in 12 months, while medical services increased 2.3%.
These rising costs are a result of:

Lack of medical system integration.
Global supply chain bottlenecks, still being impacted by the pandemic, with 80% of hospitals still seeing supply shortages.
Expensive innovative technology. Emerging technologies are responsible for growing costs, especially cloud-based technologies which added up to $17.9 billion last year—a number that is expected to climb to $29.15 billion in 2026.
These escalating costs are having a detrimental effect on patient care, as you can see in the chart below, courtesy of Peterson-KFF Health System Tracker.
And with the current inflationary scenario, First Insight reports that 13% of adults in the U.S. have "cut their healthcare costs completely." In other words—no insurance and no money for drugs or doctor visits. Add in recession fears, and patients who may be better off financially, are also reluctant to spend money on copays and deductibles.
The Number of Uninsured Is Growing
Just 32% of private-sector employers with fewer than 50 workers offered health insurance in 2021, according to federal data—down from a high of 47% in 2000. And even if offered insurance, only 69% of eligible full-time workers enrolled in the coverage, down from a high of nearly 84% in 1997.
And of the larger private-sector employers, about 90% of whom offer insurance coverage, just 72% of eligible workers enrolled, down from a high of 88% in 1998.
The problem is that they can't afford the premiums and deductibles, which can add up to 5% or 6% of their income.
And then, there are those Americans that have no insurance coverage—30 million of them. Another concern—during the pandemic, Medicaid enrollment soared 27% to more than 90 million folks, and now 5 million to 14 million people are slated to lose that pandemic protection this year, adding to the hordes of uninsured.
Labor Shortages Contributing to Rising Costs
The healthcare cost situation is only worsening, as the strong employment environment has led to labor shortages and pushed up labor costs. The World Health Organization has estimated that one in five healthcare workers decided to leave their jobs during the pandemic. Further, it forecasts that "we will need a further 18 million healthcare workers to achieve universal healthcare by 2030 and additional 9.9 million nurses and midwives to meet global targets."
That has led to labor costs that are expected to rise by an average 5.4% this year. Added to that pain, these rising expenses have resulted in major health systems, such as Mass General Brigham, Cleveland Clinic and Intermountain Healthcare sinking into the red.
Consequently, healthcare providers and insurers are planning to execute rate increases this year.
HR consultancy Mercers reports that employers are predicting that inflation will drive up the costs of the health benefits they provide by 6.5% this year, adding up to some $13,800 per employee—about double the increase in 2022.

Willis Towers Watson expects a global increase in healthcare costs of 10% this year. The company's recent survey found that 78% of global insurers are looking at significant increases this year, as you can see in the table below.
Global medical trends: Healthcare benefit cost growth, 2021 – 2023
| | | | |
| --- | --- | --- | --- |
| | 2021 | 2022 | 2023 projected |
| Global+ | 8.20% | 8.80% | 10.00% |
| North America | 9.10% | 9.40% | 6.50% |
| Latin America+ | 15.10% | 18.20% | 18.90% |
| Asia Pacific | 9.80% | 6.90% | 10.20% |
| Europe | 5.60% | 8.00% | 8.60% |
| Middle East/Africa | 12.40% | 10.50% | 11.50% |
*WTW: Global and regional trend rates are weighted based on GDP per capita. Due to the hyperinflationary nature of the Venezuelan economy, Venezuela has been excluded from Latin America regional and global totals.
Current and Future Ideas for Reducing Healthcare Costs
With healthcare provider and insurance costs rising at such a rapid rate, it's imperative that the industry continually seek ways to mitigate the pain. And, fortunately, it is.
Let's talk about some of the specific innovations that are expected to help mitigate rising healthcare costs:
While technology is currently increasing healthcare costs, experts believe, in the long term, tech will play an important role in helping to bring down healthcare costs by utilizing patient engagement solutions, including wearables, educational resources, and mobile apps. This segment of the healthcare market is forecast to grow from $13.42 billion in 2021 to $74.28 billion by 2030.
Remote Patient Monitoring (RPM). Monitoring our own health by tracking, early detection, and hopefully, prevention of future diseases. This will be accomplished by remote patient monitoring which will deliver real-time health data from patients to doctors.
Right now, about 57% of providers/organizations use RPM, according to Sage Growth Partners on behalf of Rhythm. And by next year, that number is estimated to rise to 75% of medical practices in the U.S. Further, McKinsey & Company predicts that up to $265 billion in services for Medicare and Medicare Advantage users could "migrate from traditional facilities to the home" in just two years. Industry experts predict that by 2025, more than 25% of us will be "regularly using a device that remotely tracks or collects their well-being or medical data."

Frankly, I'm surprised that the predictions aren't higher. After all, 30% of U.S. citizens have an Apple watch. I just bought an Apple Watch 8, which I use daily to track my steps. But it also tracks sleep habits, temperature, blood oxygen monitoring, plus a host of other features that I'll probably never use!
And with my age group of baby boomers—70 million of us who will be 65 or older by 2030, and who will most likely want to "age in place" as long as we can—RPM will be critical to our continued good health.
Telehealth and telemedicine is a part of RPM. This field really caught on during the pandemic. The global market reached $87.2 billion last year and is predicted to expand to $285.7 billion by 2027, as a result of underserved (mostly rural) markets, a rising number of geriatric patients, growing instances of chronic disease, advances in government support, shortage of doctors, and improving technology. And as you can see from the following graph, the U.S. market is trending the same way, forecast to grow by 22.9% annually until 2030.
A 2020 report by Accenture's 2020 found that "62% of healthcare consumers prefer virtual healthcare options; 57% would like a remote monitoring option for ongoing health issues and 52% would choose virtual care for routine appointments."
Prior to the pandemic, the Journal of Primary Care & Community Health reports that just 5.3% of primary care physicians used telehealth. During the pandemic, that number climbed to 46.2%. Today, importantly, more than 70% of physicians say they will use telehealth, at least occasionally.
And consumers are going with the trend. PwC Health Research Institute reports that "79% of consumers with employer-based insurance said they were open to chatting online through the health system's website; 76% said they were willing to use a doctor or health system's mobile app."

Today, there are 42 states in the U.S., plus Washington, D.C. that require private insurers to cover telehealth. Look for that to expand.
Telehealth providers offer a range of services that run the gamut from diagnosing routine conditions like migraines, urinary tract infections, coughs, colds, stomach aches and skin conditions to delivering lab or x-ray results, providing post-surgical follow-up and tasks like prescription management.
You'll also find providers offering physical and occupational therapy, treatment for mental health (such as online therapy, counseling or medication) and conditions such as ADD and ADHD.
And the offerings are expanding through the adoption of remote monitoring (think diabetes, blood pressure or cholesterol), virtual hospital wards that allow for specialized care for multiple remote patients, and online patient- or practitioner-led communities or charities linked to specific health conditions.
However, telehealth is not without its challenges, as you can see from the following survey results.
At-home testing. This is the healthcare do-it-yourself market. Since the 1970s, diabetes patients have been able to read their glucose levels at home. In 1978, women could—for the first time—determine if they were pregnant with self-tests. Since 2014, Cologuard has been available for at-home colorectal screening. And, of course, with the pandemic, many of us used self-testing COVID-19 kits. This is a rapidly growing marketplace, expected to reach $8.15 billion by 2030, up from $5.42 billion in 2021, according to Precedence Research.
Artificial intelligence, including specialized apps such as Your.MD, where people can check their symptoms (such as heart rhythm abnormalities) using machine learning (users of this app grew 350% from 2020-2021) and Aidoc, which uses augmented intelligence for assistive purposes, including helping radiologists spot abnormalities in scans.
According to Residence Research, the global AI-in-healthcare market reached $15.1 billion in 2022 and is expected to hit $20.65 billion in 2023.
The global market for AI-enabled medical imaging solutions is expected to grow from $404 million in 2018 to $9.61 billion in 2029, and will incorporate a range of new tools, including:

Drug discovery, with the ability to estimate clinical trial outcomes and potential side effects of new drugs
Analysis of medical imagery, using computer vision algorithms to spot early warning signs of disease in x-rays or MRI scans, and to detect and treat neurological disorders, including Parkinson's Disease and Alzheimer's Disease. For example, a friend's doctor was trying to get her to take a cholesterol drug, due to high readings. She resisted, as she is otherwise very healthy. Finally, the doctor asked her to take a new CT scan which depicts artery plaque. He said if the scan was good, he wouldn't make her take the drugs. Voila! The scan showed no plaque, so no medication was indicated.
Processing insurance claims and management or analysis of medical record keeping.
Analyzing data collected from patient wearables or in-home sensors
AI is also being used to make services more efficient by using data to identify high-quality providers who deliver cost-efficient care, accompanied by positive patient care outcomes, reduced readmission rates, length of stays, pharmacy spending, and more.
Augmented and mixed reality is being used by surgeons wearing headsets and by nurses trying to find a vein for drawing blood.
Internet of Things (IoT)—medical devices combined with IoT can improve inventory management & employee tracking, leading to an estimated market of at least $2,400 billion by 2029.
Robotics in healthcare, thanks to automation and AI, are playing an increasing part in healthcare by providing surgical and nursing assistance, physically guiding patients and monitoring for falls. You'll also find automated delivery of blood product, hazardous materials, vaccines and medicine to remote areas, AI-assisted sterilization and sanitation, and even AI integration into physical therapy wearables.
According to precedence.com, the global healthcare service robots market size was $10.4 billion in 2021 and is expected to grow to $53.4 billion by 2030.
Nanomedicine is the use of nanoscale objects and materials like biocompatible nanoparticles and the handling of diagnosis or treatments of living organisms. Potential uses are chasing cancer cells or viruses by injecting a group of nanobots into a human's blood vessels. Nanomedicine works on a cellular level and can fight back oncological, genetic, or auto-immune diseases.
Wearable devices. I mentioned these earlier when I talked about Apple watches. But those are far from the only wearable devices. There are legions of fitness trackers, but this sector has rapidly grown to include devices (such as the aforementioned Apple watch and others), that are designed to track heart rates, can predict people who are at risk for depression, and conduct ECG scans. They also include smart textiles that can detect blood pressure and predict the risk of heart attacks and smart gloves that can reduce the tremors suffered by patients with Parkinson's Disease.
3D printing is being used to create implants and even joints to be used during surgery, prosthetics, replicas for pre-surgical planning, and can even print pills that contain multiple drugs.
Emerging technology bio-printing is cutting-edge technology that can regenerate skin cells for skin grafts for burn victims, blood vessels, synthetic ovaries, and a pancreas.
Direct corporate healthcare, or direct-to-employer arrangements with healthcare providers. A host of companies have jumped into this effort. Amazon has been the big leader, with its Amazon Care for its Seattle employees. Since then, the company has purchased PillPack, a medication delivery company. Sam's Club offers its employees healthcare bundles that include prescriptions, dental services, vision exams, preventative health screenings, prepaid health debit cards and more. Alphabet launched its Cityblock clinic and is working on its Medical Digital Assist to build a "next gen clinical visit experience."
Today, more than 10% of U.S. employers now have direct arrangements with healthcare providers.
On-demand healthcare offers a menu of healthcare options to their employees to choose different coverage levels—sort of a pay for what you need program. However, a big caveat to these types of plans is you may not have the coverage you need for emergencies and costs could soar, as these plans don't offer in-network options. Pretty much, every provider is out-of-network.
High-deductible insurance plans, in which health savings accounts can be used to reduce risk. However, if you don't have an HSA or big savings, this type of plan can turn into a financial disaster.
Medical sharing plans. These plans are comprised of a group of people who create a medical cost-sharing ministry to help each other pay for medical expenses. There are no networks; you can use whichever provider you prefer. You generally will pay your bill, then be reimbursed by the group.
The major healthcare sharing plans are:

Please note that there are some drawbacks to these plans:

Because healthcare sharing is not considered insurance by regulators, there is very little, if any, legal protection for disputed claims, denied coverage, or ministry bankruptcies.
Many plans have restrictions and payment caps relating to pre-existing conditions.
Some pre-existing conditions, such as diabetes, may require additional monthly payments as well as standard membership fees.
Because these plans are faith-based, there may be specific rules associated with membership. For example, members might be required to attend church regularly, abstain from tobacco and illegal drugs, and attest to a specific statement of faith such as a requirement to attend church regularly.
The proliferation of urgent care centers. These centers are mostly staffed by physician assistants and nurse practitioners and are filling the gap left by the expected shortage of 55,000 primary care providers that the Association of American Medical Colleges anticipates the U.S. will suffer over the next decade.
But the doctor shortage isn't the only reason for this amazing growth. The average cost of a clinic visit (for the uninsured) is $125-$150, compared to the average emergency room visit of $2,032.
Right now, there are some 9,300 urgent care centers in the U.S. Since the pandemic, patient volume has climbed 60%, according to the Urgent Care Association, and is growing at 7% per year (not including clinics inside retail stores). The market is expected to reach around $48 billion in revenue this year, a 21% increase from 2019, says IBISWorld.
Retail healthcare. Forrester researchers expect healthcare retail outlets, such as clinics in Walmart, Amazon, and CVS, will double this year, due to accessibility (don't always require appointments), as well as doctor shortages, as I mentioned above.
Personalized healthcare (also called precision medicine) using AI and machine learning algorithms. As opposed to one-size-fits-all, this care will incorporate your genetics, environmental, and personal/family risk factors to determine your care.
Reducing drug costs. Right now, prescription drugs are the second biggest healthcare expense for employers, about a third of their total healthcare costs—and that's with 90% of all prescription drugs being generics! And that's because the specialized medications—which are used by less than 2% of patients—cost an average of $38,000 per patient or $50,000 for biologics (drugs derived from components of living organisms such as blood, cells, tissues, or recombinant proteins)!
The good news is that biosimilars are being rapidly developed. A biosimilar is a biologic that is highly similar to, and has no clinically meaningful differences from, another biologic that's already FDA-approved. There are more than 20 currently available, and others in the pipeline, such as a Humira lookalike to treat rheumatoid arthritis, Crohn's disease, and psoriasis, due this year, Hemgenix for gene therapy, used by people with a rare type of hemophilia.
Additionally, some insurance companies, such as Cigna, are offering flat per-member, per-month charges, to provide some sticker-shock protection.
Mergers and acquisitions. While global healthcare deals declined by 22% last year, industry experts predict a renewed interest this year.
Sectors expected to show renewed M&A action include:
Pharmaceutical and life sciences arena:

Midcap biotech acquisitions.
Non-core divestitures from large pharmas to fund new investments.
Acquisitions in the contract research organizations (CRO), contract development and manufacturing organizations (CDMO) and medical technology companies.
Healthcare services:
Consumer-facing healthcare, such as businesses focused on vitamins, minerals and supplements and on nutraceuticals.
Distressed deals, especially in the hospitals sector, where budgets are tight, and labor is short.
Telehealth and digitalization.
Already, we are seeing combinations of companies to reduce costs and improve efficiencies in the home healthcare sector, including Human's acquisition of the remaining stake of home health giant Kindred for $5.7 billion in 2021, UnitedHealth Group's buyout of home health provider LHC for $5.4 billion (expected to close this year) and CVS's acquisition of home health provider Signify for $8 billion.
Last year, there were 53 transactions, a year of mega-mergers. It included the third consecutive quarter in which "the average size of the smaller party across all announced transactions exceeded $800 million," according to Kaufman Hall.
How to Take Control of Your Healthcare Costs
You can see that the healthcare industry is making great strides in attempting to rein in healthcare costs. But there are also some steps you can take, individually, to help stem your costs.
Reduce your medication cost by asking for generics, when possible. Also ask if there is a less expensive medication you can take. I had an experience a few years ago, when I was taking medication to improve my bone strength. My doctor decided to change me to a new prescription, which I found out was going to cost $165 per month! That was about 10 times what I had been paying! When I complained to my pharmacist, he suggested another drug, which ended up costing me $15 per month.
Use your benefits and get routine preventative health screenings, prenatal care, use free or discounted services (such as gym memberships), and utilize a case manager, if available, especially if you have a health issue such as diabetes or asthma.
Plan ahead for urgent and emergency care, so you know where to go for the quickest, least expensive care.
Utilize outpatient facilities. Many physicians now have their own surgery centers, which are often cheaper than using a hospital.
Choose in-network health care providers. Depending on your health coverage, you may have the choice to see providers who are in-network or out-of-network. You pay less to see providers who are in-network, because they have a contract with your health plan. This means they charge lower rates.
Take care of your health.
Shop for the right health plan for you and your family. You'll find a wide range of co-pays, deductibles, and premiums, depending on the level of service you require.
If possible, use a health care savings account (HSA) or flexible spending account (FSA) that allow you to set aside pre-tax money for health care expenses.
4 Stocks Poised to Profit from Healthcare Changes
There will be many opportunities to profit from the changes in the healthcare industry over the next few years. I reviewed stocks in the health insurance, healthcare marketing, pharmaceuticals, healthcare tech, and health administration sectors to determine which sectors and equities look interesting over the next few months. I narrowed the list from about 40 interesting companies down to these four:
| | | | | |
| --- | --- | --- | --- | --- |
| Company/Symbol | Price | P/E | Industry | Analyst Ranking |
| Novo Nordisk A/S ADR (NVO) | $142.95 | 40.5 | Biotech | Strong Buy |
| Thermo Fisher Scientific Inc (TMO) | $571.48 | 32.42 | Diagnostics & Research | Strong Buy |
| Novocure Ltd Ord Sh (NVCR) | $86.41 | n/a | Medical Instruments | Strong Buy |
| Boston Scientific Corp (BSX) | $47.28 | 105.07 | Medical Devices | Strong Buy |
Novo Nordisk A/S ADR (NVO) operates in two segments, Diabetes and Obesity care, and Biopharm. The Diabetes and Obesity care segment provides products in the areas of insulins, GLP-1 and related delivery systems, oral antidiabetic products, obesity, and other chronic diseases. The Biopharmaceuticals segment offers products in the areas of haemophilia, growth disorders, and hormone replacement therapy. The company has collaboration agreements with Gilead Sciences, Inc. Novo Nordisk A/S also has a research collaboration with Lumen Bioscience, Inc. to explore strategies for delivering oral biologics for cardiometabolic disease.
For 2022, Novo's net sales rose by 26% year over year to about 177 billion Danish kroner ($25.5 billion), and net profit jumped by 16% year over year to 55.5 billion DKK ($8 billion).
Thermo Fisher Scientific Inc (TMO)'s Life Sciences Solutions segment offers reagents, instruments, and consumables for biological and medical research, discovery, and production of drugs and vaccines, as well as diagnosis of infections and diseases to pharmaceutical, biotechnology, agricultural, clinical, healthcare, academic, and government markets. Its Analytical Instruments segment provides instruments, consumables, software, and services for use in laboratory, on production line, and in field for pharmaceutical, biotechnology, academic, government, environmental, and other research and industrial markets, as well as clinical laboratories.
The company's Specialty Diagnostics segment offers liquid, ready-to-use, and lyophilized immunodiagnostic reagent kits, as well as calibrators, controls, and calibration verification fluids; ImmunoCAP for allergy and asthma tests, and EliA for autoimmunity tests; dehydrated and prepared culture media, collection and transport systems, instrumentation, and consumables; human leukocyte antigen typing and testing for organ transplant market; and healthcare products.
Its Laboratory Products and Services segment provides laboratory refrigerators and freezers, ultralow-temperature freezers, and cryopreservation storage tanks; temperature control, sample preparation and preservation, centrifugation, and biological safety cabinet products; water analysis instruments; laboratory plastics products; laboratory chemicals; and pharma services.
The company posted quarterly earnings of $5.40 per share, beating consensus estimate of $5.19, on revenues of $11.45 billion, also beating estimates by 10.55%. For 2023, Thermo is forecasting revenue of $45.3 billion and adjusted EPS of $23.70.
Boston Scientific Corp (BSX) operates through three segments: MedSurg, Rhythm and Neuro, and Cardiovascular. Its devices are used to diagnose and treat gastrointestinal and pulmonary conditions, various urological and pelvic conditions, and include implantable cardioverter and implantable cardiac resynchronization therapy defibrillators; pacemakers and implantable cardiac resynchronization therapy pacemakers; and remote patient management systems.
It also provides a host of other medical technologies like 3-D cardiac mapping and navigation solutions, ablation catheters, diagnostic catheters, mapping catheters, intracardiac ultrasound catheters, delivery sheaths; spinal cord stimulator systems for the management of chronic pain; indirect decompression systems; and deep brain stimulation systems.
The company recently reported earnings, posting adjusted EPS of $0.45 on revenues of $3.42 billion, boosted by organic sales. For 2023, the company expects net sales growth in the range of 5-7% on a reported basis. Net sales growth is expected to be in the range of 6-8% on an organic basis. Full-year adjusted EPS is expected in the range of $1.86 to $1.93.
Novocure Ltd Ord Sh (NVCR) develops and manufactures tumor-treating fields (TTFields) devices for the treatment of solid tumor cancers in the United States, Europe, the Middle East, Africa, Japan, and Greater China. Its TTFields devices include Optune for the treatment of glioblastoma; and Optune Lua for the treatment of malignant pleural mesothelioma. The company also has ongoing or completed clinical trials investigating TTFields in brain metastases, gastric cancer, glioblastoma, liver cancer, non-small cell lung cancer, pancreatic cancer, and ovarian cancer.
The company is not yet making money and is expected to lose $0.29 per share for the recent quarter.
Novocure is in a late-stage study evaluating its TTFields therapy in treating non-small-cell lung cancer (NSCLC). Results are expected later this year. Please note that this stock is the most speculative of the four, so please tread lightly and don't overload your portfolio with this issue.
There are sure to be plenty more healthcare stock opportunities in the near future, but these four may provide some ideas to get your own portfolio ramped up for the major changes coming to the industry.