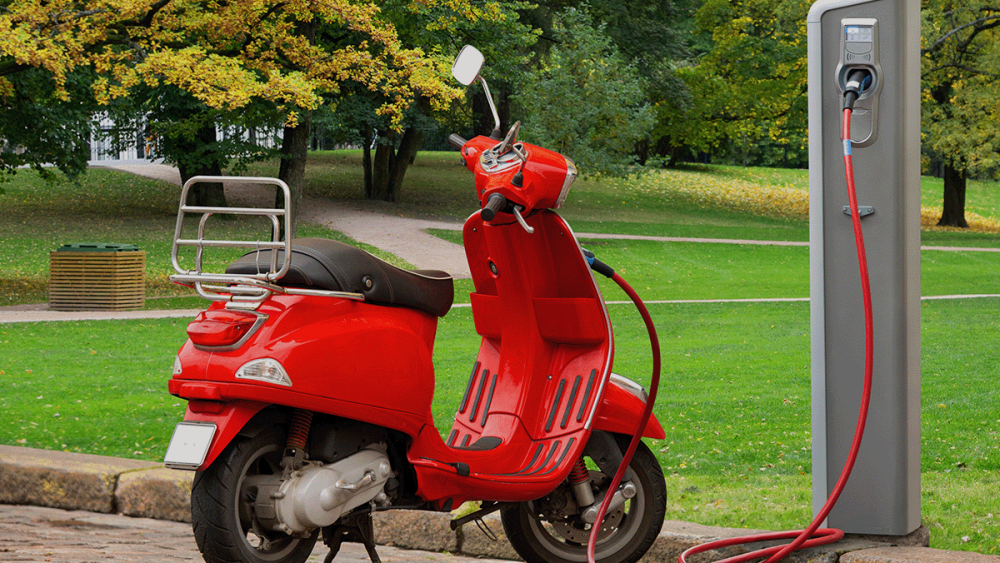 Electric vehicles (EVs) have massively expanded their market share in just the last few years, rising from 2.5% of auto sales in 2019 to nearly 9% in 2021, according to the International Energy Agency.
And that momentum shows no signs of slowing, with analysts at CFRA Research estimating that we'll see 50 new EV models reach market before 2024.
In fact, in 2021 alone, global sales doubled to over 6 million EVs.
Mercedes-Benz sold nearly 100,000 electric cars and vans in 2021, a 90% increase over 2020. Ford (F) will soon begin selling the Lightning, an electric version of the F-150 pickup truck, which has topped U.S. sales charts for decades. It initially planned to make 75,000 a year. But demand has been so strong that the company is racing to double production.
In 18 European countries, including Britain, more than 20% of new cars were electric, according to Matthias Schmidt, an independent analyst in Berlin. America is lagging, as about 4% of new cars were electric last year in the United States, up from about 2% in 2020. Tesla dominates, delivering almost a million cars in 2021, up 90% from 2020.
But what about the unfolding story of premium electric motorbike markets?
The Electric Motorcycle
In 1903, in a small shed in my hometown of Milwaukee, began an enterprise that would grow and spread across the world.
Their innovation and technical creativity on two-wheel vehicles sparked a transportation revolution and an adventure lifestyle that would make Harley-Davidson the most valuable motorcycle brand in the world. Today, the company continues to define motorcycle culture. Now, Harley-Davidson, through its LiveWire electric motorcycle line, is the world leader of this category.
And Harley-Davidson (HOG) stock has roared to life recently after the motorcycle maker reported stunning fourth-quarter earnings that saw motorcycle revenue surge 54% as U.S. demand for big bikes has returned.
Demand for Harley-Davidson bikes is in an uptrend. This could be the start of a turnaround, but Harley needs to now back this up with several consecutive quarters of sales growth. With rebel CEO Jochen Zeitz at the helm, Harley has renewed its American brand and focus on the U.S. market.
America is Harley's biggest, most important market, which is why last year was the first year of implementation of Harley's five-year roadmap called the Hardwire, which doubles down on domestic sales while also pursuing international growth.
Harley-Davidson reported a $0.15 per share adjusted profit for the fourth quarter of 2021, handily beating analyst forecasts of a $0.38 per-share loss and a complete turnaround from the $0.68 per-share loss it recorded a year ago, but its motorcycle business is still operating at a loss of $102 million.
Harley also announced during the quarter it would be spinning off its LiveWire all-electric motorcycle business into a stand-alone publicly traded company through a reverse merger with special purpose acquisition company (SPAC) AEA-Bridges Impact. I hope this SPAC is priced at a reasonable valuation.
So Why Buy Harley-Davidson?
Harley will still own 74% of the new EV bike company.
Better still, Harley-Davidson is becoming more profitable as it advances its Hardwire strategic plan. CEO Zeitz is focusing the company's efforts on its most profitable motorcycles while overseeing a more disciplined expansion into its most important international markets.
In 2021, the company's overall revenue jumped 40% year over year to $1 billion, driven by a 39% rise in motorcycle shipments. Harley also enjoyed solid growth in its general merchandise and parts & accessories divisions, which saw revenue increase 46% and 13%, respectively. First-quarter 2022 earnings were less encouraging: chip shortages due to supply-chain issues led to a 16% dip in operating income, and earnings per share fell just short of analyst estimates and was off 13.7% from Q1 a year ago.
Looking forward, however, management projects full-year revenue for Harley-Davidson's motorcycles and related products segment to rise by 5% to 10% in 2022. With a return of equity of more than 30% and trading at less than nine times forward earnings, HOG stock looks attractive at current prices.
Do you own any electric vehicle stocks? Tell us about your winners – and losers – in the comments below.