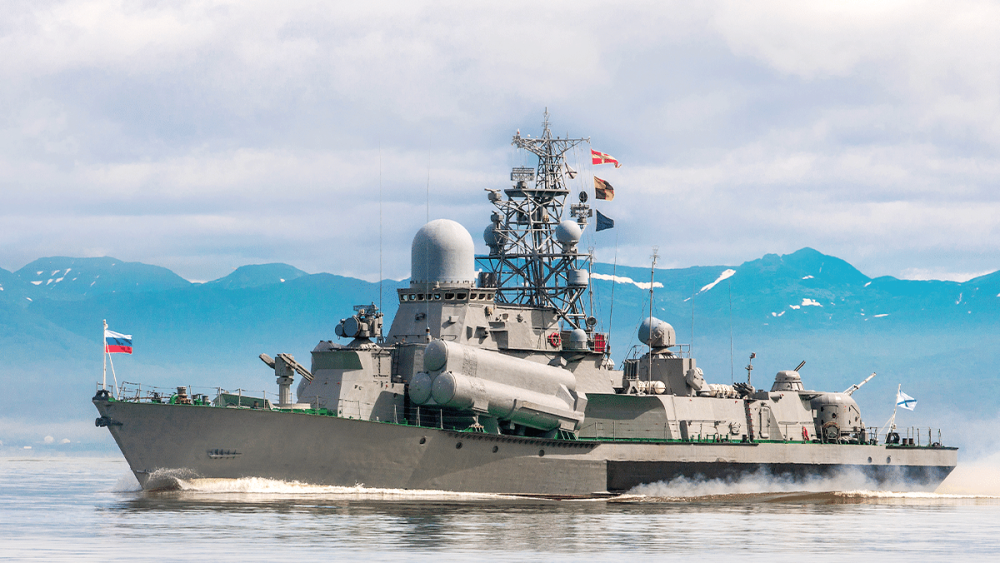 Russian aggression has led to open conflict in Ukraine, but the threat of conflict elsewhere looms large, too. China's relationship with Taiwan is, of course, a point of contention between that country and the rest of the world that, thankfully, has remained in something of a status quo that is brought to light only when multinational corporations or groups like the WHO fall silent on whether Taiwan is, in fact, it's own sovereign entity.
Beyond those simmering tensions, and the omnipresent conflicts in the Middle East, are the civil conflicts arising in response to the ongoing pandemic and measures ostensibly in place to defeat it. Recent protests in Canada over vaccine mandates have thrown a wrench into already brittle supply chains and underscored the war-like temper in a growing number of nations.
Indeed, there has been increasing discussion in mainstream media over the possibility for a "cold" civil war to break out in the U.S. A recent article in The New Yorker titled, "Is a Civil War Ahead?" is a case in point. The article quoted Steven Levitsky, co-author of the book, How Democracies Die, who observed:
"We're not headed to fascism or Putinism, but I do think we could be headed to recurring constitutional crises, periods of competitive authoritarian and minority rule and episodes of pretty significant violence that could include bombings, assassinations and rallies where people are killed."
Billionaire hedge fund manager Ray Dalio took it a step further recently, expressing his opinion that a "hot" civil war may even be possible in the U.S. He wrote on Twitter:
"When winning becomes the only thing that matters, unethical fighting becomes progressively more forceful in self-reinforcing ways. When everyone has causes that they are fighting for and no one can agree on anything, the system is on the brink of civil war/revolution."
Regardless of whether or not the world is headed for more battlefield fighting, there's no denying that a war-like spirit currently permeates the social fabric of countless nations. It's also undeniable that in the wake of the 2020-2022 "War Against Covid," several nations (including the U.S.) have embarked upon wartime levels of public spending.
One major consequence of war is inflation. The elevated spending levels in the wake of the Covid War, along with corresponding supply shortages, have created inflation levels that rival those of past "hot" wars. With that in mind, let's take a look at some assets that stand to benefit from continued war-related inflation.
It should come as no surprise that food commodities—and inputs related to food production like fuel and fertilizer—are among the resources that are most affected by war or the threat of war. During the last war-time environment in the 2000s, food commodity inflation ran rampant. Prices for key farm commodities like corn and wheat rose 275% and 360%, respectively, while nitrogen fertilizer prices rose by an average of 800% during the height of the Afghanistan and Iraq wars from 2002 to 2008.
Prices for critical fertilizers like nitrogen, phosphate and potash tend to rise vigorously during wartime inflation periods, in part due to war-related sanctions, shipping and production disruptions among key producing countries. Fertilizer prices have indeed already seen substantial run-ups in just the last two years (widely utilized urea, for instance, is up 350% since 2020).

2 Companies Benefiting from Wartime Spending
One company in particular that specializes in producing the inputs that modern farming depends on is Nutrien (NTR). Nutrien makes essential crop nutrients including nitrogen and potash, and is regarded as the world's largest provider of fertilizers, services and solutions. Because of the turmoil between Russia and Belarus (the world's third-largest potash producer), analysts expect Nutrien to significantly increase its output of the key nutrient and could restart up to 4 million metric tons of idled annual capacity at its potash facility in Saskatchewan, Canada. Additionally, a recent Bloomberg report speculates that Nutrien may be a takeover target by Australian multi-national mining firm BHP Group (BHP). Sounds like a good wartime stock.
Another natural resource that typically strengthens during war is copper. During the 2002-2008 war-time period, for instance, copper skyrocketed by 570% due to its wide use in a number of military and industrial applications (it's the second most widely used material by the U.S. Department of Defense).
To that end, Teck Resources (TECK) is another wartime stock that's poised to benefit if wars escalate around the globe. Aside from being the world's second-largest seaborne exporter of steelmaking coal (another war-time commodity), Teck is a major producer of copper and zinc and plans to double its copper production in the next two years. A major Wall Street institution agrees and estimates that Teck's copper production will more than double from its "transformational" QB2 project (one of the world's largest underdeveloped copper resources) in Chile. Analysts see the firm's revenue jumping around 80% in both Q4 2021 and Q1 2022, with earnings growth accelerating substantially.
Inflation arising from wartime-like spending is already here, and these commodity plays are some of the best ways to protect your portfolio and spending power.
What commodity plays are you making in your portfolio? Let us know in the comments below.